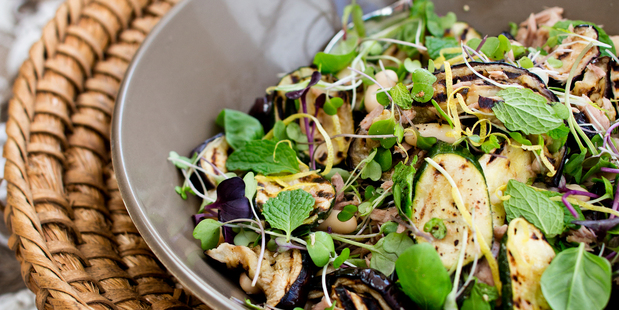 Tuna and Cannellini Salad. Photo / Babiche Martens.
Serves 4
• 1 aubergine, cut into 1cm slices
• 2 courgettes, sliced
• ¼ cup oil
• 420g tin cannellini beans, drained
• 220g tin tuna, drained
• Zest and juice of 1 lemon
• 2 Tbsp good quality olive oil
• ½ cup mixed basil and mint leaves
• Salt and freshly ground pepper
1. Heat a barbecue or frying pan to a medium heat. Rub the aubergine and courgettes with oil and cook for 3 or 4 minutes on each side until cooked through. Set aside.
2. In a large bowl place the cannellini beans, tuna, lemon zest and juice, olive oil, basil and mint leaves. Season with salt and pepper.
3. Cut the slices of aubergine in half. Add them and the courgettes to the bean mix. Combine well and serve.
- VIVA