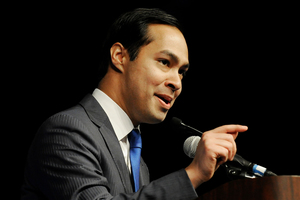 There's an intriguing subplot to events this week. Win or lose in November, Barack Obama will have fought his last election.
The Charlotte convention will be about 2012. But it also signals the start of the battle for the Democratic nomination in 2016.
Something of the same happened at the Republicans' Tampa convention among those with an eye on 2016, should Romney lose.
Paul Ryan, Romney's running mate, who gave the convention's single most powerful speech, will surely be a factor for years to come, whatever his fate in November. Marco Rubio, the first-term Florida senator, also seems to have done himself much good.
Then there's Jeb Bush, former Governor of Florida and presidential sibling, whose appearance drew a standing ovation. If Republicans fail to recapture the White House, Jeb will surely be among the early favourites for 2016. If Romney wins, of course, all calculations go on hold for four years.
In comparison, the Democratic talent cupboard looks a bit bare. There are rising Democratic governors, but who's heard of Maryland's Martin O'Malley, or Deval Patrick, of Massachusetts?
Andrew Cuomo, admittedly, is better known. He had a famous father, Mario, and as Governor of New York, has a bigger platform. The younger Cuomo's backing for same-sex marriage, coupled with his willingness to take on public-sector unions, has earned him support among both left and right of his party. Liberals also look longingly at Elizabeth Warren, Harvard professor and consumer protection advocate. She's a forceful politician, but right now no more than a candidate in an extremely close Senate race in Massachusetts.
All of the above will be in Charlotte, and O'Malley and Patrick are already on the official programme. Julian Castro will deliver the keynote address. At 37, Castro is mayor of San Antonio, and, like Obama, a graduate of Harvard Law. He's serious and hugely competent, and he's Hispanic - from an ever more important and heavily Democratic demographic. Mark McKinnon, a former top adviser to George W. Bush, has tipped Castro to be the first Hispanic President of the US.
That day, if it ever comes, is well beyond 2016. The two names at the top of every list are Hillary Clinton, who would start as prohibitive favourite if she chose to run, and Vice-President Joe Biden.
Hillary insists that she's exhausted, and that four years as Secretary of State is the end. But in politics, never count a Clinton out. Nor a Biden.
The Vice-President will be 74 come Inauguration Day 2017. He made his first bid for the White House in 1988, and was a distant also-ran in 2008. In public, though, Biden is careful not to rule out another attempt.
On October 12, Biden and Ryan square off in the vice-presidential debate. Could it prefigure the White House race of 2016?Independent