Hundreds of runs offering challenge to skiers of all abilities give Sarah Ivey the experience of a lifetime.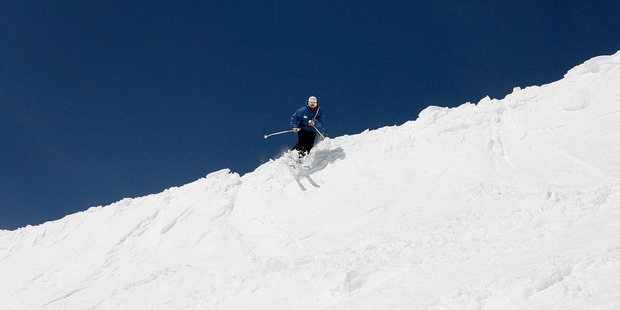 Looking down at the near vertical slope, all I see at first is a sheer drop. My guide is telling me that it's perfectly skiable, but I have my doubts. Anyway, with a deep breath of the thin oxygen available at 3500m, I plunge off the edge. One turn, then two, the powder is up to my knees. As the flakes of snow spray up in my face, all I can think is "at least it'll be a soft landing".
Lover's Leap, as they call it, is in Blue Sky Basin at Vail, one of the most outstanding mountains in the world and it's just one of many amazing runs.
Vail Resorts are on five mountains: Keystone, Vail, Breckenridge and Beaver Creek (all in Colorado) and Heavenly (Lake Tahoe). All are unique in their own ways and display varying degrees of perfection. If you're a ski enthusiast it's time to start saving your cents because a trip to Vail Resorts will be the trip of a lifetime.
Just arriving at Vail blew me away. First, when my life flashed before my eyes as I thought the bus driver was circling the roundabout in the wrong direction and, secondly, when I caught a glimpse of the mountain.
This place is huge; with more than 5000 acres of skiable terrain and 32 lifts, it's the largest resort in North America. It really is the advanced skiers' paradise, no faux ski bunnies allowed. It's so big it seems to take forever to get around the mountain, the longest run (Riva Ridge) being 6.4km long.
Blue Sky Basin, where I went to jump off Lover's Leap, is on the back of the mountain and packed full of trees, powder and sharp skiers. Wide skis are the way to go here, they'll allow you to float through the fresh powder with ease, past trees that look as though they've been dusted with icing sugar.
If you head out this way it's a good idea to take a packed lunch as it's hard to find a cafe - I learnt this the hard way.
Staying at the Marriott Vail, I walked out the front door of the hotel and on to the Eagle Bahn Gondola. The hotel is centrally located and surrounded by eateries from the high-end, French brasserie Centre V to a Thai takeaway shop in the main street that will fill up the budget-conscious traveller for less than $13.
Breckenridge is also a great place to shop for ski gear near the end of the season, without having to give your credit card too much of a thrashing. Skis are especially cheap. I picked up a pair of this season's Volkl for just under $400.
The mountain itself has a great variety of terrain, but with not so many steeps, as it's generally geared towards the intermediate skier or snowboarder.
There were a lot more snowboarders here than at Vail. Terrain Parks are one of the main focuses and having six parks and pipes in total has helped Breckenridge become very popular with the 20-somethings. It's now considered the cool place to be seen.
If, however, you're after a challenge, there is exciting terrain there for you, too.
The Imperial Express Superchair is the highest lift in North America.
At just under 4000m, skiing becomes very hard work, partly because of the steep terrain but mostly because you find yourself constantly gasping for oxygen. From the top you can traverse a short distance to Whale's Tail, a steepish run that almost always has fresh, dry powder, and if you're not too late out of bed there's a good chance you'll get first tracks.
If you're a little high maintenance and like the sound of escalators instead of stairs, sitting beside a warm fire in the cafe or being served warm cookies on a silver platter at the bottom of the lift, then Beaver Creek is for you.
It's a great beginner to intermediate mountain, and has the learner's slope at the top. With a small terrain park, plenty of snow (a record snowfall last season of 11m) and a Ritz Carlton at the bottom of the Bachelor Gulch Express Lift, the mountain attracts big money spenders. The private ski in-ski out condos scattered over the mountain speak for themselves.
Beaver Creek is all about guest services. It has more than 1000 staff members, so you can take a complimentary guide for a tour of the mountain, a great idea for your first day so you can get an idea of where to go.
No expense is spared at Beaver Creek. It's all made that little bit easier and as ski holidays go it's not exactly roughing it.
CHECKLIST
Getting there: Air New Zealand flies twice daily to Los Angeles and daily into San Francisco with connections via Denver into the Colorado ski resorts of Aspen, Eagle (Vail) and Hayden (Steamboat).
Further information: See coloradoski.com and skitravel.co.nz.
Sarah Ivey skied at Vail Resort as guest of Colorado Ski Country USA.