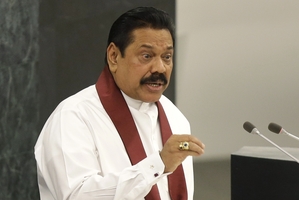 During Prime Minister John Key's recent trip to the United Nations it was reported he crammed as many meetings with world leaders into his agenda as possible, in the bid to secure New Zealand's seat on the Security Council. To use his words, he was "speed dating".
One of his "dates" was with Mahinda Rajapaksa, President of Sri Lanka.
An online news site, Colombo Page, posted photographs of their meeting that showed Key and Rajapaksa shaking hands and smiling as Key accepted a gift from Rajapaksa. And no doubt the pair discussed their next meeting, in Colombo.
There are less than three weeks to go to Chogm - the Commonwealth Heads of Government Meeting - a chance for bigwigs from the 53 member states that make up the Commonwealth to meet bi-annually. This year, it is being hosted by Sri Lanka.
That's nice, you might be thinking. Sri Lanka, in from the cold, after that ugly war a few years ago, showing the world things have moved on and the past has been dealt with.
Certainly, that's the message from President Rajapaksa and his Government: Sri Lanka is Open for Business. Shiny, new Sri Lanka. The country that defeated terrorism apparently while observing a "zero civilian casualties" policy. Quite an accomplishment.
That's the fiction, but not the reality.
During the armed conflict and in particular during its final bloody months, which ended just four years ago in 2009, as many as 40,000 civilians were killed, according to UN estimates.
The Tamil Tigers were certainly responsible for many deaths. Their tactics of suicide bombing and allegations of using civilians as human shields marked them out as a ferocious armed separatist group. But the vast majority of casualties died brutally at the hands of the Sri Lankan Army. Civilians were shelled, hospitals were deliberately targeted, people were stripped naked and executed and rape and other sexual violence was widespread.
There has been no accountability, indeed the very people in charge then are in charge now, and have moved to consolidate their power while aggressively resisting calls for an independent inquiry.
But this isn't just about the lack of accountability for the massacres and war crimes that took place during the conflict, it is also about on-going human rights abuses in Sri Lanka.
Rajapaksa has an iron grip on a repressive system where transgression and opposition are not tolerated. Critics are simply "disappeared". There is now an actual phenomenon in the country, termed "white van kidnappings" where people who challenge the Government's narrative are last seen being bundled into trademark white vans. People like journalist and cartoonist Prageeth Eknaligoda, who went missing in January 2010 on his way home from his office at Lanka-e-News, near Colombo.
Prageeth disappeared during the run-up to the presidential election. He had just written a comparative analysis of the two main presidential candidates, coming out in favour of the opposition candidate. His wife says despite her constant pleading, the police have consistently refused to investigate properly.
And it's not just journalists. In January Chief Justice Shirani Bandaranayake was impeached on charges of "misconduct", prompting an outcry from lawyers around the world. Amnesty International believes she was targeted for her refusal to kowtow to the President.
The Commonwealth leadership, meanwhile, has remained all but silent.
Following Chogm, Sri Lanka will be set to become the chair of the Commonwealth for the next two years.
It is hard to imagine a greater or bleaker irony than passing the chair to Sri Lanka in the very year the Queen signed the Commonwealth Charter - which sets out the common values of the Commonwealth, including human rights and the rule of law.
Commonwealth leaders, including the New Zealand delegation - Minister of Foreign Affairs Murray McCully and John Key - must stop Sri Lanka becoming the chair of the Commonwealth.
Sri Lanka is no longer just about terrorism and the Tamil Tigers. These days it's about a wolf in sheep's clothing and an elaborate attempt to charm the world into forgetting. If the Commonwealth doesn't step up next month it seems Rajapaksa will have got his way.


Grant Bayldon is Amnesty International's NZ executive director.