Andrew Potter flies VS003 across the Atlantic.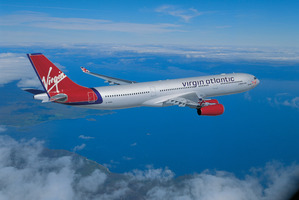 Route: London to New York.
The plane: Airbus A330-300 - looks like it's just driven off the yard, impeccable inside with stylish red and grey interior. No A380, but still a fine-looking aeroplane.
Class: Cattle, Richard Branson style.
Price: NZ$768 return, including taxes and a 23kg bag (booked in the UK).
On time: I time my run to the gate perfectly. Once strapped in, the assuringly Wing Commander-sounding captain tells us we we're pushing back for an on-time departure. We touch down at JFK ahead of schedule.
My seat: 36C - The A330 has a 2-4-2 layout, so I'm on the left hand pair of seats, on the aisle. Legroom is fine for my 178cm, and just as well - Virgin charges another NZ$55 for seats with more room.
Fellow passengers: Middle-aged American businessman next to me. We exchange pleasantries getting on and off, but say nothing further. Perfect. French honeymooners nearby are moderately annoying. I invested in noise cancelling headphones for long haul a while back and they're a real bonus, and the frisky French vanish with the flick of a switch.
How full: To the gunnels, around 270 people in three classes: Upper Class, Premium Economy and Economy.
Entertainment: Very impressive, screen had great resolution and everything I need is there on demand. I watch Ted, so does the guy next to me. He started it earlier, so hits the funny bits five minutes ahead of me and laughs loudly. Irritating, but hardly Virgin's fault.
The service: Excellent and attentive. Flight crew are mostly light-hearted Brits with good banter, as seems the Virgin way. Landing is like a dove touching down on a ball of cotton wool, so A+ for the pilots too.
Food and drink: I can't remember, which means it can't have been too bad - standard stuff. European beers served rather than wretched American brews, a real bonus.
The toilets: Clean with neon lighting. But why are passenger jet toilets so loud when they flush?
Luggage: I took only carry-on for this trip; 6kg limit which wasn't really policed as far as I could see. An extra hold bag is NZ$58, but who needs 46kg of baggage?
The airport experience: Easy and hassle free. Virgin Atlantic flies from Terminal 3 at Heathrow, which has recently been done up with acres of glass pink neon. Looks like the entrance to a nightclub in the air. Which I'm sure it could be, if you could afford Virgin's Upper Class.
Would I fly this again? Certainly. I've flown Virgin Atlantic a number of times across the pond and they always offer great service at a very good price.