Diana Balham and family delight in the range of places to jump in around Vanuatu, from the sea to limestone pools; rivers to caves.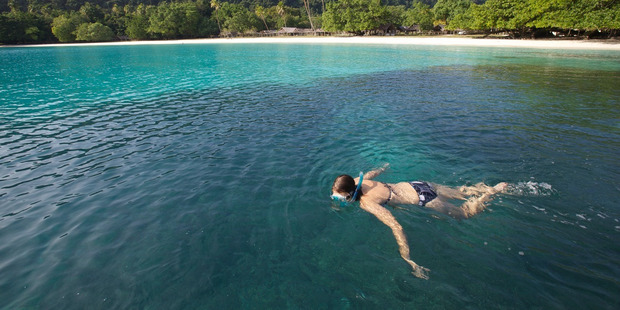 It was the wettest holiday I can remember. It was as wet as a shag, a wet week, a wet bus ticket nearly all the time and it couldn't have come at a better, wetter time. But my winter break in Vanuatu wasn't rained-out. Far from it: two days of warm rain in three weeks beats a soggy, grey July in Auckland hands, snorkel and flippers down. The islands of Vanuatu are lapped by benign tropical sea year-round and we really made the most of it: snorkelling amid a rainbow of fish everywhere from Lelepa Island on Efate to Million Dollar Point on Santo and with a sea snake at Champagne Beach, paddling among giant starfish in the Erakor Lagoon near Port Vila, swimming with turtles in a marine reserve off Malekula Island. We scoured the nippled soles off our reef shoes as we tramped the white coral sands looking for ever more beautiful places to enjoy the ocean and the creatures that live in it.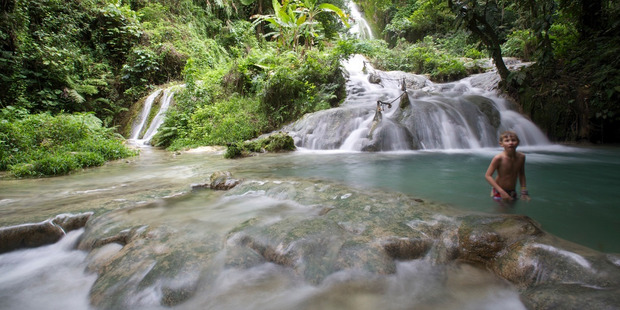 However, Vanuatu is also blessed with bucketloads of balmy rain at certain times of the year that fill its spring-fed "blue holes" (very slowly) and clear, cascading rivers. The island of Efate - often bypassed by visitors who check out of Port Vila after a couple of days and head off to other islands - has a wealth of pure and heavenly places to swim. At Mele Cascades we walked up through the rainforest to terraced limestone pools fed by a series of baby waterfalls that originate from the "great mother", which is big enough to abseil down.
A swim here is glorious and refreshing and we jumped off a ledge into the main pool until even the 9-year-old was looking around for something else to climb up.
The next day's freshwater frolic was at Eden on the River, a business started by a Kiwi woman and her Aussie husband, where visitors cross swing bridges and then have a very private dip and some more leaping around in the cool, crystal-clear water. Afterwards, an amazing array of homegrown fruits - from star to custard! - was served.
Lololima Cascades is on a large tract of land owned by the Catholic Mission since the 19th century. Once again, the swimming - and the jumping - were sublime and we got to wade quite a long way upriver with our guide Justin, which was a lot like paddling in a New Zealand river except with warm water.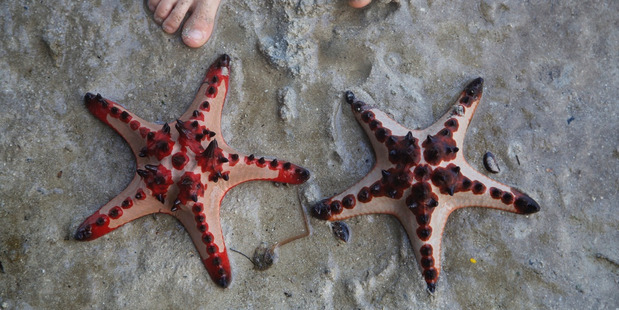 The island of Espiritu Santo is home to several blue holes. Riri and Nanda (both just a short drive from the capital, Luganville) are different shades of the same heavenly paint chart -- one a rich deep turquoise, the other a vibrant electric shade. And both attempt to defy description: they are waterholes formed by springs of fresh water that has been filtered by limestone and eventually emerges to create deep, unbelievably clear pools - so transparent that dugout canoes, the mode of transport for some visitors, appear to float above the water because you can't gauge its depth. We swam and snorkelled, swung off Tarzan ropes and just gazed at the unspoilt beauty of these special places.
If you really want to get involved with your fresh water, a day trip to Millennium Caves is the answer. It's a full-body adventure that starts after a 45-minute drive out of Luganville and a short hike through the jungle to the village of Funaspef.
Once kitted-out in lifejackets (the guides were handing out kids' pink plastic rubber rings until recently), our faces were painted with clay to represent bats, swallows, waterfalls, trekking, rocks and river - to help the good spirits prevent our ankles from snapping, presumably.
We climbed down ladders and navigated our way through caves filled with tiny bats and big spiders, then canyoned the river, clambering over boulders and swimming in fast, deep, chilly water. Lunch on the sunny riverbank tasted pretty good after that and all that remained was a steep climb out of the gorge before coffee back at the village.
"Sol wota or fres wota?" as they say in Bislama. You can have both in equal amounts, all day, every day. Or you could just swim in the hotel pool - but where's the fun in that?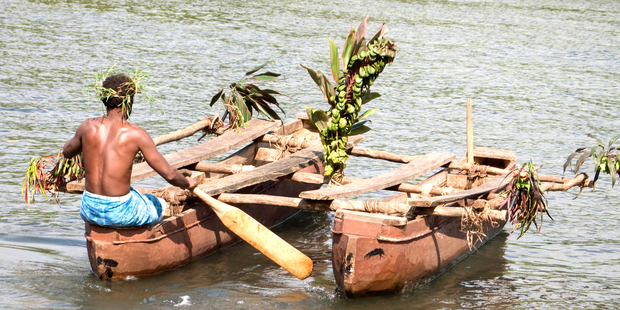 Vanuatu's best dive spots
SS President Coolidge, Espiritu Santo
The SS President Coolidge was once a US luxury ocean liner-turned-troopship. Now, accessible in shallow water, it is one of the most famous dive sites in Vanuatu. Divers flock there to swim through numerous holds and decks. Troops' belongings still lie intact and chandeliers and mosaics give a glimpse into the ship's luxury past. This is a must for keen divers.
Million Dollar Point
This spot was named for the value of the equipment dumped in this area by the US military after World War II. It's a great place for less-confident divers.
Star of Russia, Port Vila
This massive, iron-hulled ship (built by the makers of the Titanic) sits in a sheltered spot in the harbour of Port Vila, and plays host to countless varieties of tropical fish. Divers can inspect the old anchor and rigging, the huge main bollard and what remains of the rusted crow's nest.
Checklist
DETAILS
For information on travel in Vanuatu, go to vanuatutravel.info.
To contact operators - Evergreen Tours:
evergreenvanuatu.com
Eden on the River: edenvanuatu.com
Atmosphere Tours: atmosphere-vanuatu.com
This piece was written for Travel by Diana Balham, a terrific contributor to the magazine who died last year.