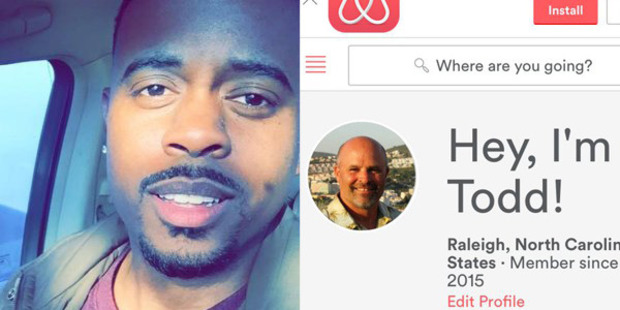 An African American man who claims he was discriminated against by an Airbnb host has slapped the company with a lawsuit.
25-year-old Gregory Selden's complaint alleged that he was turned down for an Airbnb rental in Philadelphia in March last year due to his race.
#AirbnbWhileBlack made a fake profile as a white guy and was accepted immediately. pic.twitter.com/miUWG3OvQV

— G. Sel (@_GSelden) May 4, 2016
Court documents stated he had planned a weekend trip to the city and decided to try Airbnb as a cheap accommodation option, after it was recommended by a friend.
His profile on the site was linked to his Facebook profile and included his picture, race, education and age - which were displayed when he requested a rental.
After being told a property he had requested would not be available on the weekend he requested, Mr Selden became suspicious that he was being discriminated against - and set up two fake profiles.
The first profile he created was named "Jessie" and had similar demographics to Mr Selden except for one difference - "Jessie" was white. The second profile, named "Todd" was of an older white man.
He then used the two fake profiles to request the same accommodation - and the Airbnb host who had previously rejected Mr Selden accepted both of them.
Earlier this month, Mr Selden shared his experience on Twitter under the hashtag #AirbnbWhileBlack - which had collected many other alleged incidents of discrimination.
I'm about to book an international @Airbnb so I've made my profile as white as I could. "I'm a writer & I love hiking." #AirbnbWhileBlack ??

— Nichole (@tnwhiskeywoman) May 19, 2016
I've also had hosts who were "omg so surprised!" at how clean and responsible we were. Yay for low expectations! #AirbnbWhileBlack

— [ahh!ree] (@aripiphany) May 19, 2016
While Airbnb did not respond when contacted about the incident initially, the Airbnb host in question "shamed" Mr Shelden when confronted about his actions and said "people like [him] were simply victimizing [himself]", according to the court documents.
His experience followed a 2014 study from Harvard University that found "requests from guests with distinctively African American names are roughly 16 per cent less likely to be accepted than identical guests with distinctively white names."
#AirbnbWhileBlack gave me the courage to report someone who canceled a reservation because of "repairs" yet still kept those dates open.

— Jasmine (@paladique) May 5, 2016
I wear my Army uniform in my profile pic cuz I'm less likely to be discriminated against for being a veteran #AirbnbWhileBlack

— Leezy (@LesIzMore) May 14, 2016
However, Airbnb has denied condoning racism or discrimination and its policy states that it prohibits "content that promotes discrimination, bigotry, racism, hatred, harassment or harm against any individual or group, and we require all users to comply with local laws and regulations."
- nzherald.co.nz