Cloverdale's Friday Night Live is a vibrant, buzzing experience, writes Alex Robertson.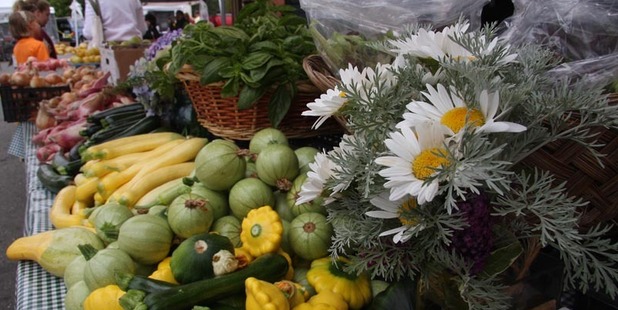 Cloverdale has been voted one of America's coolest small towns by Budget Travel magazine readers, but the temperature definitely rises come Friday night.
"Friday Night Live, as we call it, has become the most popular local event and attendance can now exceed 3000 people."
So says Mary Stuart, President of the Cloverdale Farmers Market.
The market showcases produce from local farms and small-scale manufacturers of northern Sonoma County.
"We average about 55 vendors per market, with everything from fresh produce, home-baked breads and cakes, artisan cheeses, locally grown lamb and beef, hand-spun yarn, ready-to-eat food and children's entertainment," Stuart says.
The local Arts Alliance has been on board for the past five of the market's nine-year existence, organising live music and beer and wine from local micro-breweries and wineries.
Things can really kick off during the 14 consecutive Friday evenings the market runs through summer, with local music legends ranging from blues to funk, gospel to flamenco, afrobeat to swing.
Who could resist the chance to see bands with names like "Bastard Sons of Johnny Cash" or "Fishtank Ensemble"?
Mary also runs the Vintage Towers bed and breakfast with her husband Don.
They escaped to Cloverdale after many years as corporate big fish to find the "real America" - they found a good fit in Sonoma County.
"Our continuing goal is to create a farmers' market that meets the needs of the community," says Stuart.
"We are still striving to add more farmers to increase the overall size of the market.
"It truly has been one of the most rewarding experiences of my time."
CHECKLIST
Getting there: Air New Zealand flies daily from Auckland direct to San Francisco.
Accommodation: Vintage Towers Bed & Breakfast Inn.
Friday night festivities: The Cloverdale Friday Night Live Farmers Market and free concert runs every Friday night from early June to the end of August.
Further information: See sonomacounty.com and DiscoverAmerica.com for more on visiting California.
The writer travelled as a guest of Air New Zealand.