Nina Fowler experiences life as a drover across 260km of Australian Outback on the annual Harry Redford Cattle Drive.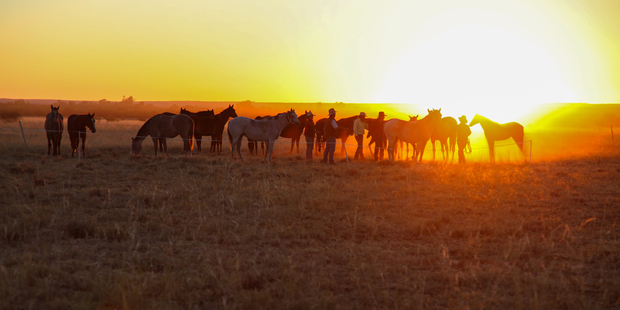 "Good morning, you beautiful people!" It's a dawn start on the Harry Redford Cattle Drive, an annual community fundraiser in central west Queensland that's making its way into local legend.
Before dawn, in fact. There's nothing in the sky except stars, bright and brilliant. I roll out of my swag, set out strategically in the red dirt to avoid snoring among my fellow guests, and head to breakfast. By the time the sun comes up, we'll be riding.
Ask a local where the Outback starts, as the joke goes, and they'll always say "further west". But to a wide-eyed tourist, here, west of Australia's Great Dividing Range, is about as bush as it gets. The horizon is low and endless. Single-lane highways, studded with roadkill, cross vast, dry plains.
Grazing is the main industry, supplemented by local services and tourism. The towns - Barcaldine, Aramac, Jericho, Muttaburra, Longreach - are roughly 100km apart, the distance a horse used to be able to travel in a day. These days, though, once the weather cools in April, the main travellers are the "grey nomads" - retired tourists in camper vans and caravans.
It's tough country. This year brings Queensland's most widespread drought on record. Wild dogs plague the sheep farmers. In the rainy season, it often floods. But it's beautiful, too.
Tall yellow grass, green if there's been rain, and thorny thickets, home to emu, kangaroo, wallaby and flocks of rose-breasted galahs.
Most towns in the region throw an event at this time of year: Winton's Waltzing Matilda Day, Barcaldine's Tree of Knowledge Festival, Julia Creek's Dirt & Dust Festival.
In Aramac, a tiny town of about 300 people, dedicated volunteers run the Harry Redford Cattle Drive: three weeks, a rotating group of 20 guest riders, 50 horses and 600-800 head of cattle. Together, this unusual mob makes a 260km round trip - starting at Lake Dunn, heading south to Aramac and Barcaldine then back north, finishing at the boss drover's home property, Myross.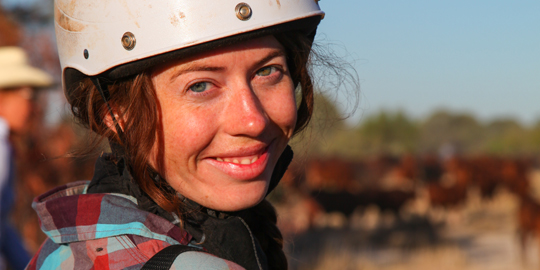 Nina Fowler on horseback on the Harry Redford Cattle Drive, in western central Queensland. Photo / Harry Redford Cattle Drive and Mark Roots
There's a good yarn behind it. In 1870, as the story goes, Harry Redford - aka "Captain Starlight" - pulled off the most daring cattle heist in the country's history, lifting a thousand cattle and a prize white bull and driving them three months across No Man's Land.
In 2002, a group of locals rustled up a re-enactment to mark Australia's Year of the Outback. It was no small feat. Getting council backing and funding together, finding cattle and horses and a boss drover game enough, or crazy enough, to take on the project.
"We begged, borrowed, everything but stole the horses," as one of those involved tells it. "Even old mongrels."
The guest riders loved it. The volunteers, some of whom use their annual leave to take part, have run a shorter version every year since except 2003, a particularly bad drought year. The original boss drover Bob Marshall passed the reins to David "Chook" Hay in 2007.
In Queensland, the public stock route network runs for 72,000km, following rivers and roads, dotted with water sources and cutting through private property. Anyone can apply for a permit to graze their cattle in the "long paddock", as long as they move at least 10km a day.
If it's just shifting stock to market or slaughter that's needed, a modern land-owner can - and often will - just use road trucks. But, drovers say, there's still plenty of value in the old-fashioned method, especially in a dry year when there's no feed in the paddocks.
Last year, South Australian cattle baron Tom Brinkworth made headlines when he bought 18,000 head from several stations in the drought-stricken north - Australia's largest ever livestock deal between a single buyer and seller - and used teams of drovers to bring them south.
It worried some locals, who preferred to see scarce grass and water resources used by their own cattle. Others saw it as an epic journey, in keeping with the state's pioneer past.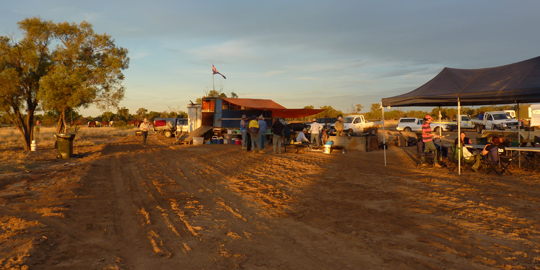 The campsite on the Harry Redford Cattle Drive, in western central Queensland. Photo / Nina Fowler
The Harry Redford Cattle Drive, which costs guest riders $360 a night for a minimum of three nights, has all the romance and routine of the real deal. Blue shirts and cowboy hats, long days shifting stock and camping each night in red dust off the road or sandy glades between trees.
It comes without the hardship, though. Moving a mob would normally involve two drovers and a few cattle hands on horses or motorbikes. This year, there are almost as many volunteers as guest riders on hand to care for the horses, prepare meals and set up camp ahead of the main mob.
The horses are a mix of ex-stockhorses and ex-racehorses, on loan from Chook and Ann Hay and Gary Peoples, a former mayor of Aramac. Not Pony Club horses, in other words, but quiet.
The guest riders - some of whom are back for a second, third or sixth year on the drive - are a mixed bunch. Most are Australian; many live in other parts of Queensland. The week I'm here, there's a woman who's flown from the UK. The average age is about 50, but apparently it's not unusual to also have guests in their 20s and 30s.
Some have never ridden before. One woman, last year, took one look at her assigned horse and burst into tears. Now, she's back for a second year, easy in the saddle of a tall ex-racehorse.
Camp host Chrissie Nott - a tall blonde with a ready laugh and repertoire of dirty jokes - is a dab hand at matching guest riders to horses, a crucial part of avoiding bad "busters".
I'm assigned Ebony, a quiet and lovely ex-stockhorse. She's a dream. All I have to do is stop her from moving to the front of the herd - strictly the boss drover's territory - and from dropping to roll whenever she feels like it. It takes three days but I get the hang of it.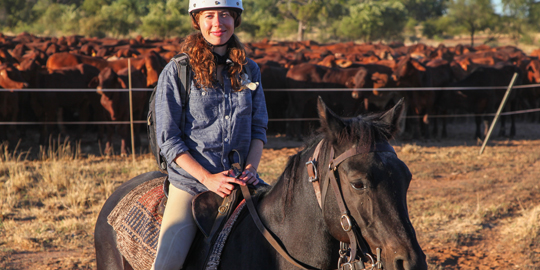 Nina Fowler on horseback on the Harry Redford Cattle Drive, in western central Queensland. Photo / Harry Redford Cattle Drive and Mark Roots
With so many riders, it's possible to be as involved as you like, actively helping shift the cattle or just following the herd. Chook makes it look easy, wheeling around to collect a stray or guiding the mob through the gate. It can be noisy business.
"Push up!" "Yah!" "Move off!"
We get a few moments of excitement. Eating sandwiches in the shade of the lunch wagon, we're passed by the volunteers driving the mob of spare horses - and two make a break for it, tails high, careening in circles around the wagon and the hobbled herd before they're brought back.
Then there's the first sight of the night's camp, a convoy of floats, utes and trucks rising out of the red dirt. Deck chairs, a pavilion and the orange kitchen tent, topped with a flying Australian flag.
We eat like kings. Porridge, eggs, sausages, beans, bacon and black billy tea to start the day; corned beef, damper, pumpkin mash, cabbage and bacon, date pudding and custard to end it. The head cook - Chook's son Robbie - puts together a four-meat special for the group's last night in the bush, roasted in two gas-powered camp ovens made from old hot water cylinders.
Cold beer has never tasted so good and there's plenty of it. Most nights, the bulk of the camp winds up in a huge circle around a blazing fire, spinning yarns or swapping limericks and dirty jokes.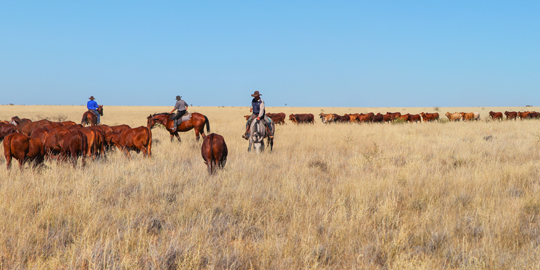 Drovers at work on the Harry Redford Cattle Drive, in western central Queensland. Photo / Harry Redford Cattle Drive and Mark Roots
On Saturday, we wind up at the Harry Redford Centre in Aramac, also known as the "Harry Hilton". It's the first shower in a week. It's the first chance to sleep inside, too, but most of the guests roll out their swags on the deck for a last night under the stars.
The local pub is packed. Everyone's scrubbed up and shiny-haired, almost unrecognisable from the dusty days on the drive, and the night descends to raucous jukebox karaoke.
Like many small towns, Aramac is struggling to hang on to its young people. The future of the Harry Redford Cattle Drive is also up in the air. There are a good few years left, that seems certain - but who'll take it on when the old guard moves on?
Droving's long history is far from over. In the morning, we pass another mob of cattle on the way to the airport in Longreach. Sure enough, there are two drovers on horses and one on a motorbike, with a truck and trailer unit waiting for the next night's camp.
Chook probably had it right.
"I don't think it'll ever die out," he said during the last day's lunch break, squinting at the sun.
"There'll always be blokes who love stock."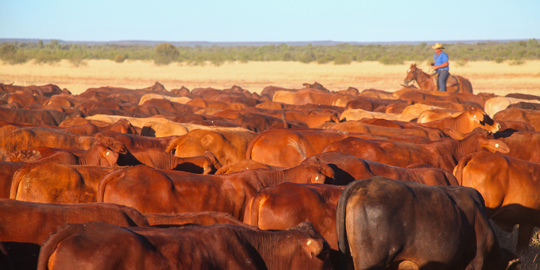 Drovers at work on the Harry Redford Cattle Drive, in western central Queensland. Photo / Harry Redford Cattle Drive and Mark Roots
CHECKLIST
Top tip: Bring earplugs (snoring) and baby wipes (no showers). All you need to carry during the day is a small water bottle, fruit and sunblock so think about bringing a saddle bag or something to tie your water bottle to your saddle.
Getting there: Qantas has several flights a week from New Zealand's main centres to Brisbane (either direct or via Sydney), with connecting flights available to Barcaldine and Longreach.
Details: Prices for next year's Harry Redford Cattle Drive are still being set, but bookings should open this month.
Visit: The Australian Stockman's Hall of Fame and The Qantas Founders' Museum (Both in Longreach).
Further information: See barcaldinerc.qld.gov.au and queensland.com.
The writer travelled courtesy of Qantas and Tourism and Events Queensland.