Shandelle Battersby tempts fate in Darwin's Cage of Death.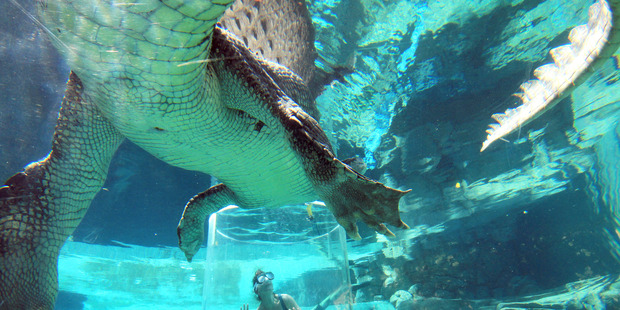 One sight I'd be happy never to see again in my life is that of a 5.5m-long crocodile swimming right underneath my feet.
There may have been two layers of strong mesh and 4cm of perspex between me and Chopper, the third largest croc in captivity in the world, but I had visions of him tipping over the plastic tube I was temporarily trapped in, and eating me for lunch.
This experience, dubbed the Cage of Death, is the main attraction offered at Darwin's Crocosaurus Cove, a reptile park housing more than 200 crocodiles on Darwin's main drag.
Equipped with a snorkel, mask and GoPro video camera, foolish people pay good money to enter the "Cage" (more like an upside-down tumbler with a lid; the mesh bottom lets the water in) via a ladder, then are hoisted up by a monorail-type gantry and deposited into one of the crocodile pools for a 15-minute encounter with terror.
Earlier, I'd witnessed a snazzy hydraulic contraption demonstrate the power of a crocodile's jaw by smashing a big block of ice to smithereens, and I wasn't too keen to see the real thing in action.
But I'd watched a few other people in the Cage (you can also do it in pairs), and knew that up to 26 people a day commit to the damned thing.
As I was signing the indemnity form the guide rattled off a few statistics about pressure and chain weight, but all I heard was white noise. I did register the fact people get engaged during the experience, and decided if someone could relax enough to pop The Question, then surely it couldn't be that bad.
What could possibly go wrong?
Well, I learned that it's unnerving when a giant prehistoric-looking creature with very big teeth and incomplete forearms (Chopper had been in a few fights in his days before captivity) circles your perspex tube.
I also learned that when said croc gets fed his small portion of beef cheek or pig heart right in front of your face, that crocodiles are extremely unpleasant creatures at close range. Still, the only time I felt really nervous was when Chopper swam underneath me - he bumped the cage a bit - but happily I remained upright, and can report the whole experience was quite a thrill.
Some fun facts about crocodiles: There are two types, saltwater and freshwater. Salties are the bad guys. They are more aggressive and grow much, much bigger. The weird thing about salties is that they can also be found in freshwater. And there are more salties in the Northern Territory than anywhere else in the world - about 80,000.
My Cage of Death experience came at the end of a VIP tour of Crocosaurus Cove, which began in the reptile area with friendly, knowledgeable guide Sarah, who met me with Frankie, a frill-necked lizard, clutching her shoulder.
Sarah transferred Frankie to me for most of the tour until we put him back in his enclosure with his two lady friends, one of which was pregnant. The other one, obviously not happy about it, went into full frill mode to get Frankie's attention, which he lazily responded to before scrambling up a branch to be closer to his baby mama.
The Cove boasts the largest collection of Australian reptiles in the world and - viewed from side-on or above - a small but impressive aquarium with huge barramundi, black catfish, freshwater whiprays and other fish native to the Northern Territory.
When I held out a little meal worm over the tank with a pair of tweezers a clever archer fish blew powerful streams of water at it until I let it go, something it does in the wild to knock insects off plant life.
Six big tanks hold six enormous crocodiles. There's Burt (80-something, star of Crocodile Dundee, blind in his left eye) and William and Kate, renamed in 2011 to mark the royal wedding.
The VIP tour also gives punters the chance to feed the beasts. From behind a barrier I dangle some foul-smelling meat from the end of a long metal pole over Burt's good eye until his massive jaw moves faster than lightning. Snap!
In the "fishing area" you can feed some of the 100 or so smallish crocs with bits of meat attached to little fishing rods (while keeping your hands well away from the edge). The young crocs, which sort of lie on top of one another in the tank, leap vertically for the tucker, using their powerful tails for leverage.
My tour ends with a quick photo shoot with Fluffy, a 1m-long baby croc which involved sunglasses (on him, not me), draping him around my shoulders (surprisingly heavy) and on my head.
After my encounter with Chopper, Fluffy seems like small fry but he's still capable of packing a punch.
"He'd take your fingers off if he bit you," a staff member tells me.
And with that pleasant thought, I legged it out of there as quick as I could.
CHECKLIST
Getting there: Qantas has daily flights to Darwin from Auckland, Wellington and Christchurch, via Sydney or Melbourne
Accommodation: Vibe Hotel Waterfront, 7 Kitchener Drive.
Swimming with snappy: Crocosaurus Cove is at 58 Mitchell St, Darwin. You must be at least 15 to do the Cage of Death experience; 15- to 17-year-olds must be accompanied by an adult and it's best to book in advance. One-hour tours take place three times daily.
Shandelle Battersby travelled to Darwin courtesy of Tourism Australia.