The warm welcome at PNG's Kiriwina Island leaves cruise passenger Paul Rush smiling.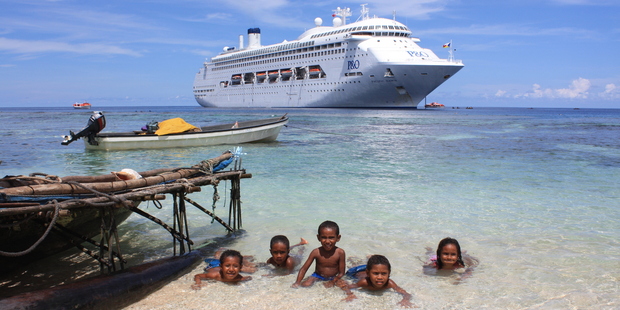 I step ashore on beautiful Kiriwina Island not knowing what to expect. From what I have seen of Papua New Guinea's Milne Bay Province, this is a South Seas paradise that constantly tests the limits of one's credibility and reason.
Two thousand islanders are standing and sitting in the cool shade of a well-defined line of tall, graceful coconut palms. Laid out on woven mats before them are souvenirs, craftwork, fruit and produce. Their calmness and patience is virtuous as it takes two hours for an equal number of pale-faced "dimdims" to disembark from the superliner Pacific Dawn.
I meet Mr Kagoga, squatting under a tree with his three young children, watching the seemingly endless stream of cruise passengers come ashore.
"Life is good on this island," he tells me.
"We live off the land and sea and largely limit our imports to clothing, sugar, salt and spear guns."
Two strapping fishing gurus named Mwaiwa and Modulata hoist their mammoth catch shoulder-high for my photo. Three smaller piscatorial delights are steaming on wooden frames over a smouldering fire. The cave families will dine like chiefs today on a remarkable seafood smorgasbord.
Below a "Welcome to Kaibola" sign near the jetty, signs offer tours to a "cave of hummen bones" and "diving and snockling" excursions. I realise that I have stumbled upon the Kiriwina Island Visitor Centre. A young man introduces himself as Samuel and says he will guide me to his village for 20 kina ($4).
Samuel's family home is under coconut palms and surrounded by seating platforms, storehouses, banana plants and frangipani trees. His 46-year-old father, Togesi, offers me freshly picked bananas, which are delicious. Samuel points out Chief Pulayasi's large house in the centre of the village.
The family's 1ha garden plot is replete with yam, taro, potatoes and corn planted randomly among the up-thrusting jagged coral heads.
As subsistence horticulturalists, the Kiriwinians' social structure is based on matrilineal clans who control land and resources. Men do planting and harvesting, and women have the land ownership rights.
The local traditions relating to reproduction are very strong. Many locals still believe a woman becomes pregnant when a child spirit chooses her. In earlier times the link between sex and pregnancy was not very evident.
This was because yam, the staple food of the island, contains phytoestrogens and plant sterol chemicals whose effects are contraceptive.
My guide explains that marriage customs are very liberal here with the active pursuit of sexual partners beginning in the early teens. There is no traditional marriage ceremony. Once the girl accepts a gift from the boy and the couple eat together on a regular basis, the marriage is officially recognised.
If, after one year, the woman is unhappy she may divorce her husband. The man may return to his ex-wife by giving her family yams and other gifts, but only if the woman is prepared to take him back.
I notice that semi-wild pigs are prolific on the margin of the village and learn that they are part of the glue that holds Papua New Guinea's society together. They signify wealth and power and are the surest means of exchange for buying a bride, paying school fees or settling feuds in many settlements.
When we finally return to the beach festivities, a surprise awaits. A game of cricket is being played in the middle of Kaibola Village. It's a world away from the sedate international sport I have watched in Wellington's Basin Reserve.
This game is played with an unlimited number of participants and takes several days for a turn at bat. There's so much singing, dancing, whistle-blowing and inexplicable movement on the field I cannot identify winners or losers. There is much aggression and shouting as cricket was developed at the insistence of early colonial rulers to substitute for constant inter-tribal warfare.
Reluctantly, I say goodbye to my friend Samuel and his island paradise. I'm soon missing the broad welcoming smiles of the people and the hordes of beautiful children rushing about like happiness personified.
It has been humbling to meet these genuine island people. It's a cultural experience not to be missed.
CHECKLIST
Getting there: P&O Cruises has six dedicated cruises to Papua New Guinea sailing from Brisbane and Sydney this year and in early 2015, taking in destinations such as Alotau, the Trobriand Islands and Doini Island, as well as Rabaul and Madang on select cruises.
The writer travelled on the Pacific Dawn courtesy of P&O Cruises and Air New Zealand.