Rod Pascoe discovers the best way to skirt the NZ coast and cross the Tasman is to be one of the 3000 fortunate passengers on board a luxury liner such as the Celebrity Solstice for 14 carefree, pampered and food-filled days.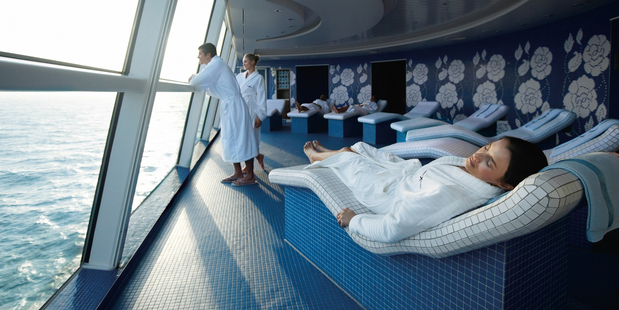 It's the weirdest sensation. You're in the middle of the Tasman Sea, en route from Milford Sound to Hobart. Everywhere you look, there's nothing but ocean. But you're walking on a half-acre expanse of natural lawn, and around you people are playing croquet and other ball games.
At a time when international cruise companies are looking to promote their liners with points of difference such as ice-skating rinks, bowling alleys, bumper cars, climbing walls and the like, one appears to have gone altogether in the opposite direction, opting for a touch of nature.
I'm on board the Celebrity Solstice and there's even a four-storey-high tree towering over the atrium.
The Solstice is a veritable leviathan of the high seas, so big, in fact, that it has more than 1400 guest cabins ("staterooms"), and 85 per cent of them have balconies.
The liner - all 122,000 tonnes of her - has been rated by the cruise industry bible, the Berlitz guide, as the most luxurious based in our region.
With more than 3000 other holidaymakers, I'm on a voyage down the east coast of New Zealand around to Fiordland and then to Hobart, Melbourne and Sydney.
Travelling on a liner like the Solstice involves, on my cruise, 14 days of doing nothing, doing a little or doing heaps. Your call. It can also be 14 days of sheer indulgence, bordering at times on decadence.
Some people come back from cruises declaring they've been treated like kings.
That's probably a bit of an exaggeration, but on the Celebrity Solstice, I certainly felt like a star-belly sneetch, Dr Seuss' famous symbol of privilege.
I had myriad experiences of that privilege, the ultimate being dinner at the Murano, one of the four specialty restaurants (where voyagers pay a little extra to dine).
We sat in a private alcove, around a US$65,000 ($75,000) glass table made for a visit by the Queen to Italy. The room had the atmosphere of a posh gentlemen's club. It was lined with dark wood panelling and display cases, and the lighting was subdued.
There were eight of us, and we were served by four waiters, who acted in precise unison as they laid our meals before us and cleared the plates away afterwards.
I half-expected them to bow, and felt as though Sylvester McMonkey McBean had just sold me a permanent star for my belly.
The food was superb. It was an experience that transported me from my humdrum everyday life to a realm I could previously only dream of - and all it cost, for four courses, was US$45.
Another star-belly sneetch experience was a visit to the Persian Garden relaxation zone.
In all my 61 years on this planet, I have never been so immediately eased of all my tensions as I was when I lay down on one of the eight heated ceramic-tile "loungers" there. Trust me: this was an "Oh. My. God." experience. I didn't want to get up again.
The sense of peace and tranquillity was aided by soothing mood music and floor-to-ceiling windows looking out to sea. There was also a steamroom - the heated steam took some getting used to - and an aromatherapy space, as well as showers of varying intensity to revive you for your return to the steam or to the separate men's and women's saunas in the changing rooms.
The Solstice has everything you'd expect on a luxury liner: swimming and spa pools (including those in an adults-only indoor solarium - great for when the weather's gloomy), a gym so big it has 16 treadmills; a nightclub, casino, bars, fabulous entertainment and shows, beauty and hair salons, classy fashion and jewellery shops, and endless food of almost every variety imaginable, although, I discovered, no green eggs - Dr Seuss would have been sad. (But it does have unlimited icecream from midday to 10pm.)
The culinary highlight for me was eating crocodile and kangaroo in the posh dining room, the Grand Epernay (overseen by the ship's Australian head chef and, coincidentally, set up to serve 1000 haute-cuisine meals in 18 minutes).
I thought I would screw up my face and hold my nose, and I had to put the Skippy the Bush Kangaroo song out of my head. But I found the Aussie "delicacies" were a real treat, and asked for more.
Several things about the Solstice did surprise me as a novice voyager, though.
There's the compulsory tipping for standard service, and it's hard to escape the feeling that you're part of a captive market for a 14-day sales pitch.
Go for an oh-so-relaxing massage and you'll be told that to continue enjoying the benefits, you really should buy the ship's body lotions and bath oils - and come back for another pricey rub-down.
Go for a lecture on boosting your metabolism and you'll end up being offered private consultations on detoxifying yourself - for a fee.
And quite a few of the "events" listed in the daily bulletins are actually sales promotions. Anyone for a US$39,000 Faberge egg? Or costume jewellery? Or a cheap watch? It's easy enough to say no, however, and ignore these things if they're not your "thing".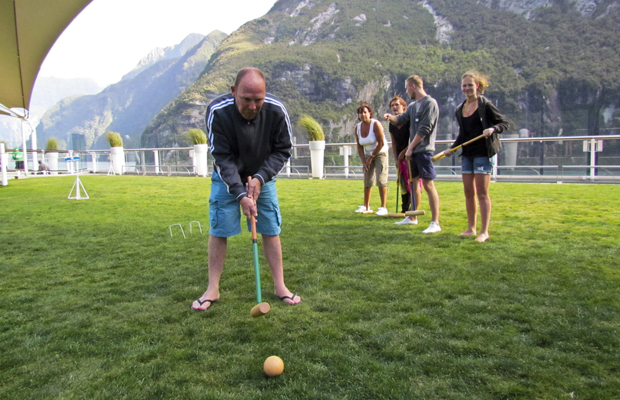 A leisurely game of croquet on the top-deck lawn as the ship visits Fiordland. Photo / Rod Pascoe
I suppose the ultimate test of how enjoyable a cruise liner is, is to ask yourself the question, would you book again?
My answer on the Solstice: You bet, absolutely, in a heartbeat. And next time, the experience would be even more fun, because I would know about the sales pitches (as you will, now that I've told you) and not be surprised.
As I left the Solstice in Sydney, I remembered these words from Dr Seuss: "Don't cry because it's over, smile because it happened."
For the first time in my life, however, I wasn't upset a holiday was over. At home, my first grandchild, just five months old, was waiting for his granddaddy's kisses and cuddles.
Potty over cleanliness
Have you ever been inspired by a visit to a men's toilet? No, didn't think so. Well you obviously haven't travelled on board the Celebrity Solstice.
The public toilets are really something to behold. All marble walls and floors with dark wood panelling, and artwork to make your visit just that little bit more "enjoyable" (if a visit to the loo can be considered enjoyable).
But what really tickled my fancy were the inspirational and amusing quotations above the men's urinals. Here are some samples:
• "Behind every successful man stands an astonished mother-in-law." - Voltaire.
• "Whenever people agree with me, I always feel I must be wrong." - Oscar Wilde.
• "The advantage of a bad memory is that one enjoys several times the same good things for the first time." - Friedrich Nietzsche.
• "Three may keep a secret, if two of them are dead." - Benjamin Franklin.
It was in the toilets that I realised just how much attention to detail goes into making sure cruise passengers are left with a good impression. At mealtimes and during organised events, each toilet was looked after by an attendant whose job was to make sure it was constantly spotless. This fixation extended to wiping away every single "drip" from the marble floor after each guest had visited. What a job!
The staff were obsessed by the need to prevent norovirus and other gastro-intestinal "nasties" of the type that struck the rival Diamond Princess in Tauranga in January. In the Celebrity Solstice's toilets, for example, you never use a door handle to get in or out. The doors are opened by touch pads, and these are activated by the attendants. (If you visit when the toilet is unmanned, signs ask you to use a paper towel to touch the pads.)
And even away from the toilets, you're constantly mindful of hygiene. Throughout the ship there are hand-sanitising "stations", and as you enter the restaurants, there's a staff member on every door squirting sanitiser into your hands. I didn't see a single passenger decline.
CHECKLIST
Celebrity Solstice tours around top South Pacific destinations, from New Zealand to the coast of Indonesia during the 2014/15 summer. A tour of South Pacific islands including Fiji, New Caledonia, and Vanuatu begins in October, from $2339pp.
Rod Pascoe travelled as a guest of the Celebrity Solstice.