Diana Clement takes a decadent tour of Sydney's chocolate cafes.
"Belle Fleur makes the best chocolates in the world."
This wasn't some bragging from a puffed-up Aussie. It was my Kiwi mate, AKA The Chocolate King, who has travelled the world indulging his passion for chocolate.
I'd asked The Chocolate King for his recommendations for Sydney-where he'd
lived for more than a decade-and his answer was unequivocal. Belle Fleur couldn't be beaten.
Sydneysiders love their chocolate. Over the past 10 years, boutique chocolate shops have sprung up all over the city. Names such as Kakawa, Haigh's, Josophan's, Just William, Bon Bon and many more have locals salivating. The city may even have, as Sydneysiders claim, the fastest-growing chocolate culture in the world.
For an introduction to Sydney's chocolate heart I took a Chocolate Espresso tour, which starts outside the city's historic Queen Victoria Building. Chocolate Espresso offers six delicious walking tours a week, each with a slightly different flavour.
Guide Jennifer arrived bang on time to the meeting point with a goodie bag containing chocolates and tasting notes. The tour includes chocolate tasting, although there is only so much chocolate a normal human being can eat in one day - and the goodie bag was ideal for storing those that couldn't be eaten on the day.
Our trip into the world of chocolate began at Haigh's Chocolates in the Queen Victoria Building. It's a 99-year-old business and one of Australia's finest chocolate shops.
Chocolate Espresso tours are educational as well as sensational. Many of the attendees are chocolate aficionados already. Others, like me, are novices and the tours include an introduction to chocolate making, storing and savouring.
I, for one, had no idea exactly how chocolate is made from cocoa beans or that award-winning chocolate shops don't necessarily make their own chocolate.
Haigh's for example, has a bean to bar operation, making its own chocolate. Others such as nearby Josophan's Fine Chocolates, use imported chocolate. Not just any chocolate, however. In the case of Josophan's it's single planation chocolates made by French boutique manufacturer Michel Cluizel.
What's more important for many of Sydney's chocolatiers is the artistry and fillings.
The chocolates can be admired for more than their taste and texture. The chocolates on offer are often works of art in their own right and the shops all have impressive window displays.
At each shop I made a point of tasting the biggest sellers. It's also worth trying unique Australian flavours such as Lemon Myrtle and Quandong. These two were from Haigh's but all of the stores have their own speciality.
Having a guide helps focus the mind. Adora Handmade Chocolates in the Wentworth Connection building, for example, has more than 40 varieties of chocolates and truffles. Faced with such sensory overload, it would be easy to miss the fact that Adora pioneered drinking chocolate shots in Sydney.
Also worth looking out for is screen printed chocolates at Josophan's and elsewhere. Using cocoa butter the chocolatiers create artistic patterns on the top of their creations.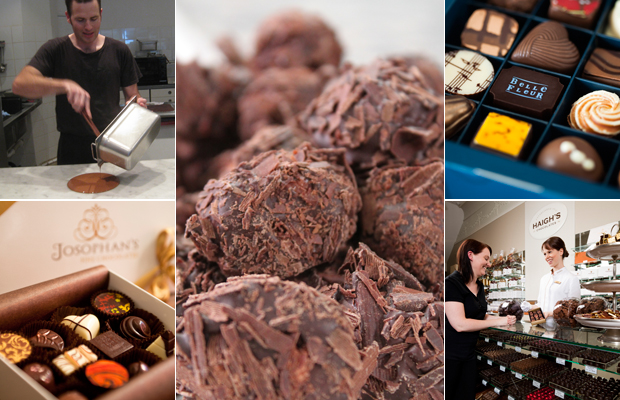 Clockwise from top left: The start of the process at Kakawa Chocolates, truffles (centre) and boxed chocolates from Belle Fleur, a Haigh's store and a selection from Josophan's Fine Chocolates.
Central Sydney is packed with magical chocolate shops but fine chocolate isn't just limited to downtown. Virtually all of the chocolate shops manufacture in the suburbs and many have several outlets, often tucked away in unlikely locations.
I chanced upon Adora's shop/cafe in Earlwood while running along the Cook River. I had to return the next day with money tucked into my pocket for some post-exercise indulgence.
Sydney's chocoholics aren't just well-served by boutique chocolate shops. They also love their chocolate cafes where they can eat and drink all manner of chocolate-flavoured delicacies, ranging from pizzas to churros.
My Chocolate Espresso tour finished at the Bon Bon Chocolates cafe in The Strand Arcade, where customers get to choose the strength of their hot chocolates from 40 per cent to 85 per cent - a new concept for me. On other days the tours go to the Lindt Chocolate Cafe.
My children and I have a fond spot for San Churro, which has 10 branches in Sydney. Our eyes opened wide the first time we chanced upon the Spanish-styled cafe and the mere mention of the words San Churro evoke wide eyes and discussions of decadence in our house.
Friends swear by Max Brenner, an Israeli chain of chocolate cafes, that has numerous branches in Sydney.
So what is the verdict? The reality is that my palate isn't sufficiently refined to judge one from another. My favourite single chocolate was Belle Fleur's Lime and Cointreau variety.
There were literally hundreds of choices across the many chocolate shops I visited and there could well have been an even better one that I didn't taste.
Anyone who wants to know what the judges think, could look up the results from the Sydney Royal Cheese and Dairy Produce Show. These are the highest honours on offer to chocolate-makers in Australia.
Finally, although I didn't have time to do it, a number of chocolate master classes are available for visitors and Sydneysiders who would like to hone their chocolate-making
skills.
IF YOU GO
Contact: Chocolate Espresso.
Diana Clement was hosted for her Chocolate Espresso tour but otherwise paid her own way.