Peter Chapman shares some of the best kept secrets of a spectacular coast.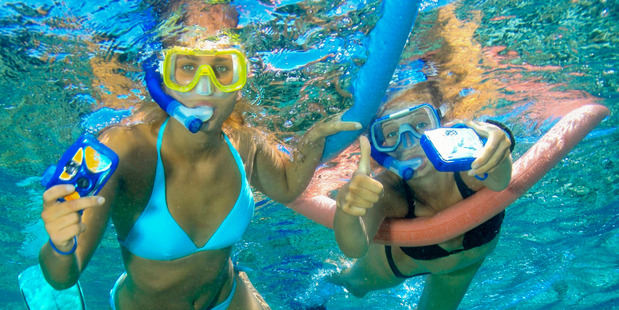 Where is this place? Just jump in a bus or hire a car and take a scenic one-hour trip north from Cairns. This is one of the most spectacular coastal drives in Australia.
What's nearby? The Great Barrier Reef and the Daintree Rainforest, the oldest living rainforest in the world at 135 million years old.
Where can I get a great coffee around here? Origin Espresso will kick-start your day or, if you want to hang with the cool kids, head to Whileaway Cafe.
Got a spare afternoon? Take a drive to Mossman Gorge for a refreshing dip in the Mossman River and enjoy a guided indigenous walk taking in the rainforest history.
Staying a while? If you're after five-star accommodation try the magnificent Port Douglas Sheraton Mirage. QT Port Douglas has a young and fresh vibe, and it's hard to beat a luxury apartment on the beach such as Mandalay Beachfront Apartments. Villa San Michele is a great mid-range option for people who want to stay in the heart of town. If you want to immerse yourself in the rainforest, Silky Oaks Lodge is unbeatable.
What do the locals get up to around here? Living the good life. Swimming, mountain-biking, fishing, and doing lunch at one of our fabulous restaurants.
Source of pride: Being good-natured Queenslanders we love heading to the pubs to watch the Bledisloe Cup matches. Not much to shout about lately.
Best spot to get an icecream: Port Douglas Sunday Markets have tropical fruit icecreams as well as locally grown vanilla options.
Best local produce? Daintree Cocoa produces a range of chocolate products to die for.
Time for lunch? Port Douglas is the home of the famous Mocka's Pies, regarded as Australia's best. For a casual bite drop into the Port Douglas Combined Club overlooking Dickson's Inlet or go to the local's favourite Salsa Bar and Grill for great food and views.
Best picnic spot? Pack up a picnic and head to Rex Smeal Park for the view and wide open parkland. This is a top sunset spot as well.
Looking for something special for dinner? Harrisons restaurant is a foodies' paradise in a stunning al-fresco setting.
Where to hang out when the sun goes down? On The Inlet restaurant is a great spot to watch the sun set over the mountains of the Daintree Rainforest and the reflecting colours over the water. They also feed a giant Groper fish, "George", daily at 5pm.
Best shop: Des Spencer Art Gallery. Des is a world-renowned artist recognised for his vivacious images of Australia. His underwater scenes explode with pulsating colour.
Fancy a bit of culture? Take in the Flames of the Forest dining experience.
Best walk: The Bump Track or any of the trails at Mossman Gorge.
Best view: Alexandra Lookout on the way to Cape Tribulation affords views over the mouth of the Daintree River and south towards Port Douglas.
Feeling romantic? Here's the spot to take her/him: Whisk them away on a scenic helicopter flight landing on a private sand cay.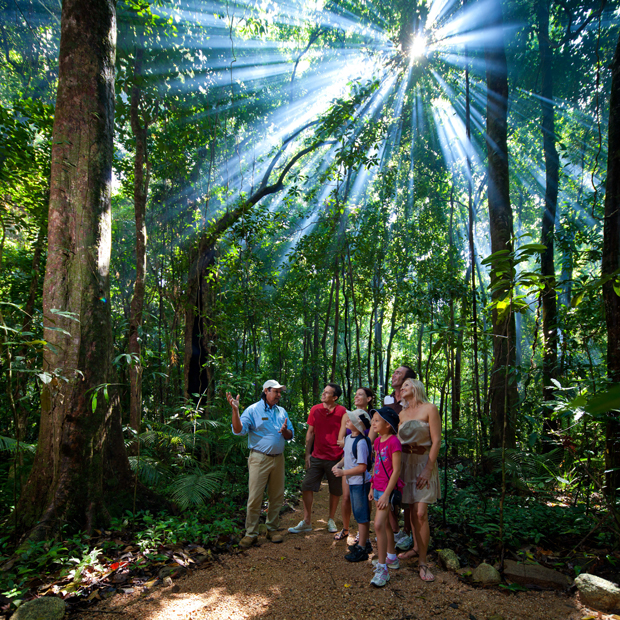 Head to Mossman Gorge for a guided rainforest walk or a dip in the Mossman River.
Best spot to swim on the beach? Pick a spot along Four Mile Beach, set up camp and while the day away. If you're heading north to Cape Tribulation, surprise yourself by stopping at one of the deserted spots along the way such as Noah Beach or Myall Beach.
Best adventure? Zip lining through the rainforest with Jungle Surfing Canopy tours.
Fancy a spot of fishing? Take your pick of fishing the estuaries or try your luck with the big-game fish on an outer reef charter.
Here for a short time? Reef, rainforest and relax. Three days and you can do it all.
Best kept secret? Every Wednesday visitors can join in the WAGS sailing by turning up at the Port Douglas Yacht Club where they will be assigned a local boat to go out with for this friendly sailing race.
When Kiwis visit, they love: The awesome nature, the relaxed feel of Port Douglas village and the local produce.
What's the event you wouldn't want to miss over winter? The annual Port Douglas Carnivale kicks off the winter season and has a great range of events focused on food and fun.
Best website? visitportdouglasdaintree.com.au.
CHECKLIST
Getting there: Major airlines flydaily from Auckland to Brisbane and Sydney, from where local carriers connect to Cairns International Airport.