An icy watering hole is the perfect summer unwinder. But put safety first, especially with children.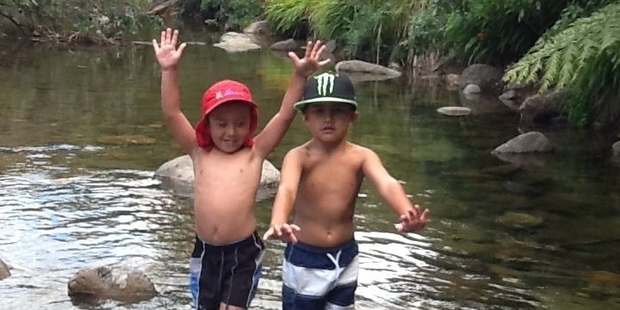 1. Kitekite Falls, Piha
Follow the signposts through Waitakere bush towards the falls, checking out the historic remnants of the logging railway. The three-tiered waterfall dropping 40m in six steps to the pool is part of a spectacular Waitakere walk. Every Aucklander must visit it at least once, just don't expect to have it all to yourself. Afterwards, stop at the Piha Store, a local institution since 1945.
Enter the Kitekite Falls track from Glen Esk Rd, Piha.
2. Wentworth Valley, Whangamata
An easy walk from the picturesque Wentworth campsite, the Wentworth Falls walk is an easy family hike of about 3km. Two bridges to cross are a thrill for small sorts, or the more vigorous can climb the steeper tramping track to the icy basin at the top of the falls. Or take the shorter Mines walk from the concrete ford at the end of Wentworth Valley Rd for a pretty, swimmable stream (but do check water levels after rain).
Turn off SH25, 7km south of Whangamata on the Coromandel Peninsula, into Wentworth Valley Rd.
3. Piroa Falls, Waipu
Head inland from Waipu and its white, sandy beaches to the Waipu Gorge Scenic Reserve with its impressive waterfall and clear rock pools, surrounded by native bush. To warm up for a swim, there's an hour-long walk near the Waipu Caves, as well as the new Paparoa walkway.
Take the Waipu Gorge Rd to the Waipu Gorge Scenic Reserve, signposted on SH1 at the foot of the northern side of the Brynderwyn Hills.
4. Karamatura Stream, Huia
Stock up on supplies at the Huia Beach Store & Cafe before heading through caves and bush to find watering holes to cool down in, near waterfalls. It can be muddy after rain, so is not recommended for the littlest ones.
Huia Rd, Huia. Start at the Karamatura Valley picnic grounds then follow the Karamatura Track for about 35 minutes until you reach the junction of the Karamatura and Tom Thumb Tracks - the waterfall is here.
5. Te Waihou Walkway and Blue Springs, Putaruru
Not strictly a spectacular waterfall, but a wonderful river with the clearest bluest water (they weren't kidding with the name). Much of New Zealand's bottled water comes from here and the water is a constant 11C. There's also a nature walk through farm and bushland.
Whites Rd, Putaruru.