The murky mists of time have thrown up many bizarre tales of legendary Dartmoor, writes Paul Rush.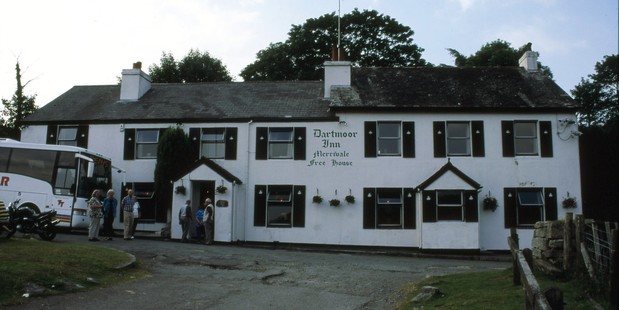 The pale evening light and crisp, cool air offers little comfort as I stumble over rocky ground amidst the peat bogs south of Princeton's melancholy grey granite pile of HM Prison Dartmoor, England. There's a primal silence amongst the meadows and mires, disturbed periodically by eerie mutterings of the wind.
I long for the warmth of the sun on my back and clear visibility to reveal the beauty of this starkly bleak moorland. Somewhere up ahead are the infamous Bottomless Pool and Great Grimpen Mire, prominent names on the Ghost Map of Dartmoor that I clutch nervously in my hand.
This winding pathway is no place for the fainthearted traveller. I could never contemplate traversing it in the middle of the night. This barren plateau is criss-crossed with dry stone walls, granite crosses, Neolithic ruins and abandoned tin mines. It's the old stamping ground of foolish Childe the Hunter and wicked Squire Cabell. No one in their right mind would want to meet these restless spirits and their bloodthirsty packs of spectral hounds.
Childe was a wealthy bachelor with no heirs who inserted a clause into his will stating that whichever church buried him, would be granted all his lands. One winter's night he became lost on the moor and in desperation shot and disemboweled his horse and crawled into the carcass to escape the numbing cold.
His final act was to leave a message in blood on a rock reiterating his bequest of land. Once a traveller found his frozen remains, the news spread to the friars of Tavistock and Plymstock who raced to the scene. The former arrived first and cleverly detoured on the return journey to avoid a deadly ambush by their rivals and so claimed the entitlement.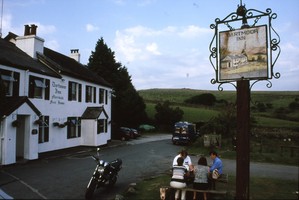 Then there was Squire Cabell, who scared the local populace so much by ranging far and wide over the landscape with his big, black, fierce-looking hounds, that even after his death in 1677 they were fearful of meeting him. His grave at Holy Trinity Church, Buckfastleigh is covered with a solid concrete slab and a roofed-over prison with steel bars in the walls.
Legend has it that the squire sold his soul to the Devil and even today there are reports of the huntsman and his phantom black hounds being heard in full cry on moonless nights. The squire's unquiet death inspired Sir Arthur Conan Doyle to write the classic Sherlock Holmes thriller The Hound of the Baskervilles.
In the gathering twilight I direct my steps back towards the sepulchral shape of the prison. The forbidding stone edifice was built to house French prisoners during the Napoleonic Wars and became the toughest prison in Victorian England, acquiring the title of Halfway to Hell.
From here it's a short road journey to the Dartmoor Inn where my group is booked in for dinner. After a fine Devon roast meal we settle back to listen to stories of the moorland. A local storyteller has been brought in to introduce us to its folklore and legends. The setting and atmospherics couldn't be better for ghost stories as the wind has freshened, rattling the window panes and the night is pitch black.
Our zealous raconteur soon warms to his subject of dark and dastardly deeds by the heartless hunters mentioned on my ghost map. "You are seeing Dartmoor at its best today, believe it or not, but just try and imagine what it's like in winter," he says with an earnest, pitying voice. "It's pitch black and freezing cold by 4.30pm and everyone is huddled over the fire before retiring early to bed."
"The long winter nights have their consequences. The Princetown School has around 100 children under eleven years of age. It's not just simple arithmetic of 100 out of 800 residents - you have to eliminate those who are too young or too old and the ones looking the other way.
"Close to Merrivale there's a sinister looking granite stack called Vixen Tor. An evil old hag called Vixana the Witch lived nearby and scared many travellers with her grimy teeth, tangled grey hair and long nose. Her only enjoyment was derived from luring people to a watery death in the peat mire, cackling with pleasure as they sank. A handsome young man crept up onto the tor one foggy night, caught the witch by surprise and sent her crashing to her death."
In 1921 the medical officer of Princetown Prison died when he inexplicably lost control of his motorcycle. Many visitors at that time told the story of disembodied hands appearing suddenly and grabbing the steering wheel and forcing them off the road. Locals attribute the hands to a large, hirsute man who had previously died in a terrible accident on the road. There are countless stories of church ghosts that creep about and troublesome pixies that lead unsuspecting travellers into miry bogs.
The audience is spellbound as our anecdotal soiree draws to an end. A lady breaks the silence by saying in a tremulous voice, "I don't want to go out in the dark. Could we stay the night here?" Our group is booked into the nearby Two Bridges Hotel, so we take turns in engaging the anxious lady in light-hearted conversation to ease her mind.
In the dull light of dawn we set out by coach deep into the stark moorland. Granite crosses, stone rows and circles and other inexplicable megalithic remains come into view as we cross this last great wilderness of England. We spot scattered herds of scraggly sheep and cattle and watch semi-wild Dartmoor ponies gallop over the rugged terrain.
Finally we arrive at Plymouth Harbour to a scene of absolute tranquillity. It seems a million miles away from the sinister supernatural happenings of darkest Devon. But the bizarre tales of dastardly deeds linger long in the memory.
FACT FILE
Dartmoor is in Devon in southern England. It is unique among the country's National Parks in that much of it is designated as Access Land. This means there are public rights of way over vast areas of privately owned land.
The Dartmoor National Park Authority has an extensive guided walks and events programme throughout the spring and summer seasons. There are free or low-cost ranger-led walks, minibus tours, history walks, pony tours, children's activities, local shows, markets and craft fairs.
WEBSITES
dartmoorinn.com
dartmoor-npa.gov.uk
dartmoornationalpark.co.uk
- nzherald.co.nz