Exquisite Fakarava is a Unesco biosphere reserve and a pearl of French Polynesia, discovers Pamela Wade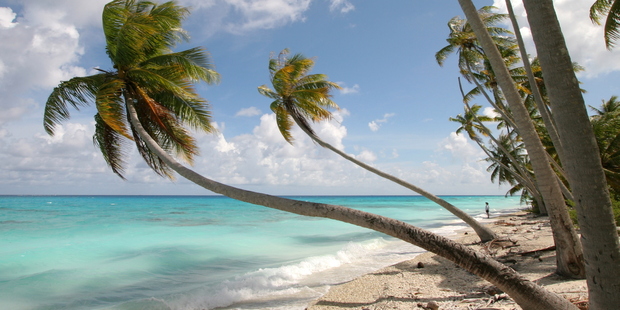 Fakarava's lagoon has a plethora of marine wildlife, including humpback whales. Photo / Thinkstock
"Don't worry about the sharks," Coco says dismissively. "Reef sharks, 1m only, pft."
So I kept on snorkelling, delighting in the balls of bait fish, the bright coral, a huge lumbering wrasse. It was only much later I realised that if the sharks were small, that meant they were a lot closer than I'd thought. Sometimes it pays to be slow on the uptake.
So nothing spoiled our perfect day out on the lagoon - and what a lagoon. From the air, Fakarava, an hour from Tahiti, is a wobbly rectangle, a thin outline of coral atoll dividing the deep blue ocean from the shaded turquoise inside it. Down on the water, skimming along in a boat, it looked vast, plenty big enough to accommodate the humpback whales that visit each year and have helped the lagoon to be designated as a Unesco biosphere reserve.
When we arrived at the tiny motu, or islet, where we were to have our picnic, we felt like the only people on the planet - and certainly the first to leave a footprint on its crushed coral sand. Pink sand, aqua sea, a drooping coconut palm: it was a cartoon cliche, but the lunch that Coco and Francois laid out for us was a real feast.
Steak barbecued over an open fire, fresh raw tuna marinated in coconut milk, salad, French bread and fruit, with a glass of chilled rosé: delicious, and even better eaten in the rustling shade of a palm tree watching ripples lap onto the sand.
Snorkelling afterwards, drifting along with the warm current, it was bizarre to lift my head from the water and hear Madonna singing, but other people do live on Fakarava - 855 of them in fact - and we'd reached the village of Tetamanu, a scattering of houses among the palms. Coco showed us its lovely church, built of crushed coral painted cream and blue, and surrounded by fragrant frangipani trees. Inside, the altar gleamed, tiled in shimmering mother-of-pearl.
Further down the atoll, in a hut built on stilts over the water, we watched men seeding pearl oysters, delicately inserting an artificial nucleus into the levered-open shell. Two minutes' work, then 18 months of growth in the lagoon's waters result - with luck - in a round, black pearl, smooth, lustrous and beautiful. Also expensive, although the little shop under the hibiscus trees would be the cheapest place to buy them.
Pearls in the sea, diamonds in the sky: that night, the ink black sky was bright with an infinity of stars, so many that the constellations were swamped. They sparkled on the dark water and shone on the line of white surf along the reef, which growled quietly in the distance. A light underneath the hotel jetty drew the party fish, a swirl of red stripes in the illuminated circle. Out in the dark, something big splashed. Too big for a titchy reef shark. Maybe it was a whale?
CHECKLIST
Getting there: airtahitinui.co.nz, airnewzealand.co.nz
Accommodation: whitesand1.com