Elisabeth Easther hits the Ngati Otara trail and finds gems along the way.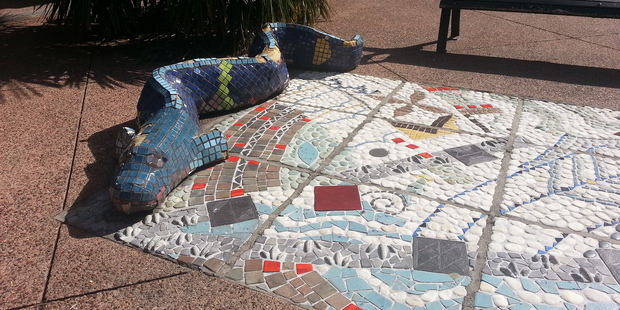 Otara isn't often seen as a visitor destination. Annoyingly, its public reputation tends to focus more on social ills than sightseeing thrills. But I'm of the opinion that you shouldn't make up your mind about a place (or a person) until you've personally put it to the test.
So, when I heard a new cycleway had opened in Otara, the Ngati Otara trail, I thought I'd roll on down and check it out. It was a chance to investigate Otara's other charms at the same time.
Our first stop was the Otara Markets, which were already in full swing when we arrived at 9am, starting as they do at 6am and closing around midday. Aromas from a range of tempting food stalls welcomed us, as did competing musical offerings, live and recorded, combining to create a real bustle and hum.
My favourite was the kite stall. Although it seemed there wasn't a breath of wind, soaring in the air high above was a giant dragon, a bargain in anyone's books at $28.
Also in abundance were food stalls, fruit and vegetable traders, plastic toys, sports shoes, baseball hats, arts and crafts, power tools, and a range of coconut oils with more fragrance options than you could shake a stick at.
Some time and a few food purchases later, we girded our loins with a fine cup of coffee from the recently reopened Fresh Cafe and Gallery. This exciting community initiative provides a springboard for local artists, giving them a profile and experience to support them in exhibiting nationally and internationally. It's a fabulous addition to the vibrant town centre, which is already home to plenty of eye-catching public artworks.
Mounting our bikes, we headed in the direction of the Ngati Otara sports fields, which were teeming with Saturday teams, from little kids playing barefoot to strapping great men who looked as if they should be playing professionally. Shouts of "Where's the winger?" filled the air, as did urgent calls for players to "Pass the flipping ball".
Each time we looked a little lost, someone would approach and ask if we needed directions; the sense of community around these parts is tangible.
Here's where I should probably point out there was a reason we looked lost, because the cycleway isn't very well signposted, despite having been officially opened in April. There weren't any signs as far as we could see, in fact, a tiny part of me wonders if we were on the right track.
Our first attempts to get on the trail saw us cycling inadvertently and excitingly down some stairs, which, without warning, became grassland. Not wanting to turn back on account of a matter as simple as a path disappearing, we circumnavigated the Otahuhu Power Station grounds, with its fence of razor wire.
We knew we were way off the mark at this point, but were determined to press on. We eventually found a road again and headed back to the rugby grounds, intent on finding our way. Knowing the path started somewhere near Sir Edmund Hillary Collegiate, we headed back there and finally found what we can confidently assume was the path, with a lovely rolling ride.
After all the hustle and bustle of the sports fields, we were pretty much on our own, trundling along waterways and through fields sprouting with beautiful mature trees. The waterway we rode alongside was in a bit of a state, but the Otara Board has it in its sights for a clean-up. At one bridge we stopped and counted eight shopping trolleys ditched in the murky depths, skeletal remains of shopping trips past.
In the interests of saving you the time we lost (though that's not to say we didn't have fun), I suggest finding the path as it heads just beyond Sir Edmund Hillary Collegiate. This leads to a path that makes as good a start as any. Or try Hills Rd Bridge, where there's another obvious place at which to hop on.
Use your common sense to decide which way to go when you're confronted with options and, if you make a wrong turn, simply consider it all part of the fun.
Aside from our initial confusion, we enjoyed a very pleasant and pastoral pedal.
The pylons marching across the landscape are a trifle intimidating, but if the alternative is no electricity, I know what I'd choose. Herons and pukekos provided the fauna, and feijoas spilling across pavements the flora (and a quick snack).
Having finally found what we came for (at least we think we had) and given it a good going-over, it was time to attend to our rumbling hunger. Back in town, the market had been reduced to a few piles of litter, but happily The Great Tong on Bairds Rd saw us right.
Sated and headed for home, we were already making plans to return with our youngsters in tow. For pushbiking, parks and pools, Otara is one to watch.
TOP THREE MUST-DOS
Ngati Otara cycle track: More than 2km of pathways. Enter off Franklyne Rd or Hills Rd Bridge - I suggest starting on Franklyne Rd, just beyond Sir Edmund Hillary Collegiate. Park in the small cul-de-sac of Luke Place, as the parking near the sports fields is challenging when there are games on.
Otara Markets: Otara Leisure Centre, Newbury St. Saturdays 6am till noon.
Fresh Gallery and Cafe: Shop 5, 46 Fairmall, Otara Town Centre.