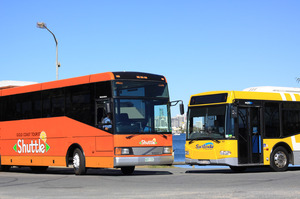 "You caught what?" The answer was: public transport on the Gold Coast.
My children spend more time than they should belted into the back seat of our car. So when we're on holiday, we catch public transport whenever possible. It forces us to slow down to holiday time, chill out at the bus stop, and chat.
It's so easy to catch public transport on the Gold Coast that I sometimes wonder why people bother with hire cars at all. On a bus, someone else has to deal with the stresses of navigating and driving.
The first thing to know about catching public transport is that there is one main road, the Gold Coast Highway, and it runs from the Gold Coast Airport in the south to Labrador in the north. Most tourism accommodation is within a few blocks of this highway and buses are frequent.
Public buses leave from outside the Gold Coast Airport terminal. From Brisbane Airport, take the Airtrain from the terminal through the city and south to Helensvale station, where you can change for Southport and Labrador, or the town of Nerang for Surfers Paradise and Broadbeach.
Trick number two is to buy yourself a SEEQ card or Go card at the Brisbane International or Coolangatta airports.
The SEEQ card gives unlimited travel for three or five days on South East Queensland's public transport network, and includes a return journey on the Airtrain between Brisbane Domestic and International Airports and the Gold Coast.
Go cards, like the Snapper cards in Auckland, are pre-paid cards which enable you to "touch" on and off the buses and trains, deducting fares as you go.
Credit can be added to your go card by paying the driver on Gold Coast buses or at an outlet in Brisbane City.
If you're staying for a week from Monday to Sunday you're really in luck - Go card users pay only for the first nine rides. Any further trips in the week are free.
Getting to the theme parks is easy on public buses. The TX1, TX2 and TX5 buses drop you off at Wet 'N' Wild, Movie World, Dreamworld and Whitewater World. They leave from Surfers Paradise every 10 to 15 minutes at peak times.
Buses come from the north and the south to Sea World, although anyone staying south of Broadbeach will have to change buses to get to Sea World.
For these and other journeys, Translink's online travel planner at translink.com.au, is really helpful. There's a mobile site at http://mobile.translink.com.au
MORE INFO
More family-dining options:
Pickled Cactus Mexican Restaurant
Metro Market Shopping Centre
33 Hollywell Rd, Biggera Waters
Lonestar Tavern
Cnr Markeri & Sunshine Blvd, Mermaid Waters
Bistro Zagame's (Paradise Resort)
122 Ferny Ave, Surfers Paradise
Woodfire Pizzeria & Bar (Turtle Beach Resort)
2346 Gold Coast Highway, Mermaid Beach