Liz Light spends 24 hours in Novgorod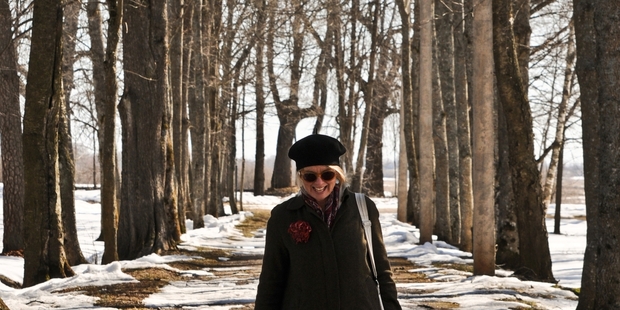 In northern Russia, the much-loved banya - the traditional steam bath - has survived kingdoms, communism, the Nazi invasion, famines and feasts. It has been part of family and community life for more than 1000 years.
The banya was first chronicled in 1113 when the Apostle St Andrew visited Novgorod and noted "wooden bathhouses, warm to the extreme, where people undress, anoint their bodies in oil, lash themselves with reeds, then dowse their bodies with icy water".
I arrive in Novgorod in spring, after dark, and tramp over snow to the banya in the hotel's garden. The changes to banya etiquette, since St Andrew's time, are that we're not entirely naked and we systematically beat each other up and down limbs and across the back with a twiggy bunch of birch leaves instead of reeds. I can't cope with a dowse of icy water but my friend says it's awesome.
Novgorod, when St Andrew visited, was the biggest city in Russia, the centre of a vast medieval city-state that controlled most of Europe's northeast.
After the 1500s it was tossed between the Moscow and Swedish kingdoms and, later, out-glamourised by St Petersburg, 180km away. Its greatest indignity was four years of Nazi occupation when all but 40 of the 2500 stone buildings were destroyed.
The heritage buildings that remain in the park-like city centre impress me. There are a couple of 18th century pink neoclassical palaces, restored after Nazi mayhem, and a massive bell tower. The bell tower has five arched carillons each containing many brass bells, big and small, which, when rung together, make a marvellous, somewhat cacophonous sound that peels over Novgorod.
Saint Sophia Cathedral, built in 1050, is the architectural centrepiece. This cathedral set the pattern for northern Russian church architecture for centuries with its elegant white beauty, austere walls and helmet-like domes.
The inside smells of beeswax, incense and candles give a dim glow. Painted icons cover the walls, alcoves and arches. The interior is busy, dark and mysterious, the exterior stark and white. Icons have a unique style and the long, sad faces of Jesus and the saints are strangely beautiful.
The world's best icon collection is across the square in one of the pink palaces, now the Novgorod State Museum. Galleries, that used to be ballrooms, now house 260 icons, some three by two metres, chronologically tracing the evolution of this art form.
We have Mary, Jesus, archangels, disciples, apostles and saints to ourselves; the museum is empty. In some, only the faces and hands remain clear while the gowns, halos and background imagery is vague, having flaked-off and faded over the centuries. In others, from later centuries, wide-eyed, sweet-faced archangels and serene Marys are in almost perfect condition.
Icon art occupies an ambiguous position between line drawing and three-dimensional painting, which gives it an ethereal place outside time and space and, in a few intense hours, I become an enthusiastic fan.
My 24 hours in Novgorod begin with a banya and birch-leaf beating and end in icon heaven.

Info
Getting there:
Cathay Pacific flies from Auckland to Moscow three times every week. cathaypacific.co.nz
Where to stay:
On The Go tours specialise in Russian travel and offer scheduled group tours, tailor-made holidays, rail journeys and Volga River cruises. onthegotours.com.au