There are two types of visitors to Macau Tower's level 61, as Andrew Both discovers - those who want to enjoy the panoramic view and those who want an adrenaline rush.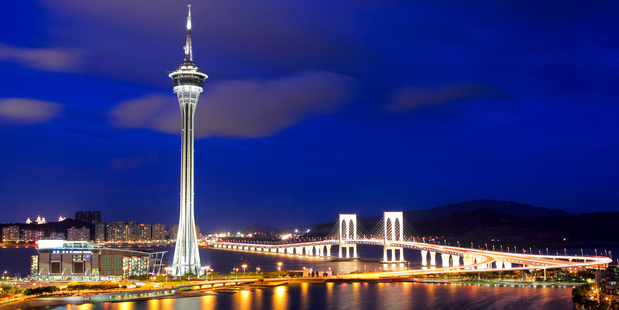 The Macau Tower's observation deck on the 61st floor offers panoramic views of Macau and nearby mainland China, but it's also the highest official bungee jump in the world, at 233 metres.
Apart from the view though, the not-so-brave tourists can also enjoy the thrill of watching those who do want to make the leap.
With clear skies, tourists gather around to watch as a jumper, who has forked out HKD2488 (NZ$392), is strapped in to the harness. A nervous anticipation settles over the onlookers - never mind the jumper himself.
"Beware of falling people'', reads the nearby sign as the young man plummets over the side, quickly out of view but a live TV feed shows the entire jump. It only takes about 10 seconds to reach the bottom six seconds in free-fall and four decelerating, before the first of several rebounds of course.
One man who ensures the safety and good practice at Level 61 is Kiwi Tony O'Rourke, who works at Macau Tower.
O'Rourke himself reckons he's done 944 bungee jumps, but these days he prefers to just work in the business than jump himself.
A 20-year veteran of the bungee industry, the New Zealander works for the company run by AJ Hackett, a legendary jumper who these days works as a franchise operator at various venues worldwide.
"We haven't had one death in two million jumps,'' says O'Rouke, who says Macau Tower averages about 70 jumpers per day.
"I walked away from parachuting because it's too dangerous. I've had two friends killed base jumping this year.''
Even though he only needs another 56 jumps to crack the 1000 mark, O'Rourke says he's no ambition to do so.
"The most jumps I've done in one day was 10 in Austria but these days I'm happy just to run the business here.
"We follow New Zealand and Australian safety standards. That's why we have the best safety record in the world.''
And for those who don't want to go down head first at 180km/h, there is also a SkyJump that lowers you at a top speed of 60km/h.
Macau Tower claims to be the world's 10th highest free-standing tower, and the only one
where you can climb to the very top.
The lift doesn't go any higher than level 61, but from there you can climb Macau Tower itself another 100m to its top at 338m high.
But the ascent and descent takes about two hours, so it's not for the fainthearted. You'll be strapped in for safety, but nevertheless it's probably not recommended for acrophobics.
IF YOU GO:
Macau Tower bungee jump, standard package: HKD2488
SkyJump standard package: HKD1888
Mast Climb: HKD2488
Visit: ajhackett.com
- AAP