Spooky tour will leave you trembling with fear, as Leah McLennan discovered.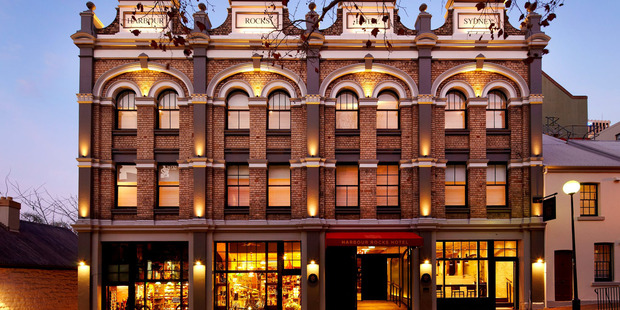 As the fog creeps over the cobblestone streets of The Rocks on a crisp winter's evening, I wonder if I've made the right decision about where and how to spend the next 24 hours.
I'm booked on the Harbour Rocks Hotel ghost tour package - a sleepover in a plush hotel that includes a creepy tour that promises "to open your senses to the spirits of Sydney's past".
Sleeping alone in a hotel built on the site of an old hospital has me rattled. Will I be scared witless? Will I get any sleep?
As dusk falls, I arrive at the 59-room boutique hotel, a tucked-away property located in a series of 1887-built terraces. Prior to their construction, a makeshift medical facility - Sydney's first hospital - stood on this spot. Here, convicts who survived the voyage of the First Fleet from Britain were treated or died from dysentery, smallpox, scurvy or typhoid.
Today's Nurses Walk, a pedestrian strip behind the hotel, cuts across the site of the early hospital.
The buildings were transformed into the Tara Hotel in 1989 but many of the original architectural features were covered over. Now, after a full makeover last year, the original structure can again be seen to stunning effect. The interiors have been pared back to expose original brickwork, sandstone and beams.
My room - the Harbour View suite on the top floor - is found after climbing myriad stairs. And it's well worth the hike.
I swish about the stylish one-bedroom apartment, admiring the furnishings, the gorgeous photographs of the original buildings, the bathroom's large tub and the jaw-dropping view of the Opera House.
Then it's off to join a group of shivering tourists out the front of Cadmans Cottage on the shore of Sydney Cove.
"Welcome, foolish mortals," says a man in a long, black cloak. He holds a candle-lit lantern. "I'm Jon your host - your ghost host. All our ghosts have been dying to meet you."
Jon leads us to a cobblestone lane where a morgue once stood.
"Look up there," he says, pointing to a second floor window. "Many times people on this tour have seen the ghost of Mrs Greenway. She was chopped up and buried in the cellar by her husband after he caught her in bed with a sailor. "She looks like an old photo, people say... she just seems to be all white."
I peer up at the frosty window but can't see anything. I have a little giggle - but others seem genuinely scared.
Over the next few hours we meander from Circular Quay to Observatory Hill and hear a dozen grisly tales of murder, suicide and hangings. By time the clock strikes 9pm, although I haven't seen any ghosts, my nerves are shot. I'm thankful to head back to my room.
That night, despite being in a comfortable king bed, I toss and turn. At 2am I'm up watching comforting infomercials.
I really should have opted for the hotel's spa package instead.
-AAP