Getting a tattoo in Japan means forever entering the world of other people with tattoos and staying within it, writes Ian Robinson.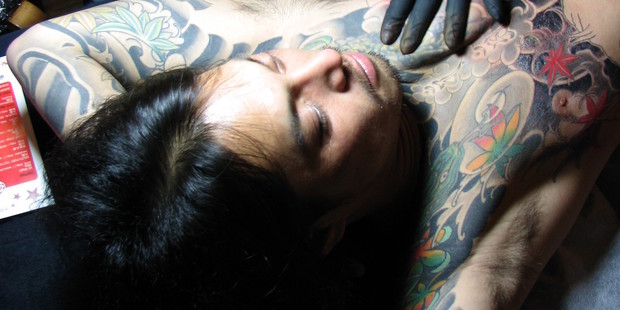 Opening the door of the Rocker's Diner, we are almost pushed back into the street by the wall of loud rock music and a wave of cigarette smoke.
I'm not really sure where the hell I am - it's taken four train rides and a rather long walk through a freezing Japanese winter night to get here.
"Here" is the outskirts of Osaka, and "near Kinki University" is the best I can get out of anyone.
Inside, the bar has been stripped of most of its furniture; tables, chairs and booths that usually seat chatting couples and groups of students. Tonight, waitresses (apparently on loan from a downtown Osaka fetish club) in stilettos, fishnets and not much else drift through the crowd handing out tequila shots, and the two floors have been converted into an impromptu tattoo parlour.
A dozen horishi, or tattoo artists, hunch over their pale-skinned canvasses amid the underlying buzz from electric hand pieces as people get some serious ink done.
Tattooing traditions in Japan go back before the evolution of the written word, but for more than 1000 years tattooing has been the shady domain of those living on the wrong side of the law, or close to it. In times of yore criminals were tattooed to forever label them as thieves, brawlers or bandits.
In an attempt to conceal a dodgy past, the reformed would have their brands covered with more appealing images of flowery girls or Buddhist saints, but the stigma beneath still persisted and permanent body art became the domain of the Japanese yakuza mafia, prostitutes and delinquents.
In the 1800s, tattooing was officially outlawed by the Japanese Government, driving the artform further underground. The ban was lifted by the occupation forces only in 1948.
Still a delicate subject with most of Japanese society, irizumi (or "insert ink") is in demand abroad, with horishi making tours of Western countries where they are commissioned to inscribe traditional designs of koi fish, dragons and demons along with modern anime characters, tribal markings, Sanskrit mantras and the ubiquitous Asian-language characters.
Horishi are still trained in a master/disciple relationship, with the apprentice working in service of his mentor without payment as he learns and then taking his elder's name and business when he retires.
Getting a tattoo in Japan is far more than just getting a design on your skin that Mum may not like. Here it means forever entering the world of other people with tattoos and staying within it. It means never going to one of Japan's beloved hot spring spas, never going to a public swimming pool, never joining a gym, and even on some public beaches you'll be asked to leave as this mark of the criminal fraternity is prohibited by law. It also means never getting a coveted job with a big company or major corporation - no matter how easily your tats can be covered with a business shirt, you'll never pass the company medical.
Instead, those adorned often have to be content with working in the night world of bars, clubs, alternative clothing or music stores, or becoming a tattooist themselves.
"So why get a tattoo?" I ask one ordinary-looking Japanese guy, who pulls up his shirt to reveal a scene like something from a Buddhist scroll painting.
"Because it's cool," he replies.
"Nothing else?"
"Nup, just it's cool."
"Most of my customers are just ordinary people," Horishi Yoshimitsu tells me.
"Tattooing in the West has become an accepted thing, it's mainstream and without any stigma. That attitude is starting to become more common in Japan, though I think it will be generations before we catch up."
Yoshimitsu tells me the slight young man he's working on under a desk lamp is a junior yakuza; among the underworld, irizumi is still seen as a way to show how tough you are.
Some might argue that if you're really that tough you don't need to advertise it, but this is an expression of loyalty that states in multi-coloured glory that you are in this business for life.
Yoshimitsu is inscribing red-tinged marijuana leaves amid cherry blossoms, slurping goldfish, geisha and samurai.
He's using a traditional technique called tebori, which translates to "hand-carve".
A long, lacquered bamboo stick, tipped with a razor-needled fork, is dipped into a tiny pot of ink and then rapidly jabbed into the skin. This method is said to produce a darker, deeper, more vivid image that retains its clarity longer.
The handiwork also allows for a more gently graduated shading of colour, something difficult to obtain with an electric hand piece.
It's also significantly more painful. The young Mafioso remains motionless, stoically blank with the non-expression of a tortured ninja. The work of art gracing his skin is nearing completion; it's taken nearly 300 hours of pain to get here and has cost him about $30,000.
The party is starting to ramp up, the girls from the fetish club have ditched their tequila trays and are now pole-dancing, half the guys have got their shirts off, taking advantage of the opportunity to show off their ink in an understanding and appreciative environment.