Disney's iconic theme park gets it right again with a redevelopment based around the Cars movies, writes Megan Singleton.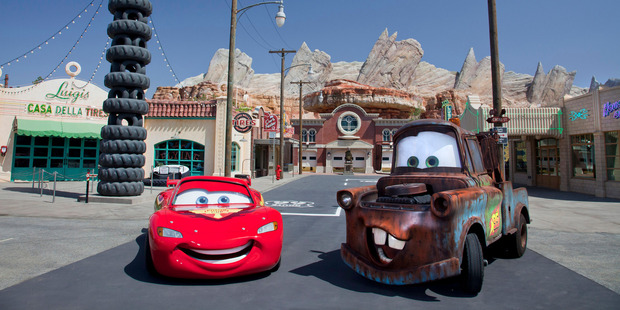 Walt Disney was the Steve Jobs of his day. An innovator and a genius in his field.
He was a screenwriter, animator, film-maker, voice actor and entertainer who was entrepreneurial enough to defy his critics and see that a theme park embodying all of his work would be a huge success.
If he were alive today he'd be 111, and most likely pushing his team into the latest technologies just as he did through the 1930s until he opened Disneyland in 1955.
He'd have been a very proud man this week.
Disneyland's sister park California Adventure at Anaheim in Los Angeles had the biggest day of its 11-year life on June 15 when it opened the long-awaited and highly anticipated $1.1 billion expansion, Cars Land.
The new park within the park has taken five years to build and is based on the highly successful Pixar movies Cars and Cars 2.
It sprawls over 4.9ha of former carpark next to the Hollywood Tower of Terror and Bugs Life. It has increased the size of California Adventure by about 20 per cent and added 7000 new jobs.
I was there last week when they closed the entire California Adventure park exclusively for media and families.
Like a kid in an animated candy store, I raced around the three new rides without waiting in tedious lines, bought a cola in a little orange road cone, and took in the details among the melee of TV and radio stations from all over the US and beyond.
Meanwhile, the punters with annual season passes had begun queuing outside to sleep overnight to be first to set foot in Cars Land the next day.
Disney has set a high bar over the years with entire teams of "Imagineers" paid to dream up new rides and push the boundaries of technology, while ensuring that all that engineering wizardry is invisible to guests.
So I had pretty high expectations that Cars Land would be great, and to say it's an overwhelming success is not an overstatement.
This is the much-awaited jewel in the crown of Disneyland's little sister park.
"We had a very nice budget," says Kathy Mangum, executive producer and vice president of Walt Disney Imagineering.
"We didn't scrimp on anything."
And that includes taking several research road trips along iconic Route 66 to emulate it at Cars Land, sourcing items that would become props and custom-making many of the finer details that most of the over-excited kids and their parents scuttling behind them would not even notice.
The original Route 66 has seen an increase in traffic since the Cars movies came out and this new park is expected to add to renewed interest in this route between Chicago and Santa Monica, Los Angeles.
Enter Radiator Springs main street on your way to Paradise Pier and at once you are immersed in a slice of Route 66 with old signs and shop fronts, neon lights and a mountain range in the distance that has been strategically built to hide powerlines outside the Disney park.
Its peaks represent the various tail fins of 1950s cars. But only car boffins are likely to pick up these details and therein lies the magic of the attention to detail.
The hero ride is Radiator Springs Racers. Your car-load of six riders starts off being prepared for a big race, complete with high-octane gunning and revving of engines.
You begin moving calmly enough, tootling around the country side, getting a warning from the cop for speeding, meeting Mater who tells you to watch while he scares the tractors in his tractor-tipping game from the movie. Then you pull into a pit stop where your car will go one of two ways, into Luigi's Casa Della Tyres or Ramone's House of Body Art to get pimped for the race.
That's when you meet another car-load of racers and as you wait on the start line, the engines roar and suddenly you're off.
It's not a roller coaster but it is fast enough to keep the little ones squealing and the adults whooping. The cars race around the track with sound effects and the winner is random - as I worked out later after having a few runs.
Once off this ride, head for Luigi's Flying Tyres, which is based on the technology used in the old flying saucers ride. One to three people fit in a large tyre in a bumper-car rink littered with giant beach balls.
When the music starts, air blows through the hundreds of vents on the floor and you are hovering, using your body weight to lean side to side and back to front to make yourself glide.
It's a knack to make it work and if you're with others you'll need to work together to gain the most movement as you try and bump into other flying tyres and throw the balls at each other.
It's over in two minutes so I needed a couple of turns to figure out how to really get my glide on.
The third ride, Mater's Junkyard Jamboree, is at the entrance to Radiator Springs.
This is a bunch of baby tractors from the first Cars movie all towing trailers that can seat two adults or three kids as they spin around in a figure of eight while Mater sings the hoedown music.
There are seven music tracks with Larry the Cable Guy's voice and while it might look like a tame ride, it flings around a bit like the Sizzler, leaving some kids screaming and others wanting to go back for more.
Critics of California Adventure have said that in the past it lacked the immersion and character experiences that Disneyland offers across the courtyard.
And even though California Adventure has six of the top 10 attractions between both parks, people pop in to do its rides then go back into Disneyland with their park-hopper passes to stay for the day.
The issue when setting up Cars Land was how to make Adventure a park that people would feel engaged with. Thus the $1 billion spend went not only on Cars Land, but on rebuilding the entrance to create a main street like Disneyland's, built around 1930s Hollywood.
Buena Vista St is set when Walt Disney arrived as a young man from Chicago with only a cardboard suitcase and $40 in his pocket.
The new Carthay Theatre, the centrepiece of the street, is a replica of where his first animated feature film, Snow White and Seven Dwarfs, was played, amid much criticism.
At the time it was considered Disney's folly.
Who would want to watch an entire feature-length animated film, they mocked.
Look who's smiling now as more than 20 million people each year visit these two Anaheim parks, let alone the rest of the multi-billion dollar empire that includes cruise ships, hotels and resorts around the world.
Further information: See disneyland.disney.go.com.
Megan Singleton flew to Los Angeles with assistance from Air New Zealand who fly twice daily from Auckland.