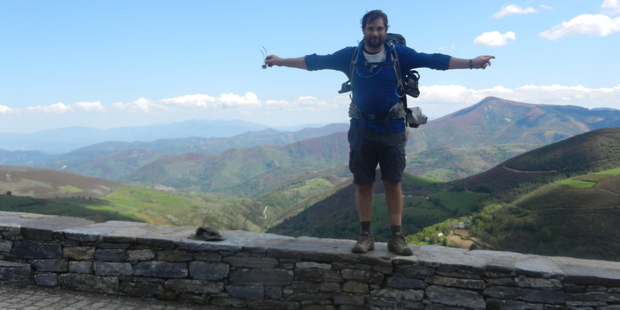 After days walking through dustbowl villages on main highways in the final days of the Meseta, Dutchman Ronald's query wasn't a total surprise.
"Is the Camino the world's most overrated walk?"
It was a fair question. Of course no one wants to say it - but even on the Camino, walking beside the road can get pretty old. In fact over a third (maybe more) of the Camino is beside tarmac - and how can that be called a great walk?
Not that I was about to agree with him, and subsequently now, after 33 days of walking, I don't. But it's a good discussion point.
Of course other sections, such as from St Jean to Pamplona and on to Burgos are gorgeous, with colourful fields, great climbs and snowy mountains.
Galicia is similar: old cobbled walls line narrow paths which walkers often share with cattle and sheep.
But what gives this 'great' walk its great reputation?
Is it simply the walking, or is it everything else - the wonderful old villages every few kilometres, the pilgrims you meet, the pilgrim infrastructure throughout the 774 kilometres that allows walkers relative comfort - does this all factor in, or doesn't it?
I wouldn't imagine this trail, for the scenery, compares to the Annapurna Circuit or Machu Picchu and it's no wilderness walk like many in New Zealand, such as the Kepler or Milford tracks.
Is the Camino a greater walk simply because it's so long?
The length of the journey definitely plays a big part. The sense of history on the trail is also huge. And while it's not Everest Base Camp, the scenery, mostly, is compelling.
You meet a vast array of friendly people all sharing your experience, and the ancient villages often time-warp you back to the 'Middle Ages' - with some nice upgrades.
Maybe our US friend Sam from Idaho, a 20-year-old student walking the trail, put it best.
"Walking the Meseta, you know, I was saying 'you don't have to be here' ... there were definitely some days (when I felt like quitting).
"But now, I mean, it's amazing. I just don't know where else in the world you would find anything like this."
For me, that's about right. It's not so much a walk as, for most, a once-in-a-lifetime experience. And how can that be overrated?
An experience for us which is now nearing an end. We've walked 693km and have 82 left.
Everyone has piled on in the last 100km of the trail. Those walking the last 100km of the Camino are eligible to collect their Compostella credential (certificate) in Santiago.
Now huge groups of Germans and Aussies are booking out much of the accommodation and racing past us with their day packs as the transporter whizzes ahead with their suitcases to their next night's hotel.
But they're also adding to the experience. We spent much of last night dining with them listening to their stories in Portomarin.
We emerged from dinner to find our tent, and their bungalows surrounded by 15 horses! Beautifully groomed, the waiter who had been serving us half an hour earlier was their master undertaking the nightly ritual.
Everyone on the trail now has a spring in their step - as do we.
The end, Santiago, is in sight.
Route marker: 693km down, 82km to go.
* Simon Winter is a former nzherald.co.nz news editor. He and partner Lisa are following the sun through Europe.