Bucharest is a fascinating city of old and new, writes Laurie Hertzel.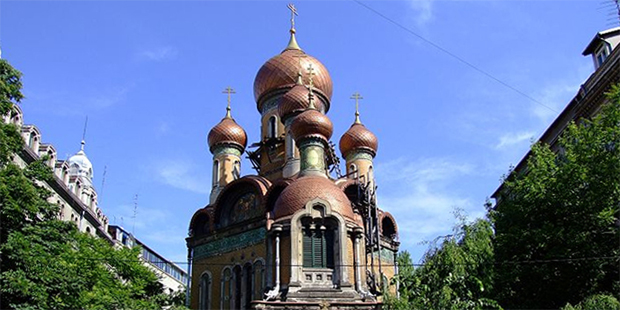 On Sunday morning in Bucharest, I knew just what I wanted to do: I wanted to go to church. I also wanted to go down to the Old City, visit a few museums and buy a warm pretzel from a street stall. But mostly I wanted to go to church.
Bucharest is studded with nearly 300 exquisite churches, some dating to the 1500s. During Communist times, dictator Nicolae Ceausescu tore some of them down, and he hid others inside mammoth apartment blocks, but Romania has always been a religious country and even he couldn't obliterate them.
My plan was to find St Nicholas, a Russian Orthodox church with seven onion domes, which I had happened upon a few nights before in the rain. I had peered inside and watched a dark-clad figure light candles and was captivated by the gold, the icons and extravagant, over-the-top beauty. I wanted to see more.
So on my last morning in Bucharest, I packed up my camera, 50 lei (about $20), and my map and set out.
Almost immediately, I heard singing.
Exploring Bucharest turned out to be a fascinating trek through a contradictory cityscape with ancient churches next to crumbling Communist-era flats; deserted shopfronts with broken windows next to vibrant cafes; sophisticated hipsters texting on iPhones and sharing the footpath with packs of feral dogs.
Its many parks, wide boulevards and broad footpaths are reminiscent of Paris. Its architecture is a glorious jumble of Baroque, Byzantine, neo-classical, Art Deco, traditional Romanian and Communist hideous.
At one time, Bucharest was known as "Little Paris", and as I walked the streets of the city centre I could see the French influence in ornate buildings adorned with scrolls, cupids and marble pillars. At the end of Kiseleff Boulevard stood a little Arc de Triomphe - quite like the one in Paris, but only about half its size.
Meanwhile the singing led me to St Basil the Great Church, a tidy white building with gold trim and a bell-shaped gate. A carved wooden troitsa (traditional Romanian cross) stood in the front garden, across from a small, roofed structure glowing with burning candles - one end marked for the living, the other for the dead.
I pulled my scarf over my hair and climbed the church steps. The interior was spectacular, with every inch of wall space devoted to icons, some painted, some pounded out of silver or gold. The vaulted ceiling was covered in murals and overhead, a blazing chandelier dripped with crystal beads, icons and golden-winged birds.
The nave was packed, and I stood shoulder to shoulder with worshippers, listening to the priest sing the liturgy. A woman knelt and closed her eyes. I was suddenly seized with an uncomfortable sense of being a tourist voyeur and tiptoed back out the door.
But as I walked down Calea Victoriei (Victory Street), I heard more singing: there were five old churches along this stretch, and at each one, the haunting sound and beautiful architecture pulled me in.
At the edge of the Old City on Sunday morning, Revolution Square was nearly deserted. It is fronted by buildings of great architectural beauty: the 18th-century White Church, the ornate Romanian Athenaeum opera house, and the National Museum of Art (formerly the Royal Palace), where I happily squandered an hour looking at portraits of serious women with thick black eyebrows, and men with fabulous hats.
At one end of the square loomed the former headquarters of the Communist Party where, on December 21 1989, Ceausescu, in fur hat and overcoat, tried to win over an enormous, jeering crowd, realised he had lost control and tried to flee. Just four days later he was executed.
From that amazing place - the spot where Romania's revolution began - it was just a few steps to the heart of Medieval Bucharest, the Old City, where Bucur the Shepherd built a church in the 1300s, establishing the city, and where Vlad the Impaler had his palace in the 1400s. (Bucur's church no longer exists, but Vlad's palace remains.)
In the Middle Ages, this was the centre of commerce, its winding cobblestone streets named for tradesmen: furriers, shoemakers, hatters, goldsmiths and blacksmiths.
This is where you'll find Bucharest's oldest church, the Old Court Church, built in 1559, and its oldest inn, Manuc's, built in 1808 (and still a hotel).
The Old City today is an odd and wonderful mix of new and old - one block deserted, the next block lively with bright cafes and galleries. All the length of Lipscani Street stood blue tents, where artists sold jewellery, scarves, candy and furs. A gypsy fortuneteller, a live parrot perched on his bowler hat, cranked out a tune on a barrel organ.
A food vendor in a knitted cap made kurtos colac (chimney cake), a Transylvania specialty. He wound thin strips of dough around a wooden cylinder which he rolled over hot coals, then rolled the hot bread in cinnamon and crushed nuts. Oh, gosh, it smelled good. But by then I was out of money.
Late in the day, I got briefly lost, turned a corner, turned another corner, and there it was - St Nicholas. I peered through the iron fence at its massive arched front door and gleaming domes. The service was over. But I had already been to church - again and again.
CHECKLIST
Getting there: Air New Zealand, in conjunction with partner airlines, has daily services from Auckland to Bucharest via Hong Kong or London Heathrow. Economy class airfares commence from $3188 per person return.
Further information: See romaniatourism.com.
- AAP