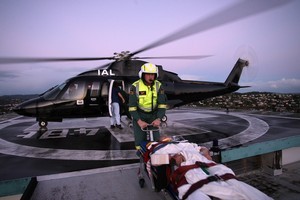 It's often difficult to know what to do about travel insurance. Do you really need to bother? And if you do decide to get cover, what's the best policy?
When I'm going somewhere safe and familiar, I've often been tempted not to get insurance. But in the end I always have. The deciding issue is not whether my belongings might be stolen, but what might happen if I get sick or have an accident.
If you get hit by a truck or struck down by a nasty bug in a foreign land, you need to know that you've got access to good treatment and that you'll be able to get home as soon as it's sensible to travel.
If you have travel insurance with a reputable company, they not only pay for treatment but, more importantly, offer advice on where to go and, when necessary, make the arrangements.
To date - touch wood - I've never needed to use those services, but it's nice to know they're there.
And I've certainly heard enough stories from travellers who haven't been so lucky to convince me that the premiums are worth paying.
Deciding which insurance company to use is even trickier. How do you know which is best? Studying the documentation can help, but you aren't really going to find out which company will deliver what you need until the worst happens.
Years ago our family used Mike Henry Insurance because that was what our travel agent offered. We never needed to make a major claim but, over the years, there were a few things that were stolen or damaged. We were always paid out in the end but every claim was a long, drawn-out fight, which rather turned me off.
In recent times we've used Westpac Gold Card Travel Insurance and Southern Cross Travel Insurance which, for us anyway, have been cheaper and less hassle.
So far we've only had to claim for breakages - mostly camera gear - but each time I've been impressed at how smooth and efficient the claims process has been, especially at Southern Cross.
In the light of that experience, I was interested to see that for the third year in a row Southern Cross has taken the top spot in the travel insurance rating by Australian research house Canstar Cannex.
After looking at 42 (Australian) travel insurance brands and 174 comprehensive travel insurance policies, Canstar concluded that for international travel, the best two companies were Southern Cross and Columbus Direct (both of which also operate in New Zealand).
Southern Cross was praised for having the cheapest average premiums for most destinations, plus high item limits (eg $2000 for unspecified item and $5000 for laptops). Columbus was singled out for offering policies for people aged up to 84 and accepting reverse charges on its helpline.
Like I say, you don't really know how good an insurance policy is until the worst happens. But in the meantime, it sounds like a reason for us to stick with Southern Cross.
* You can see the Canstar Cannex ratings here.