Brunei's royal monuments and mosques amaze with their dizzying display of opulence, write Jim Eagles.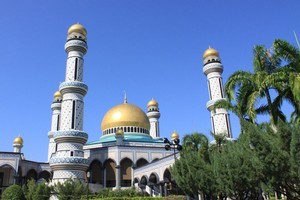 There are 29 golden domes shimmering on top of the magnificent Jame'Asr Hassanil Bolkiah Mosque in Brunei. Each is made of 29 carat gold. Around them stand 29 ornate minarets. Below hang 29 glittering crystal chandeliers.
In fact, pretty much everything in the mosque complex is in 29s to celebrate the fact that the current Sultan of Brunei, His Majesty Paduka Seri Baginda Sultan Haji Hassanal Bolkiah Mu'izzaddin Waddaulah, is the 29th in a line stretching back to 1363, said to be the oldest continuous monarchy in the world.
Opened in 1994 as a gift from the Sultan to his people to mark the 25th anniversary - surprising he didn't wait until the 29th anniversary - of his accession to the throne, the mosque is built with the finest materials money can buy: marble from Italy, granite from Shanghai, carpets from Saudi Arabia, stained glass from England.
That's because Brunei, a tiny independent state on the island of Borneo, which it shares with Indonesia and Malaysia, earns vast sums from sales of oil and gas, as well as income from extensive overseas investments against the day it all runs out.
And since the Sultan is effectively the state, most of it belongs to him.
The result is a land with a developing country feel to it but with good roads, a smart city centre, incredible public buildings, no signs of poverty and - unlike in poorer neighbouring Malaysia and Indonesia - the jungle hasn't been decimated to harvest hardwood or make way for palm-oil plantations.
Go to the night market in the capital, Bandar Seri Begawan, and the tables laden with chillies, peppers and dried fish, or the smoking stalls where kebabs, stuffed pancakes and corn are cooked before your eyes, could be anywhere in Asia.
The city also has its share of the ramshackle homes typical of Asian cities but I doubt there's anywhere else where you could be assured by everyone - including some of the families living in the ramshackle homes - that you only need to live in such places if you want to. That's because the city seems to be surrounded by new subdivisions full of comfortable-looking modern houses which, according to our guide, are built by the Sultan and offered to anyone in need of better housing at incredibly low prices and easy rates of payment.
Not that such care for his subjects obliges the Sultan to stint himself. The same guide who praised him for his generosity also told us that he owned a collection of 5000 classic cars - including more than 100 Rolls-Royces, more than 300 Ferraris and 160 Porches - and a large fleet of aircraft including a Boeing 747-430, with solid gold washbasins, which he pilots himself.
We couldn't check out the cars and planes but our guide did take us to a park from which we were able to get a distant view of the royal palace, which has 2 million sq m of floor space and is said to be the largest palace in the world and the largest residence ever built (though it is also the official seat of government).
All we could see over the fences and screening trees was a vast roofline with an impressive array of gold domes but apparently it has 1788 rooms, 257 bathrooms, a golden banquet hall able to hold 5000 people, an 110-car garage and air-conditioned stabling for 250 polo ponies, plus its own airfield and polo fields.
Then we visited the remarkable Royal Regalia Building with its exhibitions on the history of Brunei, the life of the Sultan, his silver jubilee celebrations and the official gifts he has received from global dignitaries. But its focal point is a glittering display of the regalia used during his coronation in 1968.
Just inside the door is the royal chariot, a magnificent creation of made of teak and gold, which was pulled to and from the coronation by 48 nobles. It is surrounded in the foyer, as it was on coronation day, by a vast array of ornate gold and silvery spears, shields, banners, drums, candles, vases and umbrellas.
Photography is forbidden in the museum itself, which is a pity because Brunei's equivalent of the crown jewels is spectacular, although gold, rather than massive diamonds and rubies, predominates.
Unfortunately the Sultan's crown was away being cleaned - though the photo left in its place looked pretty impressive - but the collection of other crowns plus thrones, maces, swords, krises, shields, spears, jars, pipes, betel nut caskets, guns and bullet cases, mostly made from solid gold, was incredible.
The item I found most impressive, however, was a life-sized golden arm and hand built to support the Sultan's chin while he wears the massive crown.
But, without doubt, the pride of Brunei is the capital's two amazing mosques, the one built by the Sultan to mark his 25th anniversary and the Omar Ali Saifuddien Mosque built by his father and now named after him.
We were able to wander round much of the Sultan's mosque - though my wife, like all the other women, had to put on a black robe - and it is a stunning building.
But for me, the much smaller mosque built by his father was the more moving. It's certainly lavish, with its imported stained-glass windows, marble columns and crystal chandeliers, but somehow it's less ostentatious than its newer rival. Perhaps because it has been prayed in for more than 60 years, it also seemed to me to have a more spiritual atmosphere.
And its setting, in the middle of an artificial lagoon on the banks of the Brunei River, is simply magnificent, with the white marble of the mosque and its minarets and the huge pure gold dome all reflected in the water, doubling its beauty.
Out in the middle of the lagoon, reached by a small bridge, is a giant marble replica of an ancient royal, built in 1967 to commemorate the 1400th anniversary of the arrival of the Muslim holy book, the Koran, and used as a venue for Koran-reading competitions.
It's a glorious sight.
CHECKLIST
Getting there: Singapore Airlines flies up to three times daily from New Zealand to Singapore, and then beyond to Bandar Seri Begawan five times a week.
Getting around: Orion II has a range of Borneo departures next year in January-February and again in July-October. Ten-night fares start from $10,100 per person. For reservations or to obtain a brochure call Orion Expedition Cruises at 0800 444 462 or see your travel agent.
Further information: See the Brunei Tourism website.
Jim Eagles visited Brunei with help from Singapore Airlines and Orion Expedition Cruises.