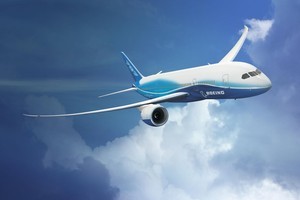 Boeing's new Dreamliner aeroplane. Photo / Supplied
Pilots are giving the thumbs-up to Boeing's new Dreamliner plane, which touched down at Auckland Airport this morning.
Air New Zealand's version of the aircraft will be even larger than the one that flew in this morning around 10am, with a greater range and more seats.
Air New Zealand pilot David Morgan and US pilot Regis Hancock landed the plane.
They said it was going to be better for passengers because it can fly with higher cabin pressure.
It means those passengers who have deep vein thrombosis or who get dehydrated are going to have a much more comfortable flight.
The planes are also much safer because technology in the cockpit means instruments are easier to read.
Running three years late after delays including supplier and production problems, it's the the first landing for the Dreamliner in the Southern Hemisphere.
The high-tech plane, with its promise of improved passenger comfort and 20 per cent greater fuel efficiency and fewer emissions in comparison to similar sized aircraft, was to have reached the market in 2008.
The first delivery was made to All Nippon Airlines in September and New Zealanders will see the plane in service here next summer season with Continental Airlines, with Jetstar in 2013 and Air New Zealand in 2014.
Today, a test aircraft landed at Auckland Airport for a brief visit. It will fly to Sydney on Tuesday.
Boeing spokesman Ken Morton said 821 planes had been ordered at a cost of about US$145 billion ($186 billion).
"The touch down that we're most focused on is the first one to Air New Zealand of the 787-9 [Dreamliner] which is the next model of the 787," Morton said.
"The challenges we have faced have been well documented but we've always said we will overcome these challenges.
"One of the objectives of the weekend visit is to demonstrate that this plane is here and now, and it's a real thing."
Air New Zealand chief executive Rob Fyfe said the airline was the first customer for the 787-9 version, with eight aircraft on order.
"The first aircraft was to be delivered at the end of 2010 at the same time as our first 777-300, but ongoing delays have now pushed the delivery of the first 787-9 out to 2014," Mr Fyfe said.
"These delays have severely hampered Air New Zealand's long-haul growth aspirations and made us forgo the economic and environmental benefits that the 20 per cent fuel efficiency gains and lower maintenance cost would give us.
"The 787-9 continues to be the right aircraft for our international long-haul needs and we are in the early stages of planning the interiors for these aircraft, as well as identifying routes they may operate."
Auckland International Airport spokesman Richard Llewellyn said the arrival of the 787 in Auckland with Continental, Jetstar and Air New Zealand was great news for the tourism industry and the economy.
He said the new generation aircraft was ideally suited for Auckland as a hub and offered a reach into several new markets "potentially opening up much more of Asia and the Americas for direct services to support a growth in inbound and outbound travel, and a growth in trade between New Zealand and those markets".
- With Newstalk ZB