Anita Harvey discovers a different side to Europe as a welcoming Albania emerges from its drab, oppressive past.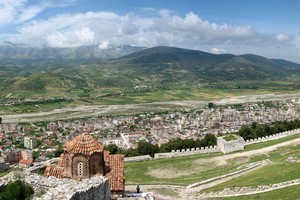 The bus dropped us off at the border, turned and drove off. My travelling companions and I looked at each other, shrugged and started walking. And so it was that we arrived in Albania on foot.
At least we'd made it here, which was a good start. It hadn't looked too promising when one desk clerk after another at the bus station in Athens gave us the same answer: "Albania, why do you want to go to Albania?"
It didn't put us off. Tales from other travellers had inspired us. We were determined. A few months previously I knew hardly anything of this small Balkan country: homeland of Nobel Peace prize winner Mother Teresa of Kolkata and of black-market Mercedes ... and that was about it.
Research told us more about the country, but we weren't much clearer about how to get there. Eventually we took a punt we'd be able to take a bus from the Northern Greek town of Ioannina. And here we were at the border.
A short conversation accented by many hand signals with a lady at the border cafe gave us hope a bus would arrive at some stage. And by the time we'd eaten our last scrap of food, one did arrive and took us to the next town.
And so we progressed. Another bus, another wait by the side of the road, this time a minibus, each one taking us further into Albania.
As we progressed, the gravel road smoothing out to tarseal for a few kilometres before bumping us on to gravel again, we felt as if we'd left Europe far behind.
Small, domed concrete bunkers littered the fields, a stark reminder of the legacy left behind from the times of Communist leader Enver Hoxha. In the towns, we were greeted by the strange sight of stuffed animals and dolls rather morbidly hanging by their necks from door frames. A common practice, as we were later informed, to ward off evil spirits.
It's a country playing catch-up. Harsh communist rule had it closed off from the world for over four decades. And even under communism, Hoxha chose to align himself not with close neighbours like Yugoslavia, but rather with the ideas of the People's Republic of China.
Yet things are now moving forward, the roads are slowly being improved, accommodating the growing number of cars, modern buildings are springing up, public spaces have been reshaped and Albania is welcoming tourists with arms wide open. Old ladies hang from their windows and wave hello as we wander the cobblestone streets of our first destination, the town of Berat.
We arrived there late afternoon, just at the right time to see the golden sunlight reflecting off the windows rising steeply up the hill that give the place its nickname of "The town of a thousand windows".
Unesco-listed Berat oozes charm and deserves a lot more tourists than it gets. The lazy Osum River slices the town in two, the beautiful stone houses nestled into the hills on either side. The main bridge is a centrepiece and provides not only a crossing, but a platform for the fabulous vistas of snow-capped mountains in the distance.
As we wander up into the old citadel, a group of schoolchildren stops us, giggling and shyly asking for a photo. It feels strange to be on the other side of a camera, roles reversed as we squish up with the other children to fit in the frame, the photographer winding on the film in his camera before snapping another.
It is springtime and the wild flowers are growing in the cracks of the old stone. The sight of a horse-drawn cart, piled high with hay, stopped next to a new Mercedes at the traffic lights doesn't look out of place, but rather natural, normal here in Berat.
The kids swing their cameras and chat on their phones; they speak to us, wanting to practice their English.
They pull out their schoolbooks, telling us that they're learning about our part of the world in geography class.
Further north, the capital of Tirana is the flip side of the coin. It's modern and vibrant, and bright pink, purple and polka-dotted. The colours stand out against the blue sky, a multicoloured spectacle has been created, a conscious effort by locals to transform the drab, grey, communist-era slab buildings.
The city itself is as diverse as the colours; the tall minaret of the Et'hem Bey Mosque stands elegant in its place not far from high-rise apartment buildings on Grande boulevards. The national hero, Skanderbeg, holds his position on his horse, centre stage to historic buildings in the suburb next to trendy Blloku, where bars and cafes have opened to the public in an area our guidebook tells us was once reserved for the Communist Party elite. The young couple who run the hostel we're staying at tell us they've watched the city change drastically over the last three years. The streets have been cleaned and more bars and cafes have sprung up, including the revolving Sky Club bar where we grab a few drinks and watch the sun go down. The city's lights come on as we slowly spin, admiring a bird's-eye view of a country that's certainly one to watch out for.
Our stay here is brief; we had underestimated the pull of Albania, the way it draws you in, leaving you wanting to explore further, learn more, sit down in a cafe and chat to the locals or climb high into the hills.
We'll be back - it's hard to leave in more ways than one, our imaginations run wild with the coastline we've yet to explore and remote towns we're yet to see. And, literally, our departure is about as smooth as our entrance.
A long walk and search for buses in the town of Shkodra, the beautiful mosque grand against the brilliant blue sky and Mother Teresa set in stone. This time a little help is offered though, groups of women selling their wares cheer us on, point us in the right direction, their excitement rising as we got close, only to see the bus pulling away from the kerb.
A short sprint with heavy bags sees us on our way to Bosnia-Herzegovina - only just, we almost miss it - but maybe that wouldn't be such a bad thing at all.
CHECKLIST
Getting there:
By air: Albania's international airport is Nene Tereza, 26km northwest of Tirana. Lufthansa flies from New Zealand to Tirana, with stops in Singapore and Munich.
By land: From Greece, an early-morning bus can be taken from Ioannina to the border, with connecting minibuses eventually taking you to Gjirokaster. From Montenegro, buses leave Bar bound for Shkodra.
Getting around: We visited the Albanian towns of Berat, Tirana and Shkodra by public transport. Buses are accessible, but the roads are a work in progress so make sure you leave yourself plenty of time.
Further information: See albaniantourism.com.
Anita Harvey paid her own way to Albania.