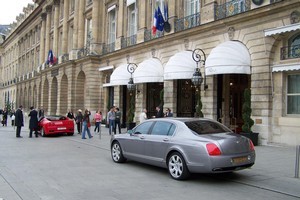 The hotel which coined a new word for "luxurious" and has welcomed celebrity guests from Coco Chanel to Diana, Princess of Wales, is closing for two years for refurbishment.
The €850-a-night (NZ$1470) Ritz in Paris, the first hotel to carry that name, will be gutted and rebuilt from the next northern summer.
Its owner, Mohamed al-Fayed, has decided to take drastic action after the Ritz failed to qualify for a new category of "palace" hotels in Paris this year.
Most of its 500 staff will be laid off during the refurbishment.
The Ritz, on the Place Vendume close to the Tuileries Gardens, opened in 1889 by the Swiss hotelier Cesar Ritz, is a byword for luxury and style.
It was the first to have en suite bathrooms and, together with its sister establishment in London, gave the English language the word "ritzy".
This year the Ritz was left off a list of nine top-class Paris hotels in a new super-category known as "palaces".
Although no official reason was given, industry sources said at the time that the Ritz was looking "tired" and did not meet the most exacting modern standards. It was last refurbished in 1979.
An influx of super-rich Arabs, Russians, Indians and South Americans has created a booming market for luxury in the French capital.
- INDEPENDENT