The Thai border town of Mae Sot offers a tantalising glimpse into Burma, writes Simon Scott.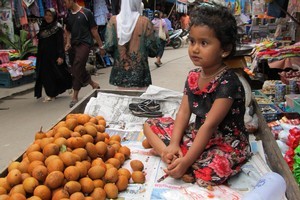 I park my motorbike directly under the giant concrete struts of the Thai-Myanmar Friendship Bridge at Mae Sot, Thailand, near two border guards who are sitting on a bench drinking iced coffee. I take the path by the river.
"Cigarettes, whisky - very cheap. You want?"
A lanky, bearded Burmese Muslim appears, waving a carton of Marlboro Red in the air.
"Come look. Have Viagra, sex toy," he adds, pointing towards his tiny stall which hangs precariously over the walkway's metal railing in the direction of the river and Burma beyond.
I walk on and see a dozen more stalls selling the same tax-free smokes and whisky from Burma.
Although still on the Thai side, the area of riverbank between the railing and the water is a no man's land which falls outside the control of the authorities.
By building their stalls over the railing, black marketers put their illegal goods technically outside of Thailand, if only by a few centimetres.
A man in dark-green longyi, Jandals and check shirt approaches. He has a Singha Beer cap on his head which was once probably navy blue, but is now so faded it is closer in colour to the wispy grey stubble on his chin.
He tells me his name is Myo and that he is a Karen - a Christian, a teacher and a guide.
"It would be my pleasure to walk with you by the river," Myo says, giving me a very Burmese smile of red beetle-nut stained teeth. Myo was originally a schoolteacher from somewhere in the back blocks of Burma, but he was forced to give up teaching because of low pay and move to Myawaddy to work as a guide.
When the border officially closed and the foreign tourists stopped coming, he started crossing the river to Thailand to work each day.
"Here you can see my home country, Burma," says Myo, stretching out his arm.
Across the river is the face of Burma - and it is not particularly inspiring. A grimy brown row of dilapidated brick and concrete buildings, perhaps hotels in another life, line a riverbank littered with rubbish, makeshift shacks and hanging washing.
A couple of hundred metres down from the bridge, a not-so-clandestine illegal river crossing is under way.
A man dressed in nothing but a pair of boxer shorts is wading through the river pulling a giant, inflated inner-tube.
A group of Burmese ladies are sitting balanced precariously around the edges of the tube with their shopping bags under their arms. Their legs are outstretched daintily so as not to get their feet wet, giving the appearance of a giant starfish floating on the surface. Myo says a ride costs 20 baht (82c) each way and that the crossing is tolerated by the authorities on both sides.
We stroll on while he points out more sights.
"This man, drug dealer," says Myo in a loud voice as we pass an edgy-looking young man talking on a cellphone from the safe haven of "no man's land".
"He sell the stimulant amphetamine," adds Myo, showing off his command of English.
I smile, quietly hoping the local criminals are either deaf or monolingual.
As we near the village, signs of commerce of a more legitimate kind are evident.
A man stands in the water collecting river sand, which is being bagged to be sold later.
Young boys push boxes of M-150 energy drinks and bags of rice down a makeshift wooden shoot on to a waiting longtail boat.
The village is just a small collection of huts made from bamboo, grass and dried leaves. It has the feel of a border village - a place where people stop on their way to somewhere else.
People stand impatiently by a dusty old sorng-taa-ou taxi while the driver hustles for more passengers. They watch as a barefooted boy loads their possessions - boxes tied with string and plastic bags stuffed to bursting - on to the roof-rack. We walk down to the wooden jetty, where people are lining up to take a motorised longtail downriver.
A couple of boys, probably about 7 or 8 years old, are swimming. One dives off the jetty with a splash and I take a photo of him as he surfaces.
He sees me and, grinning wildly, gives me the finger.
Myo shouts something at the boy in Burmese.
"I am sorry for this," he says. "The Burmese children, they learn this bad gesture from watching the American movies. But they not understand what it meaning."
The boy laughs and then dives back into the muddy river, his head narrowly missing the longtail boat as it pulls away from Thailand and moves out towards the land of golden pagodas and dark secrets. Isolated and rarely visited by tourists, Mae Sot is at the western edge of Thailand. But, being just across the muddy Moei River from the Burmese border outpost of Myawaddy, it provides an opportunity to experience the smells, sounds and tastes of one of the world's most mysterious countries without having to leave the safe haven of Thailand.
Mae Sot has one of the largest Burmese communities outside of Burma. It is believed that over 65 per cent of the town's population of 120,000 - approximately 80,000 people - are Burmese.
The first port of call for any visitor to Mae Sot is the Thai-Myanmar Friendship Bridge and its surrounds, where you can watch the illegal but tolerated mass migration in progress.
But the Burmese experience in Mae Sot is not complete without enjoying a tea-shop breakfast, a peculiar mix of Indian, Burmese and Muslim influences, including unlikely couplings such as churro-style doughnuts, spring rolls, nanbya (flat bread), dhal and very sweet, milky chai. Lucky Tea Shop on the edge of the market is a fantastic spot to enjoy a Burmese breakfast and you can watch the fresh nanbya being baked while you feast.
The central market is surprisingly lively, especially in the late afternoon, and caters to local Burmese, not tourists, giving it a feeling of authenticity which is rare in Thailand.
It is a great spot to take photos of the locals as they do their shopping or of the array of bizarre items on display, such as grilled birds, live frogs or buckets of swirling water snakes.
CHECKLIST
Getting there: Multiple buses (VIP, first class) depart from Bangkok's Mo Chit Station for Mae Sot daily from early morning to late evening. The journey takes about nine hours and the price ranges from 350 baht to B650 ($14-$27) one way. Alternatively, you can fly: Mae Sot Airport has recently opened for domestic travel and Solar Air offers flights from Bangkok's Don Muang Airport for B2690 one way.
Where to stay: Bang Tung Guest House (ph 055 533277) at 63/4 Baantung Rd has comfortable, clean and spacious rooms (fan and aircon) from B350.
Auntie's Coffee and Guesthouse (ph 055 531 368) at 489 Intarakeeree Rd is a friendly, family-style place and rooms cost from B350, including breakfast.
* There is serious flooding in northern and central Thailand at the moment. The NZ Ministry of Foreign Affairs and Trade advises that New Zealand travellers there should follow the advice of local authorities.
Thai weather warnings in English can be found at the Thai Meteorological Department website, the Thailand Tourism website and updates are also available at the web-site of Thailand's 24/7 Emergency Operations Centre.
To see the latest MFAT advisories for Thailand, see safetravel.govt.nz.