In Hanoi, Brett Atkinson is struck by the incongruity of Ho Chi Minh's mausoleum.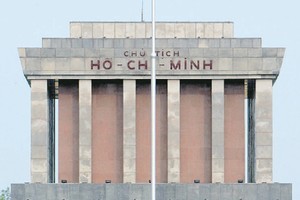 It could be the most surreal sign in Hanoi: Ho Chi Minh's Used Cars. Maybe the pint-sized revolutionary liberator of Vietnam was once an automotive wheeler and dealer.
Turns out it's a Vietnamese spin on Lost in Translation, and Uncle Ho was never the Del Boy of the demilitarised zone (DMZ). Instead, the sign points to a line-up of vehicles gifted to Vietnam's wartime leader by other countries.
In keeping with Ho Chi Minh's ascetic reputation, there's definitely nothing flash about them. Showy Communist-style limousines are overlooked for a couple of sturdy Soviet sedans, bookending an incongruous 1960s Peugeot, presented by that hotbed of Marxist radicalism - New Caledonia.
More evidence of Ho Chi Minh's austere lifestyle is on display nearby at his humble stilt house. From 1958 to his death in 1969, the simple structure was supposedly Ho Chi Minh's home in Hanoi. Eschewing the adjacent luxury of the French-built Presidential Palace, he reputedly spent the war surrounded by shimmering ponds filled with koi carp and sprawling stands of bamboo.
Now the teak two-storey cottage looks a little too well-kept - actually more Freedom Furniture than freedom fighter - but simple mementos such as a typewriter, an olive-green pith helmet, and a concise library of Marx and Engels encapsulate a life stripped back to wartime essentials.
More than four decades after his death, there's now no debate over Ho Chi Minh's location. For 10 months of the year his embalmed body is housed in a remarkable mausoleum, modelled on Lenin's tomb, dominating the broad expanse of nearby Ba Dinh Square.
Access to the imposing monolith is by a snaking but fast-moving queue that can stretch up to 1km. Excited local kids in matching red scarves and ethnic minority people from Vietnam's mountainous regions join dutiful tourists, all maintaining a slow but deliberate pace through the cool lifeless air of the marble cube's interior.
Flanking Ho Chi Minh's body is the blood-red Vietnamese flag and a hammer and sickle, barely visible in the diffuse light as a fading memory of the 20th century's great experiment in communism.
Ho's body is flown to experts in Moscow for two months every year, but it's obvious that even the best of Russian embalming techniques are no match for the ravages of time.
The illuminated body looks waxy and strangely shiny, and rumours circulate that his nose and beard once had to be replaced.
Despite these potential physical approximations, seeing the body is still a powerful experience, especially for the many Vietnamese wiping reverential tears from their eyes.
Equally reverential, but employing a quite surreal design aesthetic, is the last stop on Hanoi's own Ho Chi Minh Trail. Housed in an ostentatious Soviet-style structure - totally at odds with Ho's homespun appeal - the Ho Chi Minh Museum presents the life and times of the founder of modern Vietnam.
Memories of his early inspirational days in Paris and New York combine with the formation of the Vietnamese Communist Party. But otherwise the display assumes an artistic and impressionistic tone.
A glass maze shimmers with Picasso's Guernica and Pop Art-style propaganda posters mimic the Andy Warhol and Roy Lichtenstein knockoffs available for a few dollars in Hanoi's labyrinthine Old Quarter.
There's even another car worth seeing. Just a few hundred metres from the dusty line-up of Ho Chi Minh's Used Cars, the front half of the much-ridiculed Ford Edsel explodes from a wall punctuated with a collage of photographs meant to represent the failings of the United States.
Personally, I've always admired New York's Guggenheim Museum, but I guess there's no accounting for taste when it comes to propaganda. Especially when history is written by the victors.
CHECKLIST
Getting there: There are regular flights to Hanoi from key Asian hubs, including Hong Kong, Singapore, Bangkok and Kuala Lumpur, on Cathay Pacific, Singapore Airlines, Thai Airways, and Air Asia.
Where to stay: The Hanoi Art Hotel enjoys a central location on the edge of Hanoi's Old Quarter, and is a great base to explore the best of the city's excellent street-food kitchens. Double rooms are about $40.
Visiting Ho Chi Minh: Ho Chi Minh's Mausoleum is open from 8am to 11am, Tuesday to Thursday and Saturday to Sunday, from December to September. Last entry is at 10.15am.
Brett Atkinson paid his own way to Vietnam.