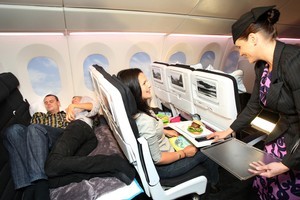 With a bit of trial and error, it's easy enough to find comfort in cuddle class. Photo / Natalie Slade
The return leg of my honeymoon seemed the perfect opportunity to try out Air New Zealand's Skycouch innovation - unveiled last year with much fanfare - which allows three adjoining economy-class seats to be transformed into a couch-bed.
The standard economy seats we had for the outward Auckland-LA journey didn't have much room so we were looking forward to the extra space we'd bought ourselves on the way home (it cost us $700 in addition to our two economy-class fares, though the price can vary).
The benefit of having three seats for the two of us was immediately apparent: we could lift the armrests up and stretch out more than usual. Even before we'd manoeuvred the footrests - which bridge the gap between the Skycouch seats and the back of the seats in front - we were able to stretch our legs into the central space.
Settling down for some kip, however, proved slightly more problematic than we'd anticipated.
To begin with, we attempted to recreate the sleep poses I'd seen in early Skycouch promotional photos, with both of us lying down, heads propped up on pillows at the window end.
There's no doubt this was preferable to sitting bolt upright for hours on end, but the fact the seats in front of us were all reclined minimised the space available. We were also in the final row before the bulkhead, meaning our Skycouch seats didn't recline very far themselves.
Additionally, while I was able to fit reasonably snugly lengthwise with only a small bend of my knees, my taller husband had more trouble ensuring his feet wouldn't poke over the end of the couch and be collected by a passing drinks trolley.
Nevertheless, with strategically arranged pillows and blankets cushioning our heads, we settled in for the better part of an hour before the cramped position caused me to change tack and try a top-and-tailing option. Now it was my head at risk from the drinks trolley, but we found this arrangement reasonably satisfactory for about another hour.
After about six hours, I found myself wide awake, so opted to sit up in the aisle seat and stretch my legs towards the centre of the couch. My husband, who was happy to keep snoozing, now had the better part of two seats to himself, so curled up with his feet in my lap. About three hours later we swapped positions and I actually dozed off for a good 90 minutes. It might not be quite what the inventors of cuddle class had in mind, but we found this to be the most effective use of the couch space.
Upon landing in Auckland, I had to admit I felt fresher than ever before coming off the back of a 12-hour flight. Would I fork out for the Skycouch option again? Given the reduced legroom in economy, yes, I think I would - especially if I was travelling all the way to Europe.
Eveline Harvey is travel editor for nzherald.co.nz.