The fabulously clear sky of the Mackenzie Country is a national asset.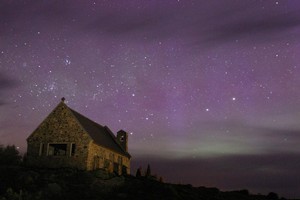 It's a big call. The clearest night sky in the world? A bunch of enthusiastic Kiwis reckon the sky above Lake Tekapo in the Mackenzie district deserves to be declared the first World Heritage Starlight Reserve. As I gaze into the inky blackness atop Mt John I can't imagine anywhere better.
As we stand one 300m above Lake Tekapo, with its translucent aquamarine hue caused by glacial silt, I gaze up at millions of stars. Even with the naked eye they're impressive. The air is crisp, there are no lights to detract from the celestial view and, around me, I hear "oohs" and "aahs" as happy astro-tourists take in one of the world's best views of the southern sky.
The Mt John Observatory - which houses the most southerly permanent optical observatory and the country's biggest telescope - is the country's main site for astronomy research.
Arguably it is also the most beautiful and easily accessible observatory in the world.
Just a short drive from the township of Lake Tekapo with its laidback Northern Exposure feel, Mt John offers an uninterrupted 360-degree panorama of towering mountains, lakes and ancient glacial deposits.
Most importantly, it sits below one of the clearest and darkest views of the sky in New Zealand.
Four years ago, Unesco launched the Starlight Initiative to protect the clearest and darkest skies and allow the average person to enjoy views of the heavenly realms, a sight fast disappearing because of industrial light and pollution.
Next came the move to set up a World Heritage Starlight Reserve and a small team is working hard to secure that spot for Mt John and the Mackenzie area.
For two decades, the Mackenzie Council has had strict lighting bylaws to protect the observatory. Lighting is shielded from the sky and beamed down. Floodlighting is restricted and outside lights must be turned off between 11pm and sunrise.
Graeme Murray, who runs Earth & Sky stargazing tours, says that on a clear night the Mt John telescope looks at 50 to 60 million stars using an advanced form of space research called microlensing.
The observatory has discovered a number of planets but its big breakthrough came about six months ago when astronomers were the first to discover rogue planets in deep space that are not attached to any solar system or sun.
The latest prognosis, says Murray, is that there are twice as many of those rogue planets out there than there are stars, "and there are more stars out there than there are grains of sand".
After looking at various star clusters and Saturn through powerful telescopes, we move inside to the warmth of Mt John's Astro Cafe to learn what makes the night sky above the Mackenzie district so special. Hot chocolate is served as we watch a presentation by astronomy guide Kristian Wilson with fabulous night sky photography by local resident Fraser Gunn.
"There are lots of places in New Zealand that are awesome for looking at the night sky, including the West Coast, but the weather is different," Wilson says. "Here we have a dry location and minimal light pollution meaning you are looking straight up at the stars with no dust, moisture or clouds. You can pinpoint particular stars and clusters with crystal-clear accuracy, something you'll never see in the city."
Wilson says Mt John is at the forefront of securing the first Unesco listing for its night sky. But not everyone agrees with the move. And Murray says he was almost lynched at a public meeting to discuss the proposal for what locals call their "park in the sky". Some farmers and business operators, who need light to work at night, don't agree with the move and others do not want to be told by the United Nations how to run things.
Murray argues that the UN listing will protect Mackenzie's pristine night sky for generations to come and put the district on the map.
Aside from some of the word's best stargazing, Lake Tekapo's surrounding snow-capped mountains and turquoise lake offer a spectacular backdrop for fun alpine activities. There is skiing, hot pools, tubing and ice skating.
A must if visiting the area is a grand traverse flight with Air Safaris. On a clear morning, with my three-year-old and my best friend, Nicole, we flew eye-height with the magnificent Mt Cook and Mt Tasman and over the Tasman Glacier, spotting heli-skiers moving like ants on the snow.
There are many baches, cottages and resorts to use as a base. My pick is Parkbrae Estate which is owned by Murray and his wife, Carolyn. We stayed at Parkbrae's Aldourie Lodge, Tekapo's oldest house, with views of the lake and the much-photographed Church of the Good Shepherd.
After soothing our ski-weary legs in the hot pools we sat around the fire chatting into the night. Eventually I dragged myself to bed after one last look at the blanket of stars, grateful that something is being done to preserve this astonishing view for my children's children.
TRAVELLERS' TIPS
Lake Tekapo is a two-and-a half-hour drive from Christchurch. Air New Zealand and Jetstar offer direct flights between Auckland and Christchurch. Fares start from $49 one way.
Stargazing: Earth & Sky offers day and night tours of Mt John Observatory and Cowan's Hill starting from $20 for adults, $10 for children and $50 for families. Ph (03) 6806 960 or visit the website for more details.
Where to eat: The Astro Cafe, described by Lonely Planet as "possibly the best place on the planet for a coffee" is open from 10am-5pm.
Family skiing: Roundhill is a scenic 30 minutes along a gravel road from Lake Tekapo and offers skiing with all-day sun, parking right on the slope, groomed trails, a huge beginners' slope with tows and a platter lift, Benzeenees ski and board school, a rental department, toboggans, a cafe and the world's longest and steepest rope tow. Roundhill is ideal for families.
Mt Dobson has been owned and run by the friendly Foote family of Fairlie for 25 years. The skifield is on the southern end of the Two Thumb Range with the highest alpine carpark in New Zealand at 1725m. Dobson also has the largest, sunniest learner and intermediate slope in the country, a natural half-pipe, a sunny 3km-wide treeless basin with 14 runs, school programmes, and beginners' packages.
Hot pools: Alpine Springs and Spa Winter Park at the base of Mt John overlooking Lake Tekapo offers three hot pools, an ice-skating rink, snow tubing park, steam room and day spa. Ph (03) 680 6550 or visit the website.
Mt Cook scenic flights: See Air Safaris: Ph (03) 680 6880.
Where to stay: The centrally located Peppers Bluewater Resort offers contemporary hotel rooms and one-, two- and three-bedroom villas and a restaurant and bar. Ph (03) 680 7000.
Parkbrae Estate offers self-contained cottages, including Tekapo's oldest house Aldourie Lodge, and apartments within park-like gardens near the Church of the Good Shepherd. Ph (03) 680 6780.
Further information: See christchurchnz.com or mtcooknz.com.