Earlier this week Danielle Wright road-tested the fan trail from Britomart to Eden Park that will run on game nights throughout the RWC 2011. She tells us what fans can expect to encounter along the way.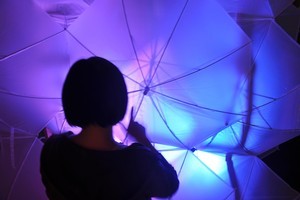 With the games starting well after my kids' bedtimes, I was delighted to learn that I'd be able to give them a taste of the rugby excitement by walking the fan trail ahead of Eden Park matches. Earlier this week I got a sneak peek of what you can expect: installations entertainment and more ...
A high-energy dance group will be busting moves on send-off. You follow green footprints on the pavement and neon strips above your head in the direction you're meant to go up Queen St - even I couldn't get lost on this trail.
Bustling along Queen St you may be lucky enough to be stopped by a flash mob similar to those that have sprung up on YouTube lately - a haka performed in the middle of the road while the lights are red. Or you may chance on groups singing in perfect harmony - with pubs to pop into along Vulcan Lane there's time for punters to soothe their vocal cords.
No doubt plenty of people will want to stop at the RWC Superstore and buy an All Blacks flags for the kids before continuing up Queen St to the Civic.
It's here I suspect a few on the trail will veer off again to the Irish pub or sports bar, or into Stark's for a more sophisticated pre-game drink.
And who could blame them, with only 4.5km to cover, and three hours to do it in, there's plenty of time for a few pit stops on the way to Eden Park. There's also a 24/7 liquor ban along the route, so no street drinking, making it all the more family-friendly.
Once at Aotea Square, you'll be ushered through the giant wooden carved arch named Waharoa, which is a symbolic Maori entranceway. It was here that last Saturday thousands of visitors fitted into this snug little square to see the All Blacks welcomed.
It's here the artiness of the trail takes a hit of testosterone with the Land Rover Terrapod Activation and displays of MMA sparring, balanced at times by some cheerleading displays.
Bypass The Basement, where, aptly, Death by Cheerleader is showing, and then head towards Myers Park. Just before the park, your kids will be drawn to the Stories in Action station, which teaches them rugby moves to music with the help of the pre-schooler-pleasing parachute they're encouraged to hold as they "scrum" and bounce the rugby ball around on top.
If you can tear them away, it's on to Myers Park, lit up with six spectacular shipping container installations, as well as one more fluid station among the trees, created by students from the University of Auckland's National Institute of Creative Arts and Industries.
Each station has a different theme, called "follies". Inspired by the idea of a jack in the box, each piece opens up to release surprises in movement, dance, sonic and visual arts.
Architecture, music, dance and fine arts students have collaborated on the project as part of their studies. Remarkably, each was given the same concept brief, which highlights how very differently we each view our city, and the lives we live here.
The first station is all about the changeable Auckland weather and features beautifully colourful umbrellas lit up and the sound of rain falling as you walk past. The next piece, "diversion", refers to the Waihorotiu Stream, which used to flow through Myers Park.
A kind of dragon and smoke machine will catch the kids eyes, part of the "reactive" folly, which is, fittingly, all about childlike play and fun - inspired by the park's playground.
Naturally there had to be a Back to Black, an exploration of positive and negative spaces, inspired by the role of black in New Zealand's identity and its dominance in our visual arts.
The structure on top of the container looks heart-stoppingly close to collapse as dancers move in and around the large sculptures.
Two more installations - one pays homage to our volcanic heritage with leaves spewing from fake volcanoes and another, "displacement", is inspired by Myers Park's history as a colonial shanty town.
Heading into St Kevin's Arcade, up the steepest part of the fan trail, is the last student folly called "perpetual museum" and it gives out a sound of exhaling air at the top of the stairs, which you may mimic back unintentionally, out of breath at the top and ready for a break.
This is the natural halfway mark on the trail and here you can wave your flags in relief.
In the arcade, and past buskers and a choir, stop at Alleluya Cafe where the kids can sip fluffies in sweet coloured cups and saucers and the adults a cold beer, while watching the park lit up by the installations, and fans trailing through the arcade entrance underneath.
Bands will send you on your way along Karangahape Rd.
The trail is about seeing parts of Auckland you may normally shy away from so check out the drag queens sitting outside Caluzzi Bar & Cabaret Club. Who knows what moves they'll be busting out on the night.
Head across the coolly refurbished overbridge to Great North Rd. Be sure to smile as fake paparazzi take your picture as you get closer to Bond St, and more street performers cheer you on your way as if you've just run a marathon. The final stretch around Wairepo Swamp Walk will help you truly "fan up" with face paint and memorabilia.
If you are not going to the game, you can head home on the train from Kingsland in plenty of time to turn on the TV and watch the match from the comfort of your living room.
Go with the flow
* Join the 4.5km trail anywhere along the route on match nights, starting from Queen Elizabeth Square, opposite Britomart, and ending at the stadium at Kingsland.
* Trail entertainment runs from 5pm-8pm (except September 25, which is from 12-3pm).
* At a fast pace, you could walk the trail in under an hour - but best allow at least two hours to take it all in.
* Free ponchos will be given out if it rains, but no umbrellas are allowed on the trail.
* There are plenty of officials and information tents along the trail so you will be able to find your way safely.
* Visit the website to download a map, hit the What's On button and scroll to Fan Trail.