It was the last on a list of wonders to be crossed off. But would the ancient city in the desert remain elusive? James Anderson found the road there to be the real journey.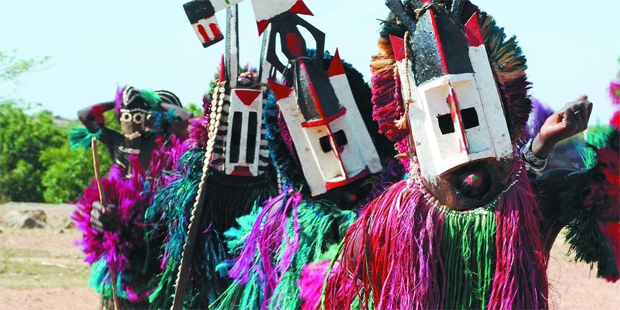 Timbuktu has come to symbolise remoteness, the ends of the Earth. It attracts seasoned travellers who want to be able to say "I've been everywhere, man".
The first European to get there and come back alive was Rene Caillie in 1828. Many others perished in the attempt, including the Scottish explorer Mungo Park.
The attraction of the town initially arose from its fabled wealth. With its strategic location on the edge of the Sahara Desert, gold, ivory and slaves were traded northwards and salt from the desert southwards for distribution along the Niger River.
In 1336, Kankan Musa, king of the Mali Empire, went on a haj pilgrimage to Mecca and dished out so much gold along the way that he flooded the market and the price of gold plummeted in the Middle East and Europe.
On his return he commissioned the Dyingerey Ber mosque in Timbuktu which became a centre for Islamic scholarship and worship.
The town's more recent reputation for inaccessibility arose from the desire of its fervent Muslim inhabitants and the desert dwelling Tuareg tribesmen to protect this holy city from prying infidels.
In 2007 I came across a website which announced that a new list of Seven Wonders of the World had been agreed, from a shortlist of 21. I had been to most of the 21, and over the past three years filled in the gaps, just leaving me with Timbuktu.
The Australian-based firm Peregrine Adventures were offering tours through Mali, taking in Timbuktu, so I signed up.
Our 13-strong tour group, with guide Mohammed, headed east out of Mali's dusty capital, Bamako. Our first night was to be spent in a "homestay". As darkness fell and we still hadn't arrived there was some speculation about what lay ahead. "Ah, well. Just go with the flow," said Ali, who with her sister Kirsty was from Hawkes Bay.
What lay ahead was a village of mud huts. There we were treated to a meal of fried chicken, guinea fowl, rice, fried bananas, groundnut sauce, tomatoes and salad greens spread out buffet style on the ground.
Afterwards we were shown the facilities by torch light. The toilet was a doorless, mudwalled enclosure with a hole in the ground. Washing arrangements consisted of a large earthenware jar of water and a wooden ladle.
Mats were arranged along the edge of the compound for sleeping, with mosquito nets suspended over them. A dance was laid on for our entertainment, the music provided by drums and large xylophones called balakons.
In the morning, we were shown round the village by Youchauo Traore. This included the rundown school where the mud-brick teachers' houses had collapsed in the rainy season some years ago and there was no money to repair them. It was therefore difficult to recruit teachers.
"In any case," Youchauo said, "little money gets through from the Government for education. It's embezzled by politicians and civil servants."
I asked him if things were worse now than in colonial times. "Oh, yes," he replied, "we had good schools then."
There was a solar-powered project, provided by a private aid donor, that once pumped water from a reservoir for irrigation, but had broken down and there was no money or expertise available to repair it.
Nearby was a diesel-driven machine for grinding millet which would have saved the women several hours a day of pounding. Again it was broken down. The group had a whip-round and raised enough money to go a fair way towards the repair cost.
We carried on to Djenne on an island in the Bani River, a tributary of the Niger. Its mosque is the largest mud building in the world and it has a bustling market on Mondays.
On the ferry across to the island we were engulfed by a swarm of hawkers who piled aboard with our bus. I was confronted by one calling herself Ms Best Price Mimi. I stalled her by promising to see her "apres" (French for later).
On the way back the following day she collared me again. This time there was no escape.
The market around the mosque was full of sheep. Mohammed explained that an important Muslim festival, Tabaski, was coming up when every family had to kill a fat sheep, commemorating the Old Testament event when Jehovah allowed Abraham to sacrifice a sheep instead of his son, Isaac. Most people were dressed in the colourful traditional flowing robes and turbans.
We had lunch in a local restaurant. Paying individually for drinks afterwards was the usual shambles because small change is as scarce as hen's teeth in West Africa. Mohammed explained that some businessmen have spotted a business opportunity hoarding coins and small denomination notes and selling them at more than their face value.
The following day we came to Mopti where the Bani River flows into the Niger, which resembled a sea rather than a river. As we launched out on a cruise it was hard to believe that in the dry season the river shrinks until the boats plying up to Timbuktu can't operate.
In the bustling market along the river bank we saw the blocks of salt carried down from the Sahara to Timbuktu by Tuareg camel caravans and distributed through Mopti.
From Mopti, we headed south for Dogon country. The Dogon people live along the 250km long Bandiagara Escarpment, a 500m high sandstone cliff which provides the major physical feature in an otherwise mostly flat Mali landscape. Their isolation has enabled them to preserve their local traditions against incursions by Islamists and French colonists.
A corrugated track took us through Dogon millet and onion fields to the edge of the escarpment. Halfway down, we had to stop in a narrow gorge to allow a donkey cart to come up. The two donkeys yoked between the shafts looked exhausted, I could see it in their eyes. They staggered under the load of sacks of millet piled on the cart, the drivers mercilessly whipping them with tree branches.
We spent the night on the roof of a campement or hostel in the village of Tireli. The facilities were an improvement on the earlier homestay, offering a cold shower and sit-down toilet, but spartan nevertheless.
In the morning, we trekked up to the village centre for a dancing display.
To the rhythm of drums, the masked dancers, some on stilts, paraded around a tree. Afterwards I chatted in French with the village headman. He told me that they still performed the dances for themselves at funerals and harvest times so it wasn't just a tourist gimmick.
Following the dance, we trekked about 10km along the base of the escarpment to Ireli village, a Unesco protected site. Along the way we passed a crocodile pond, a couple of its denizens immobile on the bank.
When we arrived at the Ireli campement some of us were approached by a stall holder who had wooden carvings and masks for sale. He rummaged around in a box near the display and furtively unwrapped a bronze pornographic art object displaying a daddy Dogong and a mummy Dogong busy making a baby Dogon.
The salesman claimed it dated from the time of the Tellum people who lived in caves high up in the escarpment until they were displaced centuries ago by the invading Dogon. Ian, from Australia, who was obviously a bit of an art connoisseur, reckoned it was from the Dogon doggy-style period.
That night, some of us decided to sleep down below in the courtyard of the campement as the roof was a bit congested. Around midnight, a strong wind blew up. It would rise to a near gale force crescendo, then fall away only to build up again to a new peak.
There was a lot of sand around at the base of the escarpment from erosion of the sandstone rock so a sandstorm developed. During the night my blanket blew away and in the morning a sizeable sand dune had built up in my belly button.
We never made it to Timbuktu. Al-Qaeda has been operating in the desert north of Timbuktu and last year kidnapped and killed a British tourist when no ransom was paid. Early this year a French aid worker suffered a similar fate.
More recently, seven mine workers were kidnapped in neighbouring Niger and were reputedly being held in Mali. Mauritania had sent army units into Mali under a cross-border agreement and they had skirmished with al-Qaeda and Tuareg groups within 50 miles of Timbuktu. Western governments all issued no-go warnings and Peregrine deleted the Timbuktu leg of the tour. History had repeated itself and fanatical Muslims had again sealed off Timbuktu.
You can still get to Timbuktu. A couple of planes a week fly in from Bamako and Mopti, river boats ply up the Niger and there is road access for 4WD vehicles. But with the current security situation it's for the foolhardy only.
Anyway, bugger Timbuktu. The Dogon country is the new Timbuktu. If you haven't slept under the stars in a Dogon village during a sandstorm, you haven't been anywhere, man.
CHECKLIST
Getting there: Qantas flies to Johannesburg.
South African Airways flies from Johannesburg to Dakar (Senegal) and Accra (Ghana).
Air Burkina flies from Dakar to Bamako, Mali, where the Peregrine Adventures tour started and from Ouagadougou, Burkina Faso, where the tour ended, to Accra.
There are alternative routes and airlines, none of them straightforward or cheap.
Getting around: Australia-based Peregrine Adventures operate tours through Mali and elsewhere in West Africa, subject to the security situation.
Adventure World, of Auckland, has organised a 23-day escorted tour to Timbuktu leaving Auckland on 10 October 20. For further information call Adventure World on 0800 465 432.
Further information: For general tourist information on Mali see the official government tourism site (in French).
Travel advisories: For the latest New Zealand Ministry of Foreign Affairs and Trade advisories on the security situation in Mali, see safetravel.govt.nz.