Go local and have a blast exploring the wonders of your own backyard in style.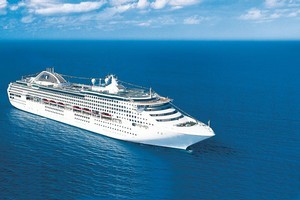 Traditionally cruises have been considered part of the lifestyles of the rich and famous. Most of us have had to satisfy ourselves with wistful, romantic fantasies of a cruising holiday, never really believing such a holiday was within our reach. But these days, with a diverse range of cruising options available at competitive prices, it has never been a better time to hit the open water and cruise away.
And it doesn't have to mean flying far from home. New Zealand is making a name for itself as a key cruising destination, with many international cruise companies choosing our corner of the world to home port their premium cruise liners.
It's a relaxing way to travel - you have to unpack only once and each port comes to you while you sleep. And with all on-board accommodation, main meals and entertainment included in your fare, a cruise holiday is easy to budget for in advance.
Here are some ideas for good local cruises from Cruiseabout:
Christmas and New Year cruise
Looking for an unusual way to celebrate Christmas? Try a 13-night cruise on the Celebrity Century.
This is the highest-rated cruise ship based in New Zealand and Australia and features the first "ice bar" at sea.
This cruise begins in Sydney, takes in Melbourne and Tasmania in Australia, then heads over the Tasman to the Milford and Doubtful Sounds, Dunedin, Christchurch, Wellington, Napier, Tauranga, the Bay of Islands, finishing in Auckland.
Cruising New Zealand is the perfect opportunity to be a tourist in your own country - forget driving on winding roads, simply head to the spa, check out the on-board theatre or have a drink in the bar while you head to your next destination.
Luxury transtasman
In 2012, the Celebrity Solstice super liner will sail from Auckland and Sydney for a summer of luxury cruising.
On board, you can indulge in a 24-carat facial at the spa, dine in one of the five specialty restaurants, take in the glass-blowing studio or even enjoy freshly cut grass with half an acre of lawn on board.
Having this level of luxury liner home-porting in Auckland for the 2012-13 season is a treat for Kiwis.
Marlborough Sounds
People travel from around the world to take in a slice of our own little paradise and the Marlborough Sounds and Fiordland is a huge drawcard.
Here, you don't need a large cruise liner to take in the beauty of our own country.
Try something different and jump on board the M.V. Affinity, an eight-cabin vessel purpose built to navigate this region.
Small-ship cruising can take you closer to the places larger vessels simply can't get to, giving you an entirely different experience. And with a maximum of 16 passengers on board, you can have a drink with the captain, get to know the crew and hear about their extensive knowledge of the beautiful surroundings.
Heli- golf cruises
Heli-golf will add a new level of fun and excitement to your game and you don't have to travel far from home to enjoy it.
Take off for six nights to the Bay of Islands for a Heli-golf cruise where you'll play on New Zealand's best golf courses with helicopter transfers each day between the ship and the four golf courses.
On board the beautifully appointed Island Passage small ship is all the sports fishing equipment you could need, along with expert advice from the fishing guides. The hardest part about this cruise is deciding whether to hang up your clubs and catch a marlin - a tough choice.
Wine tasting
If game fishing or heli-golf sounds like too much adventure for one holiday, a wine-tasting cruise with native bush walks is designed to take it down a notch and provide endless relaxation.
A Hauraki Gulf cruise allows you to see greater Auckland in a whole new way. Take a guided bush walk on Tiri Tiri Matangi, jump in a kayak to discover secluded beaches of the region, visit a range of delicious wineries on Waiheke, throw a line overboard and fish the afternoon away or relax with a good book and a glass of wine on a steamer chair in the sun - it's up to you.
With spacious en-suite accommodation on board the Hauraki Gulf Adventure cruise, it is the best way to take in the wildlife, in style.
White Cloud Wonder
Forget loading the family into the car for the annual road trip. Unpack once, wake up in a new port and take in the best of our country with a P&O White Cloud Wonder. This 14-night cruise starts and ends in Brisbane, adding transtasman flavour and taking in the best of New Zealand. If you've ever wanted to see the famous Fiordland National Park, discover Dunedin, explore cultural Akaroa, pop into our capital city, understand Napier's Art Deco, take in Tauranga or shop in Auckland, then this cruise is perfect.
You'll be a tourist in your own country as you lap up the entertainment and excitement on board the Pacific Dawn.
* Cruiseabout specialises in all forms of cruising - from European river cruises down the Seine River in France or the Danube in the heart of Europe, to luxury ocean cruising around the Mediterranean or close to home in New Zealand or the South Pacific. Call 0800 22 11 00.