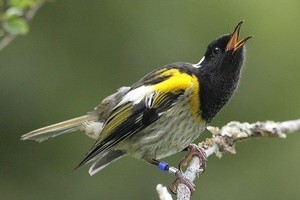 Hihi - otherwise known as stitchbirds - may well be New Zealand's most interesting birds. They have chicks that look like Jimi Hendrix, the males wear gaudy yellow and black coats, unlike most of our native birds, which are monogamous, these guys lead promiscuous sex lives, and they're apparently the only birds known to have intercourse face to face.
If you've never seen one of these remarkable birds it's not surprising. Hihi became extinct on our main islands well over a century ago. But they did survive on Little Barrier Island and in recent years have been reintroduced to Tiri, Kapiti and three of our mainland island sanctuaries.
I first became acquainted with adult hihi a few years ago when my wife and I recorded the banding of birds at feeding stations on Tiri. And I met the chicks last month when I wrote an article reminding everyone what a fabulous place Tiri is.
When Tiri's guiding and shop manager, Mary-Ann Rowland, first told me each chick looked like a "mini Jimi Hendrix", I didn't really believe her. But after we got to the island and hihi researcher Leila Walker took a chick out of one of the nesting boxes, sure enough, it had a crazy-looking mop of hair, a huge open mouth and great thick lips, just like the late Hendrix (though admittedly the old guitarist's lips weren't bright yellow).
As Walker weighed the chicks and used a medicine dropper to feed them some magic potion I had difficulty stopping myself from guffawing at their bizarre appearance.
Most people who experience hihi find them special. The Supporters of Tiritiri Matangi are so enthusiastic about the birds that next month they are holding a Hihi Week (see tiritirimatangi.org.nz/events) to raise their profile. And at least a dozen local painters, ceramicists, jewellers, photographers and textile designers have agreed to produce hihi-themed artworks for the occasion.
Bob Steiner (steinerceramics.co.nz), a ceramicist who was on the island at the same time as I was, has been inspired to produce not just one but two pieces: the first symbolises Tiri's transformation from bare grassland to a an island sanctuary for our birds, the second celebrates the work being done to safeguard the hihi's future.
It's work that is worth celebrating but unfortunately the research programme is short of funds and the hihi remains officially endangered.
If you haven't been introduced to these saucy little birds, then Tiritiri Matangi's Hihi Week on March 9-13 is the ideal chance to meet them, see some works of art inspired by their unique behaviour and help the campaign to ensure their survival.