The pace is fast, the sights, sounds and smells overwhelming. Travel in India is exciting but not for the faint-hearted. Chris Reed journeys through three regions.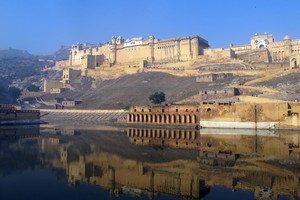 Let's get one thing out of the way, India is hard work. Not hard work like triple maths homework or having to stay in all weekend because your boss wants that report on Monday instead of Thursday. It's hard work like shopping at the sales with a full wallet and a hangover from a great night out: you get fantastic rewards once you've breached the pain barrier.
The fortnight I spent in Delhi, Agra and Rajasthan in early January was my second visit. My first was curtailed by a mystery illness that caused me to collapse in the street and necessitated a week in hospital. I spent the five years between visits determined to return.
I should tell you India is a country for true travellers, those who want experiences you can't get anywhere else. I will tell you it's a life-affirming destination, a maddening, startling cauldron of sights, sounds, tastes and smells; even Delhi, where you might not dally, but will be given a crash course in India. Literally, if you get the taxi driver we had.
New Delhi - to give it its full title - is one point on India's Golden Triangle, with Agra and Jaipur. There's less to recommend it than the other two, but it does have major city facilities, allowing culture shock to be negotiated in some comfort.
Agra sits on the south bank of the River Yamuna, the second most holy river, after the Ganges, in India. You probably won't spend much time in the city and that won't be a great loss. The point of a visit here is the Taj Mahal, a "teardrop on the face of eternity" according to Bengali poet Rabindranath Tagore.
Presumably the poet didn't have to contend with the squads of crack guides marshalled besides the foreigners' ticket office. But once you've fended them off and catch your first full view of the mausoleum across the gardens, you'll figure it's worth the Agra-vation.
Even on New Year's Day, with a hangover and after four hours in a car driven by a lunatic, I was rendered speechless. Because, like many truly great sights, it's even better than you had been led to believe: intricate and imposing, ornate and subtle.
Jaipur is the capital of Rajasthan and best known for the walled Pink City at its heart. The colour was intended to disguise the poor-quality materials from which the buildings were built.
Most tourists go to the City Palace, part of which is still inhabited. Opposite is Jantar Mantar, a crazy collection of large stone astronomical devices created by a former ruler named Jai Singh.
The other key attraction is the Amber Palace. It sits above a lake and below a fort perched on a craggy ridge. The setting is spectacular. One thing you should beware of is palace/fort overkill. There are lots of them in Rajasthan and sometimes the settings are more interesting than the contents.
From Jaipur, we headed southwest to Ranthambore National Park, the world's best bet for seeing a tiger in the wild. It's where British comedian and actor Russell Brand married US popstress Katy Perry. We didn't see a tiger, though we did see a bear, which is apparently more rare.
Udaipur, in southern Rajasthan, was a key location in the James Bond movie Octopussy. Roger Moore did battle with various villains against a backdrop of charming narrow streets and a palace built on the bed of a lake. The Lake Palace (clever name) is best viewed from the shore which is just as well because it's now an extremely expensive five-star hotel.
After the hordes of the Golden Triangle it was a relief to find Udaipur, cooler and calmer, with less persistent touts. I had my hair cut by an 82-year-old, whose boss insisted we stay to drink chai (tea) with them. It was an honour to be invited, the conversation a reminder that Indians are among the warmest, most genuine people I've met. Unless they're touts.
Jodphur, also known as the Blue City and where the riding trousers came from, was next. Affluent followers of Brahma washed the walls of their homes with blue to keep out insects and summer heat.
The old city is a web of criss-crossing streets and passages, the people friendly, the touts keen to learn.
"What should I say to a New Zealander to get them to buy my bangles?" asked one.
I decided against the answer: "Tell them how proud they must be to be part of Australia."
If you meet a hawker in Jodphur who shouts: "Sweet as, bro," blame me.
The final and favourite stop was Jaisalmer, in the far west of the state, and surprisingly close to Pakistan. It's dominated by its fort, a once-impregnable citadel rising from the sands of the Thar Desert. The rooftop cafes at the highest point offer huge views.
Most people who go that far go on a camel trek. If you've never ridden a camel you may want to practise by sitting astride a barrel for a few days.
We spent one night under the stars. After plodding across scrub for several hours in ever-rising temperatures, we made camp on dunes with no trace of other people.
As the porters whipped up a three-course dinner for 12 on one camping stove, a man clad in desert robes rode a camel into camp.
He got off carrying a sack and as he sat down opened it to reveal a dozen cold beers. He was my kind of tout.
In case you had forgotten, India is hard work. It can take a week or two to get to grips with a radically different environment. Most people will experience some kind of dietary disturbance.
You can do it in style, staying at fancy hotels and have a driver take you from fort to palace. You can do it on a budget, staying at backpacker accommodation and catching trains and buses.
One is easier than the other, but neither will be straightforward. India is a country where things don't always go to plan, but those are the kind of things that bring a journey alive.
The food is exquisite if you avoid the over-priced tourist restaurants. The mirchi bada (chilli fried in a thick batter of wheatgerm and potato) I had in Jodphur was one of the finest things I've eaten and it cost less than a newspaper.
The train journeys are unforgettable, made so by classical jams by travelling bands inspiring dancing and clapping and hot, fresh pakora (vegetable fried in chickpea batter) bought from platform vendors.
And there's the shopping: textiles, ceramics, paintings, leatherware and suits tailor-made in an afternoon.
India is closer to insanity than serenity, at least for the first-timer. But if you can give it time, it will make sense, albeit a bewildering, lopsided kind of sense.
IF YOU GO
* Ignore anyone at New Delhi Train Station who offers to help - they're almost certainly a tout. Book your ticket online at cleartrip.com (for a small surcharge) and don't show it to anyone but the train guard.
* Eat where lots of Indians are eating. It will be authentic rather than bland tourist fare and lots of customers means it won't be sitting around in the kitchen long.
* Give yourself at least a couple of days at Ranthambore if you want to see a tiger.
* Don't feel obliged to wander around every palace and every fort. Pick the best examples and take photos of the rest from outside.
* Keep lots of small notes for tips. You'll have to dish out a few and you won't want to give away all your spending money.
Currency: $1 = about 35 rupees (See xe.com for real-time exchange rates).
Getting there: Fly from New Zealand to an Asian hub (Hong Kong, Singapore, etc.) and change for New Delhi.
Visas: New Zealanders can apply for a visa on arrival at some major airports, including New Delhi - check with your travel agent.
* Chris Reed travelled to India with assistance from Flight Centre.