Peter Calder takes a break from creature comforts - and city slickers.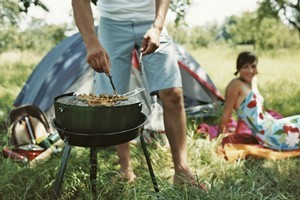 If God had meant us to put up with soft butter at the beach, he wouldn't have invented the gas fridge. That's how I see it.
And if he'd meant us to emerge black and blue from a soggy sleeping bag, he wouldn't have invented weatherproof canvas and air mattresses on which to spread a duvet and cotton sheets.
I love camping: there is nothing like roughing it, getting back to the caveman roots.
A nitpicker might point out that cavemen didn't have gas fridges and airbeds. But neither did they have to endure traffic queues waiting to go through the Johnstones Hill tunnel. Anyone who argues that civilisation has made us soft has not sat in a fully laden Toyota Corolla in 28C heat. No Neanderthal could have endured that.
Anyway, I reclaimed some of the moral high ground this summer because the fridge stopped working and the airbed went down. The latter was easily enough remedied with a piece of bread wrapper in between the air inlet and the screw-cap, but not before I was reminded that there is no lonelier and more desperate sound than the rhythmic wheeze of a foot-pump at three in the morning.
The fridge was more problematic, since I had failed to pack my copy of Refrigeration Engineering with a Swiss Army Knife for Fun and Profit. There was nothing for it but to go back to nature, parking the chilly bin under the trees and draping it with a wet towel. The process was assisted by the judicious application of bags of party ice - a well-known domestic resource since at least Neolithic times, as I am sure you are aware.
I suppose it's fair enough to accuse a gas-fridge owner of not being a "real" camper. But it's a matter of degree. No longer in what might be described as the springtime of life, I allow myself a few luxuries.
I've paid my dues after all: I've camped without a mattress of any sort (hell, I've camped without a tent) and I toured the South Island once on a diet of brown rice and black tea. So excuse me if I take a comfortable chair and a croquet set, if I like my butter hard and my bed soft, if I fancy a chilled sauvignon at sundown.
Fridge or no fridge, camping is an annual pleasure. I did not grow up in a camping family. My mother seemed to regard the very idea of a family holiday as a conspiracy to heap ever-more-arduous domestic tasks on her stooped shoulders.
"Leaving off work to carry bricks," she used to call it when we went to a basic but perfectly well-appointed bach on the Thames Coast to play Scrabble for two weeks as rain fell outside. We thought it best not to mention tents.
So I was well into adulthood before I discovered the pleasures to be had in camping. There are world-weary urban sophisticates who deride it, I know, as tediously uncomfortable and they're welcome to spend their holidays as they spend the rest of the year, padding the hard pavements of the city.
But there's something deeply rewarding about the self-reliance of camping that mod cons cannot destroy.
I suspect that, if pushed, I could knock up a passably weatherproof bivouac of manuka and raupo and I can certainly get the billy going on a fire built in a hearth of river stones. But it's a tough job these days finding a place where landowners and district fire officers will let you do both of those things at the same time.
Instead we settle for an uncrowded council campground where facilities run to cold-water taps and immaculately clean long-drop dunnies. It's not exactly back to nature, I know, but it's far enough away from summer in the city to feel like another world.
My days are spent studying cloud movements to see if rain's on the way; tightening guy ropes, fetching water, ensuring that the sun's drying what it needs to and not falling where it shouldn't.
I devour books and sleep in the afternoon, both activities that can easily be accomplished at home, I know, but which are somehow more richly pleasurable when carried out in a home erected away from home.
Let city folk sneer. It's my way of getting away from it all and I can't wait till next summer.