The historic harbour settlement and fishing town of Mangonui is a gem of a place to visit writes John Durrant.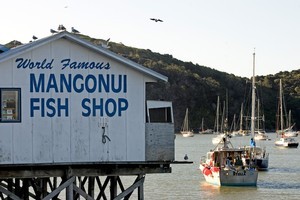 Delightful little Mangonui is one of those rare coastal towns that is still thriving at its original purpose for being - as a fishing port.
It now also has a healthy tourist business as a secondary income stream, evidenced by the strip of lovely gift shops, cafes and restaurants along its main road. But it's clear that fishing is still Mangonui's main industry and the locals have found a way to springboard off that to be "world famous in New Zealand" at a Kiwi cuisine favourite - fish and chips.
This writer has been to a fair few small coastal towns around the world and one of the most amusing similarities between almost all of them is that they all have a "world famous" something. Mangonui is no different - this charming little town has the Mangonui Fish Shop nestled right on the harbour, slap bang in the middle of the fish sheds and boats.
It deserves its accolade. The snapper and chips were as good as anywhere in New Zealand.
Our accommodation for our long weekend had the same laid-back Kiwi flavour - you'd struggle to beat the welcome at Puketiti Lodge.
Host Siggi was delightfully eccentric, warm and friendly. Once she had finished making her beautiful lodge spotlessly tidy, she joined us on the deck for a few drinks.
Siggi explained she got fed up with life in Auckland so she sold her house, packed everything into a camper and went travelling around New Zealand for a year with her dog. She came across the stunning piece of land her lodge now sits on, bought it and the rest is history.
Staying at Puketiti Lodge is a bit like going to stay at your favourite aunt's house for the weekend.
You feel like a member of a big family rather than a guest. And we couldn't fault the quality of the lodgings. Large, airy beautifully decorated rooms make for a wonderfully comfortable stay. But the lodge's biggest asset is undoubtedly Siggi herself.
"I like when the house is full of people and they are all out on the deck, people from all different countries, enjoying each other's company and having fun," she says. She's a wonderful person, and helped make Mangonui a wonderful weekend away.
TRAVELLERS' TIPS
Getting there: Mangonui is about 300km north of Auckland, and it takes about 4 hours to drive there. Take Highway 1 north out of Auckland and follow signs to Kerikeri. From there, Mangonui is a leisurely two hours north on SH10.
Must stop on the way: The detour road off the main highway from Kerikeri (SH10) leads you high over Matauri Bay. This beautiful stretch of golden sand will invite you to carefully descend the road down to the bay. The 17 Cavalli Islands stand proudly a few kilometres offshore.
A few kilometres up the road you will find a stunning spot, high on the hill, overlooking the bay. Make sure the camera batteries have plenty juice left in them - you won't want to stop snapping.
Where to stay: Puketiti Lodge, 10 Puketiti Drive, Mangonui, ph 09 406 0369. The lodge is set in lush bushland just off the main road into the village.
Host Siggi caters for all travellers, from backpackers to families, and the huge deck out front is perfect for enjoying a glass of wine in the evening with other guests. A bed in the dorm room is around $40 a night, a single room is $90 and double rooms are $130. There are cots available for families with young children.
What to do: Catch the waves and enjoy the sun at nearby Coopers Beach or Cable Bay. Enjoy a day's fishing with one of the charter companies at Mangonui. Spend the afternoon enjoying the town's gift shops, cafes and restaurants. Take a historical walk charting the town's history and taking in some of its points of interest. For more information, visit the Doubtless Bay Information Centre on Waterfront Drive.