Michele Hewitson visits Japan's ancient city of temples to experience the culture, meet the geishas and eat the fish.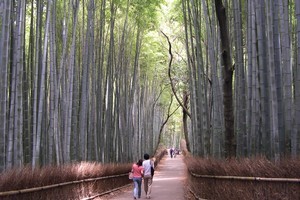 On a Tuesday night in Kyoto, Skunku said, "let's go to a dive," and of course I said, "Yes, please." His name is not really Skunku, it is Andrew, but serves him right for telling me that you can Japanese-ise any English word by adding a U to its end.
But you can forgive a bloke (and Andrew, our Air NZ host, is a Morrison bloke, the nephew of the late, great Sir Howard, and has inherited the Morrison charm, and talent for devilry) a lot for the offer, and delivery, of a dive.
My "yes, please" was a genki response which led to us going super genki in Kyoto on a Tuesday night. Genki means something like enthusiastic. Super genki means something like having too many beers in a dive.
Nobody except the only two Japanese ladies (or barflyu, perhaps) within gave us a second glance. You don't find too many ladies propping up bars in Japanese dives.
The male patrons, after a swift, surly glance got back to skulling beer, eating smelly, odd-looking things fished from smelly, steaming vats, and fagging.
The two ladies made room for us at the counter, got in a bottle and extra mugs and started pouring.
We had no Japanese, they had a tiny bit of English. Skunku claimed to speak some Japanese, but who knows with him? Did he call for more beeru? Somebody did. A jolly time, in any language, was had by all five of us.
The ladies worked together, in insurance, and no common language was required to communicate the mind-numbing boredom of their work. You had the feeling that although they came here to drink every night - and the surly blokes did too - they were never spoken to.
They might get home at 11pm, or "maybe 3am, or maybe later!" Did we want to go on with them to karaoke?
A shame we were worn out by a long hard day of what you do in Kyoto, which is culture. This was culture, too.
What strong beer. How hospitable Japanese ladies in bars are. You have to get the last bottle in and scoot, otherwise you'd still be there. We got the last bottle in and expressed our regrets which were met with, after a rummage in handbags, a gorgeous little purse for the Beautiful Blonde (who, of our small party, attracted even more admiring looks than the Morrison boy) and a dear little toothpick holder (it's the thought that counts) for me.
I didn't have anything to give in return. What about a cigarette? I proffered the packet and the ladies shrieked with horror and covered their mouths. They were New Zealand fags. I'd forgotten about the picture of the ulcerated mouth with the blackened teeth. It was the thought that counted.
BB's hair got a reverential stroke. "Blonde!" the ladies exclaimed. They looked at me, and paused. "Curly!" And gave my head a token pat.
What scrupulous courtesy, and in a dive. We staggered off to a classier joint and drank shochu, a lethal drop made from sweet potato, and ate bar snacks which seem, according to the scribble in my notebook, to have been raisins stuck in butter. Do go to a dive if you're ever in Kyoto. Do not eat raisins in butter, especially when taken with shochu.
Another tip: if you ask for a chair, as BB did, at the sort of Japanese restaurant which does not provide chairs, which means most of them, you will be offered a piece of curved, laminated wood with a back and no legs and a hole to stick your bum through - like one of those trainer seats for children you put on the loo to stop them falling in. I laughed as hard as a pissed salaryman.
Oh, and that pink stuff that comes in perfect little balls is cheese. It tastes like fish, but it's cheese. "They're obsessed with fish, aren't they?" said BB.
She had earlier regarded our set meal in chilly silence and then said with cold, dead eyes, "Oh, good. More cold, dead things." If I'd had a chair to fall off laughing, I would have.
I recommend the pork chop shops. You can tell them by the banners outside: they have pigs on them. These banners are beautiful, if, as I do, you admire beautifully drawn pictographs of stuff that you are about to eat that are not fish. The pork shops are little shrines to pigs. (Or the other way around.)
Getting to Kyoto means going by bullet train, from Tokyo, so you obviously get off at the Kyoto train station. You could go to Kyoto and just go to the train station, emerge a week later and declare Kyoto to be a most interesting place, a shrine to modernity and shopping and service. If you buy a single piece of cake, it is wrapped in tissue and popped inside a beautifully folded box, with a tiny ice pack.
It is appropriate that Kyoto train station enshrines a whole other world within a city. There are apparently thousands of shrines here which you'd think might rather diminish their uniqueness, but no.
They are all amazingly special and different and I should know because in three days I saw: a pagoda, a famous hall with 1001 buddhas, three temples, a castle, a shrine (only one? This seems unlikely, perhaps they blurred, just a little) and a golden pavilion. But it felt like a hundred, or a 1001.
Actually at Sanjusangendo temple there were only 1000 of the amazing many armed gilded buddhas, because one was off being restored. I pointed this out to Shuko, our guide and he said, "You are very precise.
This was, possibly, a compliment; the Japanese are very precise. But it may have been a joke; the Japanese have a finely honed, or precise, sense of humour.
Shuko an endlessly patient, nattily-attired, formal gentleman with a penchant for breaking out a Ninja move at unexpected moments, liked a very Japanese joke.
There was, in addition to the shrines, etc, also a bamboo forest. You might think: huh, a bamboo forest, but this is a very famous one called Sagano bamboo forest and it has all the bamboo you could want, possibly more.
Bamboo makes for a very regimented sort of forest, being a tidy sort of plant, especially when it is pruned and tidied to within an inch of its life by teams of gardeners who have probably trained for 50 years before being allowed near a hallowed bamboo tree, or bush or stick or whatever bamboo plants are called.
Shuko told me, very seriously, that the Japanese have managed to create a new species of bamboo: with a square trunk. This was a good joke because while I didn't quite believe it, I do believe that if anyone would want to create a bamboo with a square trunk, it would be the Japanese. We saw a man up a pine tree removing needles, one by one, in order to achieve the most perfect form for the tree.
Also, the Japanese are fond of putting trees in cages. "Look," we'd say, "another very naughty tree. It must be a terribly wicked tree."
The sound of the wind in the bamboo forest has been voted as one of "one hundred must-be-preserved sounds of Japan" by the Japanese Government, or so I read. What are the others, I wonder? Perhaps the sound of soba noodles being slurped.
I do like the sound the pedestrian crossing signal makes. It goes "cuckoo, cuckoo", but this might not be enough to attain national heritage status.
The only sound I heard at the forest was of me spitting out a rotten chestnut (in a rubbish bin, I hasten to add; I'm not some sort of cultural vandal.) Nobody else got a rotten chestnut.
The Japanese are big on signs. You can buy your fortune for 500 yen at most shrines. Mine read: "Not so bad; not so good," which might be better than, say: "Life is a rotten chestnut."
One of the most beautiful Kyoto temples is Rokuon-ji, the Golden Pavilion. A mad monk ran amok here, set fire to the pavilion, ran off, took sleeping pills then stabbed himself in the chest with a knife. He lived and went to prison. His mother went to visit him in the clink and on the way home jumped off the train and died. It's a tranquil spot.
Toji-Temple, the five-storied pagoda first built in 826, is the highest in Japan at 187 feet, and has had some bad luck too: it has been burned down four times after being struck by lightning. The one standing now has only survived since 1644, so really, you should rush and see it now.
At Ryoanji Temple we saw one of the most famous gardens in the world. It is 15 rocks arranged, artistically, apparently and possibly mystically, on white pebbles. The trick is that you can only ever see 14 rocks at once. I didn't find this out until later. Shuko asked how many I could see. I boasted, "14", which was a lie: I got bored counting. He said, "Aah, so you are not quite perfect."
Zen Buddhism, like the food, is interesting enough if you don't have to swallow it. At one Zen temple you can buy a stick in the gift shop. This is for hitting your disciples, or trainees, or whatever they're called if they twitch so much as a little toe while meditating for 23 hours a day (or something like that.) BB reminded me of a very old Benny Hill joke: "I am a mystic and here is my shtick."
I had a Zen thought: Can you be Japanese if you hate fish?
But you don't go to Kyoto for the fish (at least we didn't.) The really big (or rather, really small, because it is tiny and quaint) tourist attraction is the Geiko quarter of Gion. Geiko is the Kyoto term for Geisha and in the quarter are the houses where the geiko, and trainee geiko, the maiko, live.
There are no windows. So you just stand there and look and wonder, I suppose, whether they think it strange, if they think of it at all, that tourists come and look at their cloistered quarters?
There is a prurient sort of interest. Most people who are not Japanese think geikos are high-class prostitutes although common sense should put paid to that notion. The kimono get-up weighs around 20kgs and trying on an obi involves two strong men who have each spent 50 years in training before they are allowed to graduate from obi tying school.
I made that 50 years bit up but it wouldn't surprise me. Anyway, by the time a geisha got her kit off the bloke would have had the best part of a bottle of shocu and would be incapable of anything much more than passing out.
This going to gawk at geisha houses is a peculiarly Japanese form of tourist activity. You can go and look... at houses with no windows. It is tourism with a fan held to its face, revealing next to nothing. You feel a bit silly for looking, at nothing.
But we met a maiko. You pay for a private viewing, which means you sit in a room with the chairs lined up in rows and a woman comes and gives you a pre-meeting talk. She said, "A maiko is basically a dancer. You're hiring her for a private viewing, which is normally very expensive." She said, apropos of an unasked question: "It's not very much like slavery. If you had many children and not much money, what would you do?"
The maiko came in: an exquisite living doll. The woman said, "Japanese men prefer 'childish', cute girls over independent women. Now she is going to dance for you." The maiko did a slow dance. I couldn't work out whether it was alluring or just a bit boring.
Then we put up our hands and asked questions through an interpreter. Do you like this work? Yes. Is it okay to get married? No. Is it difficult not to get married?
I asked whether it felt as strange for her to have us gawking at her as if she was an endangered species - which geiko are, of course - as it felt for me to be gawking at her. The interpreter said: "She says she really appreciates being able to share Japanese culture."
Now, would we like to have our photograph taken with the maiko? No thanks. She's an exquisite living doll.
But it was rude not to. So we did and the photo (since destroyed) is ample revenge for her having to suffer through being gawked at while answering stupid questions.
It might also be evidence of cultural revenge: it shows two sheilas of a certain age who have all too obviously been raised on mutton and butter, either side of a young woman who ate up all of her nice raw fish. It goes without saying that only one of the people in this picture had treated her body as a temple.
CHECKLIST
Getting there: Air New Zealand operates six direct services per week from Auckland to Tokyo, with economy class airfares available from $2082 per person return.
What to see: To check out Kyoto's attractions see kyoto.travel.
Further information: You can get information on visiting Japan at jnto.go.jp.
Michele Hewitson visited Kyoto as guest of Air New Zealand