A round-up of some of the most popular stories in Travel this year.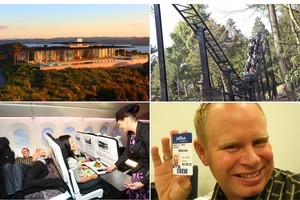 * News that Auckland International Airport had been voted one of the world's best airports in the annual Skytrax World Airport awards got readers clicking back in March.
* In January, a list of the best travel adventures to experience before you turn 30 proved popular.
* The conclusion to a sky-high drama over a screaming child on an Australian flight came in July, when Qantas settled with American tourist Jean Barnard, who claimed she had suffered severe and permanent injuries after a three-year-old boy let out a scream so severe that blood erupted from her ears during a flight from Alice Springs to Darwin.
* In October, it was announced that the exclusive Eagles Nest retreat in Russell had been named the world's top luxury coastal hotel at the World Luxury Hotel Awards.
Famous guests who've stayed at the Northland hideaway include Hollywood A-listers Harrison Ford and Calista Flockhart.
* News early in the year that Air New Zealand was developing a new seat design which would allow passengers to "lie down comfortably", sparked readers' attention. At that stage, the design was still firmly under wraps, but the unveiling of the Skycouch a few days later revealed all and was the second-most-read Travel story of 2010.
* In September, Lonely Planet's annual travel guide to New Zealand heaped praise on much of the country but singled out a handful of destinations as overpriced, overhyped or just plain boring.
* One of the more bizarre stories of the year centred around a Chinese national who donned an elaborate disguise before boarding a flight from Hong Kong to Canada in October. The young man wore a remarkably detailed silicon mask of an elderly white male as he boarded the Air Canada flight, before removing it in the aeroplane's bathroom mid-flight.

* Two stories about air travel that directly affected New Zealanders came mid-year with news that Jetstar was planning a long-haul no-frills service between Auckland and Singapore and that Pacific Blue was axing its New Zealand domestic services.
* In April, a feature on one of the world's scariest roller coaster rides captured readers' attention.
Thirteen, a ride at UK theme park Alton Towers promises to "combine the ultimate elements of physical and psychological fear" and is allegedly so disturbing that riders have to sign a waiver attesting to their mental stability.
* In January, travel website tripadvisor.com issued its annual 'Dirtiest Hotels' list, based on reviews from unimpressed travellers.
Unidentified splatters on walls, bed bugs and and bare wires hanging from light fittings were just some of the complaints levelled at the squalid accommodation providers.
* It's unlikely Steven Slater, a 39-year-old US flight attendant, ever dreamed 2010 would see him making headlines around the world. But that's exactly what happened after a day on the job got a bit much for him back in August.
Slater became irate after passengers refused to follow his instructions to remain seated aboard a Jet Blue flight that had landed in New York. The final straw was when the luggage of one passenger fell from an overhead compartment, hitting Slater in the head.
The frustrated flight attendant cursed at the passengers over the PA system before grabbing a beer and exiting the plane via an inflatable evacuation slide. He was later charged with criminal mischief and reckless endangerment.
* A Novotel hotels and resorts survey grabbed readers' attention in January with its findings that women were more likely than men to 'souvenir' items from hotel rooms, while men were more likely to leave their rooms in a mess. The survey also revealed that mobile phone chargers, lingerie and assorted sex toys were the items most frequently left behind by guests.
* In January, an article about the then-largest cruise liner in the world, the Oasis of the Seas, was one of the year's most-read travel stories. Though it has recently been eclipsed in size (by just 5cm) by its sister ship the Allure of the Seas, the Oasis' launch in late 2009 captured the cruise world's imagination.
* But the most popular travel story of 2010 was about Dubai's Burj Khalifa - the tallest building in the world - which was forced to close its viewing platform just one month after a lavish public opening.
The tower, which stands at more than 820 metres, has since re-opened and is now one of the Emirate's must-see attractions.