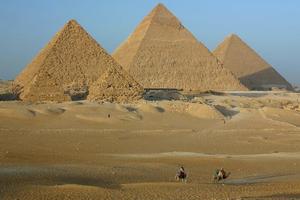 STA Travel is celebrating its 30th birthday with a bucket list of 10 adventures to tick off before you reach that milestone in your own life, and New Zealand has made it on as a must-see destination.
The agency, which caters to students and young people, called for people to vote online, picking their favourites from a list of 30 travel experiences.
"We were overwhelmed with the number of votes we received for our Top 10 bucket list," STA Travel marketing manager Anna Henwood said.
"We hope the list inspires and excites our travellers to experience the world face to face, creating their own unique adventures and travel memories to reminisce over both now and later in life," Ms Henwood said.
"But of course we will still forgive them if they find themselves hiking the Inca Trail at 52."
The list:
1. Visit the Pyramids in Egypt
2. Party (all night) in Vegas
3. Do your Big OE to London
4. Hike the Inca Trail to Machu Picchu
5. Koh Phangan Full Moon Party, Thailand
6. Do a road trip through the USA
7. Tour Europe
8. See the Big 5 in Africa
9. Party in Rio de Janeiro
10. Discover New Zealand
- NZPA