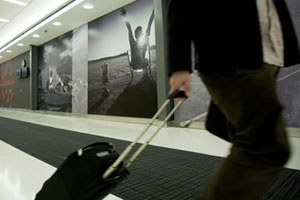 Auckland International Airport Ltd has been voted ninth-best airport worldwide and the best airport in the Australia-Pacific region by travellers in the 2010 Skytrax World Airport awards.
The overall placing was up from 10th last year and it is the second consecutive year the airport has taken out the regional award.
Auckland Airport also won a staff service excellence award.
"We're incredibly proud. Being recognised as one of the 10 best airports in the world for the first time last year was outstanding in itself, but to see our focus on service delivering an even better result this year is immensely rewarding," chief executive Simon Moutter said.
In the region award, Brisbane was second, Sydney third, Melbourne fourth and Adelaide fifth.
Auckland was the only airport from the Australia-Pacific region, and one of only four airports from outside Asia, to make the Skytrax top-10, in which Singapore's Changi Airport was the 2010 winner.
The awards are based on a survey of airport customers that was carried out between July 2009 and March 2010.
Chairman of Skytrax, Edward Plaisted, said more than 9.8 million survey interviews were completed in deciding the awards.
"It was a very close finish with Singapore Changi edging ahead from Incheon International Airport [in South Korea], to take the 2010 title as World's Best Airport" he said.
Changi Airport was also named best airport in Asia and took the top award for best airport leisure amenities.
Hong Kong airport was named third-best in the world, with Munich and Kuala Lumpur rounding out the top five.
The world's top 25 rankings in the World Airport Awards for 2010:
1. Singapore
2. Seoul Incheon
3. Hong Kong
4. Munich
5. Kuala Lumpur
6. Zurich
7. Amsterdam
8. Beijing
9. Auckland
10. Bangkok
11. Vancouver
12. Kansai
13. Centrair Nagoya
14. Helsinki
15. Copenhagen
16. Frankfurt Main
17. Tokyo Narita
18. Brisbane
19. Cape Town
20. San Francisco
21. London Heathrow
22. Istanbul
23. Bahrain
24. Hamburg
25. Vienna
- NZPA, NZ HERALD STAFF