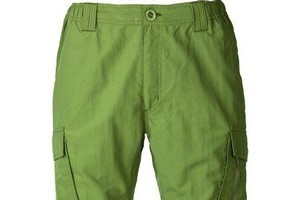 I've bought a lot of trek pants over the years - mostly from Kathmandu - but these are the best yet.
As with all trek pants, the big advantage is that the legs zip off to create shorts, providing valuable flexibility for when conditions change, especially if you're travelling light.
Most trek pants also have lots of handy pockets including secure places to store valuables when you're on the road. The Kanchings are particularly good in that respect with a secret zip pocket which will fit a passport and the buttoned pocket flaps would challenge a pickpocket.
I wore a pair to the cold windy Chatham Islands and then to hot humid Fiji and they were comfortable and good to use in both sets of conditions.
The pants have the No Fly Zone treatment - supposed to repel mosquitoes, ants, ticks, flies, etc, even after 25 washings - and while it's impossible to be sure how effective that is I can state that I didn't get bitten while I was wearing them (but did at other times).
As a bonus they're also reasonably dressy making it less likely that - as has happened to me once - you'll get ticked off for wearing trek pants on business class.
Kanching Zip Off Pants retail for $170. See kathmandu.co.nz/Mens/Trousers&Shorts.htm