Meandering goats, cow bells and jaw-droppingly beautiful views bemuse Rod Emmerson in the Swiss Alps.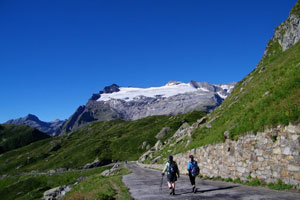 This is one of those views that truly takes your breath away. Of course the fact that I'm perched on a rock at 2300m may also have something to do with the lack of air in the lungs. But the view is gaspingly spectacular.
There are 21 of us resting here, scattered around a steep, grassy alpine slope, an hour or so into a two-day tramp along the Cristallina alpine hiking track, in Ticino, southern Switzerland, where northern Italy is but a stone's throw away.
It's a balmy summer's day and fragrant wildflowers of numerous colours are being lightly tossed in a gentle breeze while cows with ever-clanging bells graze nearby.
In front of us stretches a spectacular alpine panorama, including the Lago del Nare't dam where our walk started, all nestled under a faultless azure-blue sky.
I'm taking advantage of the break to apply liberal amounts of useless sunburn cream, wishing I hadn't left the tube of white zinc in my room.
To get here we travelled north from the city of Lugano up the lesser Lavizzara Valley, one of three that make up the majestic Maggia Valley. It was a slow journey through spectacular scenery, full of hair-pin bends too tight for our bus to negotiate easily, most requiring a zig-zag manoeuvre by the driver.
On the way we passed through the small village of Peccia which is famous for its school of marble sculpture. Further on we stopped at the village of Mogno, to marvel at the San Giovanni Battista chapel, a monument to the destruction of the local church and several stone homes in an avalanche. Fortunately, because the winter snow is metres thick in these valleys and avalanches are common, the inhabitants had relocated to warmer climes and not a soul perished.
Hiking tracks are abundant here, well marked and graded in levels of difficulty, ours being on the medium end of the scale. I'm guessing that our guide Donatella Gerosa, and assistant David, selected this first stage to gauge our fitness levels and get an idea how long it will take us to hike to Cristallina Hut where we are to spend the night.
David, Donatella explains, is a member of Swiss Alpine Rescue so I'm hopeful of being met at day's end by a tail-wagging St Bernard with a life-saving barrel of brandy round its neck.
We're a fairly diverse group of avid trampers from around the world. On the one hand there's Fiona, a highly energetic South African with polar experience, who will be climbing the Eiger in a few days. But then again I had breakfast yesterday with two Israeli women who, after studying our route in detail, decided at the last minute that it was beyond them and pulled out. By the second day, the trail would claim another.
But enough musing. Donatella is on her feet and takes the lead. The terrain changes as we ascend, alpine grass and wildflowers giving way to the stony trail which takes us to Passo del Nare't, the pass through this range. Luckily I find I've started to acclimatise and I'm able to increase my pace.
Pausing briefly, we enjoy the view into di Val Torta, the valley that will lead us up to Cristallina Hut. The hut itself is now visible as a tiny speck at the top of the valley, amid another panoramic backdrop of razor-edged mountain peaks, but it's still a good two hours away.
Trampers on other trails also start coming into view, looking like mere ants in this awe-inspiring environment. The valley floor is a green carpet dotted with myriad wild flowers and boulders. But it is the marble and milky quartz that surprises me as we step over chunks of it.
Our trail now narrows and hugs the valley wall. It's steep and in places I admit I avoided the temptation to look down. It's also hot and as we pass crystal-clear ponds of molten snow only modesty prevents me from cooling off. Closer to the hut the trail rises even more steeply until finally we're high enough for the chance to frolic in a patch of alpine snow.
On a more sombre note, we also pass the stone foundations of the original Cristallina Hut, yet another victim of an avalanche years earlier. Thankfully the new hut, an imposing three-storey shoebox-style edifice which sleeps 90, is supposed to be sited well out of reach of such menaces.
On the deck of this sanctuary we gather round an outdoor table and feast on an assortment of savories, wine and tall stories, while admiring the now obvious Basodino Glacier to the south.
My Polish mate, affectionately known as No13, has produced a hipflask of home-made rocket-fuel whisky which is shared with shouts of "Saluti!".
Meanwhile, a mixed bag of other trampers are descending on the hut: families, hiking clubs and walking enthusiasts of all shapes and sizes and age groups.
Surprisingly, some even have the family dog, seemingly welcome anywhere in Switzerland. Also welcome up here is the mobile phone with reception available pretty much everywhere.
To accommodate this multitude the hut has a ground floor room, where hikers and cross-country skiers can store boots and walking poles, change into pink slippers or red crocs and even leave the dog overnight, plus lots of showers and toilets (SF5 if you bring your own towel); on the middle floor is an open plan dining area and kitchen where we all share the same hearty food served in pots at tables' end; the top floor is dormitory-style single bunks, eight to a room, each with a cosy duvet and pillow.
Outside in the dwindling light, cool air descends, bringing with it a herd of mountain goats. These nimble creatures are a marvel to watch as they pick their way across impossible rock formations with great agility. But eventually the cold chases us inside to dinner, more rocket fuel and even taller stories.
Come daybreak I enjoy a strong coffee on the deck while admiring the clear sky and the way the low morning sun has draped a thin veil of warm colours across jagged peaks. The occasional goat is still scampering amid the long shadows. You hear them long before you see them as their hooves click on the stone.
I chat to a woman trying to attract the attention of her daughter and son in-law who spent the night under the stars several hundred metres up the valley. "They love it up here" she says with a beaming smile, and like any good son-in-law the young man responds immediately with an oversized wave.
As the love-birds pack up to come in for breakfast I'm once again overwhelmed by the daunting size of this mountain landscape.
The hut is a hive of activity. Dogs are being let off leashes for a quick sprint. Trampers are preparing for their day and some have already left.
After a wholesome breakfast we meet on the deck to discuss the day's itinerary. Our destination is the Robiei Cable Car at the foot of the Robiei Dam to our south and in the same direction as the glacier.
It's only about 3.5km as the crow flies but it will take us almost three hours as the descent is around 500m on a rollercoaster track which in places runs across broken shards of rock. It's very loose, unbalanced and at the least could easily turn an unwary ankle.
The flash walking pole I brought with me is now earning its keep. On the offchance that I might need to grab something sharp to correct a stumble I'm also wearing my mountain bike gloves.
We were told to pack light and prepare for snow, rain or cold so my day pack is mostly taken up with unused thermals, snow pants and jacket. But apart from snacks, it's only my towel, water bottle and sun cream that see the light of day.
We finally rest on another hillside carpeted with alpine grass from which we can see Lake Bianco, yet another dam in Lago dei Cavagnoo and, slightly higher, the imposing Basodino glacier. Collectively, it's a remarkable sight.
About this point a German fellow hiker decides he can no longer take the tricky terrain and arrangements are made for him to be picked up from a nearby maintenance road and taken to our cable car destination.
Following the road and a distant herd of domestic goats, we wind our way along the track into the spectacular origin of the Bavona Valley that cradles Lake Bianco, then climb up the turquoise waters of the Robiei Dam. By now our senses are almost numbed by the constant stunning scenery.
As we walk along the dam rim, the cable car comes into view below, plus the welcome sight of a sun-drenched cafe patio at the Robiei Hotel nestled at the foot of the dam wall. A rather confident place to locate a hotel, I would have thought.
It's coffees and beers all round before a breathtaking 4km cable car ride south to meet our bus at San Carlo in the Bavona Valley. The descent by cable car appears to be at least a kilometre, an amazing engineering feat offering more marvellous views, but I'm loath to look directly below us for fear of whimpering in a crowded caboose.
Lunch is at the very casual Osteria Grotto, just across the road from the small, almost fairytale stone village of Sontrel, one of many that dot these valleys.
I've bumped into Sydney-sider Felicity, who can manage the language well, and has engaged a local in humorous conversation about - among other things - the fact that in the winter, snow here is chest-deep and staying warm is difficult so most villagers leave. It's difficult to imagine this when we are all sweltering in the afternoon heat. Electricity here is solar, water supply is ample and the loos are long drops.
Further south, we look through a similarly quaint village of Foroglio with its impressive waterfall. But I'm really captivated by its small church with a superb fresco of St Paul, framed by iconic Catholic symbolism, on its ceiling.
As this expedition comes to an end, one of the Swiss hikers in our group asks me about New Zealand which he has heard described as the Switzerland of the southern hemisphere.
Of course he's right, we also have our Alps and stunning scenery, but I am quick to point out that while Napoleon may have marched against Wellington, he never marched through the streets of Wellington.
The history of the Confederatea Helevetians is centuries deep, rich and diverse, and the romantic evidence of it is everywhere, from Ticino's lavish castles to sparse Roman churches and every piazza in between.
A hiking trip here is not just a walk through breathtaking scenery but also a rewarding waltz through that history .. . as well as being a welcome break from some dreary Auckland weather.
CHECKLIST
Getting there: There's nothing quite like flying the national carrier of your chosen destination. I picked up a Swiss Air flight from Bangkok to Zurich but any major Asian, European or American airport will do nicely as a start point.
As for getting to Ticino, the country is criss-crossed with a superb railway network.
Hiking: To find out more about the Ticino area see ticino.ch.
Further information: An enterprise of the Swiss Broadcasting Corporation, multimedia network swissinfo.ch provides news, analysis and information in nine languages, perfect for the info-savvy traveller.
Swiss Tourism has an highly informative website at myswitzerland.com.
Rod Emmerson hiked in Switzerland as guest of Swiss Tourism