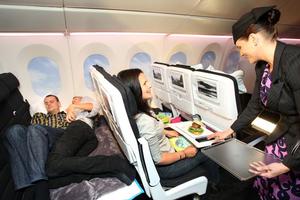 Good on Air New Zealand for doing what it can to make long-haul flights bearable for those who fly cattle class.
I've parked my bum in every part of a plane over the years - mostly economy, occasionally business and on one glorious, never-to-be-forgotten trip to Ireland, first class on Cathay Pacific.
I loved that trip - it was beyond my wildest imaginings - but I must confess I felt like our dog when he sits on the couch.
He's in heaven; he can't believe it's happening but deep down, he knows he shouldn't be there. That was me in first.
Cuddle Class, the first lie-flat seats in the world for economy passengers, is right up my alley.
Having a lie-flat bed in economy is even better than some of the seats they try to palm off as business class on some of the world's dodgier airlines.
At 5 feet 1 inch, Cuddle Class is made for me, although I might have to find an itinerant jockey to share the bed with. There's no way my 6 foot 3 inch Irishman would be able to wedge in.
Still, we'd have fun trying. And therein lies the rub. Members of the Mile High Club will sky rocket. What are you to do? Trapped for 12 hours, curled up against one another with liquor on tap? The poor hosties.