Jim Eagles gets up close and personal with the incredible array of fauna on the isolated Galapagos Islands.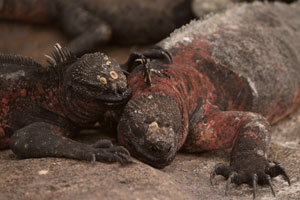 The first thing I saw after wading ashore on to Espanola island, and negotiating the lines of sealions sleeping on the pure white sand, was an Espanola mockingbird.
Watching it fossick along the shoreline in search of food I felt as excited as Charles Darwin must have done when he arrived here in the Galapagos, off the coast of South America, in 1835.
A mockingbird mightn't be as spectacular as a swimming iguana, soaring albatross or breaching whale but it so happens it was the discovery that this archipelago has four distinct kinds of mockingbird - three of them unique to a single island - that started Darwin thinking about how that could have happened.
Then, to add to my excitement, I saw three different finches: a small black one flitting in the scrub, a small brown bird hiding in the leaves and two identical large black finches with powerful beaks foraging for insects in the sea lion droppings. There are, in fact, 13 varieties of finch in the Galapagos and Darwin took specimens of most back to England where their distinctively different beaks made them the poster birds for his theory on how species evolve in response to local conditions.
Next I found a couple of quirky little lava lizards sunbathing on the sand, much as a group of bikini-clad young women from our ship, La Pinta, were doing further down the beach. Presumably they were Espanola lava lizards but there are three further varieties in the archipelago.
Later, kayaking around an adjacent islet, I came across a couple of marine iguanas - the only iguanas which actually swim - drying off on the rocks. Once again, you guessed it, these were Espanola marine iguanas but there are five other varieties found elsewhere in Galapagos.
Of course there are species that occur right across the islands, like those Galapagos sea lions sleeping on the beach, four of which roused themselves enough to frolic with our kayaks when we went exploring, or the distinctive black and white Galapagos penguins - the only tropical penguins - that flashed past my eyes once when I was snorkelling but were easier to see preening themselves on the rocks.
And there are also species that are found around the world, like the magnificent humpback whales that played around La Pinta every day, or the frigate birds with their distinctive v-shaped tails that constantly soared overhead looking for the chance to steal food from other birds.
But most of the incredible array of creatures found here are endemic to the Galapagos and many are unique to just one of the islands.
Part of the reason for the amazing variety of wildlife is that the islands are extremely isolated, being over 1000km off the coast of mainland Ecuador, and appear to have avoided discovery by humans until 1535, when a Bishop of Panama drifted there by accident.
The other crucial factor in the development of all those different species is that the habitats vary hugely from island to island.
For instance, the first island we visited, Bartolome, is one of the youngest in the group, much of it covered in lava only a hundred years old. You tend to think of Galapagos as teeming with wildlife but the only living things here are a few lava cactus poking their arms above the red rocks and a couple of pinkish lava lizards sunning themselves on the lava flows.
On the other hand, when I had a snorkel round the shores, the signs of life arriving in this new land were apparent. The coastal waters, protected as part of the Galapagos Marine Reserve, teem with brightly coloured tropical fish and on the coast are penguins, bright red Sally Lightfoot crabs and a few marine iguanas.
As Klaus Fielsch, our guide to the islands, put it, "This is the pattern of life on the Galapagos. The land erupts from the sea, it cools and evolves, then species arrive and start adapting to the conditions."
The other end of that process was to be seen on the last of the islands we visited, Espanola, which is covered in grass and scrub and seething with an incredible array of living things.
As we stepped ashore we had to watch where we put our feet because of the thousands of marine iguanas, back from a day's fishing and now cuddling together at angles designed to maximise their exposure to the sun, their red spiky bodies looking like so many tiny black and red dragons.
Among them were clusters of the amazing red crabs and lots of brown, red and green lava lizards.
Further inland, birds were everywhere. Klaus was excited by the appearance of a red booby - related to our gannets - which he said was "the most common in terms of numbers but rarely seen".
Then there were blue-footed boobies, with those unreal looking blue feet and facemasks, some of them sitting on eggs parked in nest holes dug in the ground. One pair was obviously keen on producing the next round of eggs because, as we stood photographing them, they started a bit of high-speed impromptu nooky.
Next came the yellow-faced nascar boobies - formerly known as masked boobies because of the black Lone Ranger masks round their eyes - which, Klaus explained, had beaten off the blue boobies for the prime chunk of real estate along the cliff edge.
Also on the cliff edge were several bachelor sea lions, driven from the beaches by dominant males guarding their harems, and lots more marine iguanas.
While we watched the sea lions engage in a bit of horseplay a Galapagos swallowtailed gull, resplendent in breeding plumage, landed on a rock nearby and gazed at us seductively from its red-rimmed eyes. The act obviously worked because soon afterwards a second gull arrived and began playfully pulling at the first's tail feathers.
Finally we reached the stars of the show, the magnificent local albatross, with their elegant yellow-trimmed heads, fierce dark eyes and wingspans of up to two and a half metres, which nest only on this bit of Espanola.
There were several chicks, covered in thick brown down, standing beside the path waving their wings to strengthen them ready for flight, signs of a successful mating season. But we also saw an abandoned egg, with a mockingbird trying unsuccessfully to break the thick shell, and the fluffy corpse of a newly dead chick, to show that even for these mighty birds things don't always go smoothly.
The albatross is the largest bird in the islands but that didn't stop Galapagos hawks, the top predators in this part of the world, from soaring hopefully overhead.
Then came the moment we had been waiting for. An adult albatross, flapping its wings to warm up, slowly trod a wellworn path to the cliff top, gave its wings a final flap just to be sure, then launched over the edge and floated gracefully away.
Short of seeing a giant tortoise, which are virtually never found near the paths where tourists are allowed to walk on the island, I couldn't have been more excited (and I saw plenty of tortoises at the Charles Darwin Research Station on Santa Cruz island and Galapaguera de Cerro Colorado on San Christobal island).
Well, yes, I could have been more excited actually, and I was, when a humpback whale leaped out of the water right alongside La Pinta and right in front of me and my camera.
CHECKLIST
Getting there: LAN Airlines flies daily from Auckland to Santiago with onward connections to Quito or Guayaquil from where you can get flights to Galapagos.
Getting around: World Journeys offer packages to Ecuador and the Galapagos Islands. Phone 0800 11 73 11.
Further information: To find out more about the Charles Darwin Research Station on Galapagos see darwinfoundation.org. For general information about visiting Ecuador visit ecuadortouristboard.com.